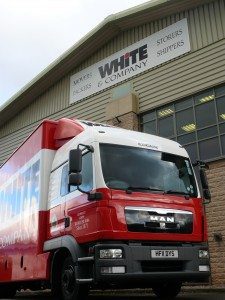 Relocating & Searching For House Removals Derby
Almost everyone finds that they need to move home at some time in their lives and often on many occasions. This may be when they buy their first home, move to a larger house as the family grows, have to relocate for a new job or maybe wish to down size once they have retired. If you are looking for house removals Derby, White & Company have been based near Derby for over 145 years and can provide a full removals and storage solution. As founder members of BAR, FIDI & OMNI, White & Company can provide for a local move, anywhere in the UK, Europe or to an international destination.
House removals are one of the most stressful life events with the average person moving home five times during their lifetime. With 61 per cent of people placing the ordeal at the top of their stress list, it is essential to use a reputable company to carry out your house removals. Ideally it is always advisable to choose a removals company that is a member of BAR, FIDI & OMNI, to make sure the company you choose meets the highest standards within the removals industry.
There are a number of things which you can do to ensure everything runs smoothly.
House removals Derby tip 1: Hire a reputable removal company
Hiring the right removals company will make all the difference, if you're after a stress-free moving day. Consider if you would like them to take care of all the packing, some of it or whether you would like to pack yourself. White & Company have been based in the area for over 145 years and provide a full removals & storage solution. As founder members of BAR, FIDI & OMNI White & Company can provide for a local move to anywhere in the UK, Europe or to any international destination: www.whiteandcompany.co.uk
House removals Derby tip 2: Book your removals company as soon as possible
Dependent on the time of year you are looking to move, planning ahead and booking your removals company is key to a stress free day. If you moving during the busy summer months, you will need to give at least four weeks notice in order to secure your booking.
House Removals Derby tip 3: Get someone to look after young children
Because moving house can be very stressful and also a very emotional time, it is best to get someone to look after young children, so they do not become bored or fractious. The same goes for pets, it is best to arrange for them to go into kennels or a cattery as they often become disorientated.
House Removals Derby tip 4: Make sure everyone is informed
As soon as the removals team arrives, make sure they have your mobile number and you have a number to contact them in case of an emergency. You should also have the numbers of your bank, estate agent and solicitor. Also make sure you have arranged a time to collect the keys to your new house.
You will also have to inform all your utility companies that you are moving and perhaps select different suppliers at your new home.
If you are moving to Derby you may want to visit www.uswitch.com to find the most economic supplier in your area.
Having moved to Derby you may wish to change your TV or Internet provider, simply visit www.broadbandchoices.co.uk/tv
House Removals Derby tip 5: Pack a survival box to go with you in the car
This should include tea, coffee, milk, kettle and mugs. Some snacks, a can opener and some eating utensils. Some basic tools and a first aid kit along with any necessary instruction manuals for the appliances you are moving. It is also wise to carry on your person any medication you may need.
House Removals Derby tip 6: Start moving day early
This is the day to set the alarm and get started early, as there will be a number of things you will need to do. Start by stripping the beds and packing up last minute things. Dismantle furniture, take photos of energy meter readings when you leave and also when you arrive at your new home, to avoid being overcharged. Taking pictures of wire fittings on electronic equipment such as computers will also help you set them up properly when you arrive. Set aside the hoover and cleaning equipment for your last-minute clear up before you leave the house.
House Removals Derby tip 7: Make sure your removalist has storage space available
Often when you move into a new property you may want to redecorate or carry out building works. If this is the case, ideally you will want to store some of your larger pieces of furniture until the work has been completed. If you choose a removal company who has storage facilities, then they can store these pieces for you until you are ready to receive them at your new home.
House Removals Derby tip 8 – Check your insurance cover
Do not assume that the removal company you have chosen will have adequate insurance to cover all your valuable items. Make sure you have checked the small print and arrange additional cover if necessary. When using a BAR registered removal company, you will have the peace of mind that they will be working to the terms and conditions of a BAR member, and will offer a degree of limited liability insurance. However, it is highly recommended that you ensure that you have arranged adequate cover.
Having moved to your new home in Derby you may find the following information useful:
About Derby
Historically, Derby has been inhabited by the Romans, Saxons and Vikings. Today it has a population of around 250,000. Derby is the UK's most central city. Located in the county of Derbyshire, it is near to the stunning and scenic Peak District. The city lies on the river Derwent and draws many tourists to the area. In times gone by the river was one of the cradles of the Industrial Revolution, providing power to the first industrial scale cotton mills. With the arrival of the railway in the 19th Century it became the birthplace of the Industrial Revolution as well as a centre of the British rail industry. Rolls Royce and Toyota are Derby's two biggest employers in engineering manufacturing.
Derby has also become a significant cultural centre for the deaf community in Britain. Many deaf people move to Derby because of its strong sign language-using community.
The centre of Derby is compact and most of it is pedestrianised. It's beautiful Victorian buildings house many high street retailers. A wander around the shops at Sadler Gate and Iron Gate, part of the Cathedral building, offers numerous gift shops, clothes shops restaurants and pubs. There is an all-weather shopping mall called Westfield Derby to be explored. There is an indoor market at the foot of Iron Gate held in the Market Hall.
Derby also boasts 9 buildings of exceptional interest, such as the Darley Abbey Mills and St Helen's House on Bridge Street. History, culture, great restaurants, shopping and the Peak district close by, you will certainly find something to interest you in and around the city of Derby.
Leisure activities in & around Derby
If you are planning a day out, there is plenty to do in and close to Derby, why not visit one of the following attractions:
Derby Cathedral – www.derbycathedral.org
Derby Silk Mill – www.derbysilkmill.org.uk
Derby Museum and Art Gallery – www.derbymuseums.org/museumartgallery
Derwent Valley Mills – www.derwentvalleymills.org
Haddon Hall – www.haddonhall.co.uk
Drayton Manor
Tubby Bears Playzone – www.tubbybearsplayzone.co.uk
Markeaton Park – www.derby.gov.uk/…/parks-and-open-spaces/markeaton-park
Gyms & Leisure Centres in Derby
Queens Leisure Centre – www.derbytaekwondo.co.uk
Virgin Active – www.virginactive.co.uk
Springwood Leisure Centre – www.springwood-leisure-centre.placestars.com
Etwall Leisure Centre – www.activenation.org.uk
Schools in Derby
There is a good range of schools in Derby. According to www.schoolguide.co.uk, some of the best schools are:
Derby High School – www.derbyhigh.derby.sch.uk
Woodlands School – www.woodlands.derby.sch.uk
Landau Forte College – www.landau-forte.org.uk
Arboretum Primary School
St Chad's Church of England (Controlled) Nursery and Infant School
Hardwick Primary School
Bemrose School
Derby Pride Academy
Kingsmead School
Al-Madinah School
Special Educational Needs Support Service
Local vet in Derby
Vets Now – www.vets-now.com
Abbey Veterinary Group – www.abbeyvetgroup.co.uk
Local doctor in Derby
Clarence Road Surgery – www.clarenceroadsurgery.co.uk
The Osmaston Surgery – www.osmastonsurgery.co.uk
Local dentist Derby
Dovedentalcare – www.dovedentalcare.co.uk
Melbourne Dental Practice – www.melbournedentalpractice.co.uk
White & Company Removals Storage & Shipping
Haybrook
Halesfield 9
Telford
Shropshire
TF7 4QW
T: 01952 897 604 for a free home survey and quote
E: hq@whiteandcompany.co.uk
www.whiteandcompany.co.uk
Opening Times:
Mon 09:00 – 17:00
Tue 09:00 – 17:00
Wed 09:00 – 17:00
Thu 09:00 – 17:00
Fri 09:00 – 17:00
Sat 09:00 – 12:00
Sun Closed
Travel Connections & House Removals Derby
Reaching Derby by road would be via the: A6/A5250/A52/A38/A5111/A50. The closest train stations are: Derby (1.2 miles), Peartree (2.0 miles), Spondon (3.3 miles). The closest airports are: East Midlands Airport (9.3 miles), Norwich International (19.9 miles), Birmingham International Airport (34.4 miles).
Property Prices & House Removals Derby
House prices have decreased in value by 0.44% over the past 12 months. You will expect to pay around £174,000 for the average home. A detached property can be purchased for around £293,000 a semi-detached for £165,000 and terraced homes are selling for £98,000. Prices as per Zoopla 23rd June 2017.
Local Council & House Removals Derby
If you are planning to move to Telford, and need information on schools, planning permission, parking permits or council tax, council planning permission meetings are held on a regular basis. Simply contact: www.derby.gov.uk
Cable & Phone Connections & House Removals Derby
If you're moving to Derby, and need to know the broadband availability, simply visit: https://www.cable.co.uk/
If you are moving away from the UK & looking at moving overseas.
White & Company are also proud winners of the British Association of Removers 'Overseas Mover of the Year' Competition 2016 and finalists in the 2017 competition.
 
When moving overseas, making sure you get the best exchange rate possible is essential to starting your new life on a sound footing. White & Company has an exclusive arrangement with The FX Firm (foreign exchange company). Simply follow the link below to see what additional monies you will receive compared to using your high street bank and to set up a free no obligation account. White and Company/foreign-exchange
Whether you need to arrange monthly payments to service an overseas mortgage, or wish to protect yourself against exchange rate fluctuations and fix the rate for up to a year, we will be able to suggest the most suitable way to do so. Open your free, no obligation account in as long as it takes to stop for a coffee.
 White & Company Have Branches In The Following Locations
Bedford
London
Bournemouth
Dunfermline
Farnborough
Forres
Guernsey
Harrogate-York
Jersey
Knaresborough
Lancaster
Leeds-Bradford
Plymouth
Portsmouth
Southampton
Telford
Winchester
Opening Times:
Mon 09:00 – 17:00
Tue 09:00 – 17:00
Wed 09:00 – 17:00
Thu 09:00 – 17:00
Fri 09:00 – 17:00
Sat 09:00 – 12:00
Sun Closed
House Removals Derby | Removals Derby | Furniture Removals Derby
T: 01952 897 604 for a free home survey and quote
E: hq@whiteandcompany.co.uk
www.whiteandcompany.co.uk