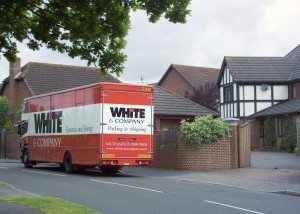 House Removals Launceston
House removals Launceston, moving home is said to be one of the most stressful situations we can go through.  When you have made the decision to relocate, you will want to make sure that things go as smoothly as possible. If you have been searching the internet for house removals Launceston, White & Company can help. With our extensive experience spanning over 145 years, we can proudly state that we have successfully moved thousands of people, not only to destinations all over the UK, but throughout Europe and all over the world.
Anyone thinking of moving to Launceston may also be looking for house removals Launceston: White & Company have been based in the area for over 145 years and can provide a full removals and storage solution. As founder members of BAR, FIDI & OMNI, White & Company can provide for a local move, anywhere in the UK, Europe or to an international destination. With their local knowledge, white & Company can help make your move as stress free as possible.
Travel Connections and House Removals Launceston
Travelling to Launceston by car would be via the A30/A388/A395. The nearest airports are: Exeter International Airport, Cardiff Airport and Bristol Airport. If you need to travel by train the closest stations will be: Gunnislake (14 miles), Calstock (16 miles) and Bere Alston (17 miles).
Property prices and House Removals Launceston
Properties in this area have decreased in value over the past 12 months by 1.92%.  The average asking price currently is £223,000. For a detached property you will expect to pay around £291,000 for a semi-detached home £183,000 and terraced homes £157,000.
Local Estate Agents and House Removals Launceston
Bradleys Estate Agents – 3 Westgate St, Launceston PL15 7AB
Tel: 01566 772999. http://www.bradleys-estate-agents.co.uk
Stags Estate Agents – 18 Western Road Launceston, Okehampton PL15 7AS
Tel: 01566 774999. http://www.bradleys-estate-agents.co.uk/
Kivells Estate Agent – 2 Broad Street, Launceston PL15 8AD
01566 777777.
Webbers Property Services – 10A Broad Street, Launceston PL15 8AD
01566 776211.
Restaurants and House Removals Launceston
Jamaica Inn – Bolventor, Launceston PL15 7TS
01566 86250. www.jamaicainn.co.uk
White Horse Inn – 14 Newport Square, Launceston PL15 8EL
01566 772084. www.whitehorselaunceston.co.uk
Sagor Tandoori Restaurant – 6 Western Road, Launceston, PL15 7AS
Tel: 01566 777778. http://www.sagor.co.uk/
Firebrand Bar and Restaurant – 5-7 Southgate Street, Launceston, PL15 9DP
Tel: 01566 770722. http://www.firebrandbar.co.uk/
Leisure Centres and Gyms and House Removals Launceston
Phoenix Leisure Centre – Launceston PL15 9DQ
T: 01566 772551.
Local Supermarkets and House Removals Launceston
Tesco – Tavistock Rd, Launceston PL15 9HG
Tel: 0345 677 9403. www.tesco.com
Lidl – Hurdon Road, Launceston PL15 9DA
Tel: 0370 444 1234. www.lidl.co.uk
Local Hotels and House Removals Launceston
Kings Head Hotel – 5 Cross Lanes, Launceston PL15 7RX
01566 86241. www.thekingshead-hotel.co.uk
Trethorne Hotel & Golf Club – Kennards House, Launceston PL15 8QE
Tel: 01566 86903.
The White Hart Hotel – 15 Broad St, Launceston PL15 8AL
T: 01566 772013. http://www.whitehartlaunceston.co.uk/
Newmoor Park – Newmoor Park House, Launceston PL15 9QU
T: 01566 784674. http://www.newmoorpark.co.uk/
Leisure and House Removals Launceston
Launceston is easily accessed from the A30 and just across the border from Devon. A beautiful, historic market town, surrounded by rolling countryside, Launceston is the perfect for exploring all of Cornwall as well as north and west Devon.
Launceston is a busy and thriving town, which also serves the local agricultural community who come to the town from the surrounding area. You'll find traditional butchers and bakers along with independent shops selling everything from second hand books to antiques and pet supplies. The indoor Friday Market at St Mary's Hall sells locally produced food, plants and crafts.
Launceston Cataract Gorge & First Basin is situated just a short walk from the city centre. It is a really fun place to visit. Created with walking and hiking trails and dotted with viewpoints, giving panoramic views over the surrounding countryside. The suspension bridge also offers some stunning views. Apart from the views, you can ride the world's longest single span chairlift which takes you high up over the gorge.
Wander through the carefully manicured gardens where the colourful Peacocks roam freely. Recently added to the Gorge is the Inclinator. A small version of a cable car which transports visitors up and down from the lawn area. It gives those with disabilities an opportunity to enjoy the views and the lovely restaurant at the top. A great attraction which will appeal to everyone of all ages and physical abilities.
Curves Fitness FOR Women – Quarry Lane, Launceston PL15 8EX
01566 777545. www.curves.com
Phoenix Leisure Centre – Coronation Park, Launceston, PL15 9DQ
01566 772551. www.tempusleisure.org.uk
Local Schools and House Removals Launceston
• Trekenner Community Primary School
• Stoke Climsland School
• South Petherwin Community Primary School
• Callington Community College
• Tavistock College
• Chelfham Senior School
• St Joseph's School
• Mill Ford School
• Mount Tamar School
Local Council and House Removals Launceston
If you are planning to move to Launceston and need information on schools, planning permission, parking permits or council tax, council planning permission meetings are held on a regular basis. Simply contact: www.cornwall.gov.uk
Cable and Phone Connections House Removals Launceston
If you're moving to Launceston and need to know the broadband availability, simply visit: https://www.cable.co.uk/
White and Company Removals Storage & Shipping
North Road
Lee Mill Industrial Estate
Ivybridge
Plymouth
PL21 9GN
T: 01752 546 824 call now for a free home survey and quote
E: hq@whiteandcompany.co.uk
www.whiteandcompany.co.uk
Opening Times:
Mon 09:00 – 17:00
Tue 09:00 – 17:00
Wed 09:00 – 17:00
Thu 09:00 – 17:00
Fri 09:00 – 17:00
Sat 09:00 – 12:00
Sun Closed
White & Company are also proud winners of the British Association of Removers  'Overseas Mover of the Year' Competition 2016 and finalists for 2017

When moving overseas, making sure you get the best exchange rate possible is essential to starting your new life on a sound footing. White & Company has an exclusive arrangement with an FX Firm (foreign exchange company). Simply follow the link below to see what additional monies you will receive compared to using your high street bank and to set up a free no obligation account. White and Company/foreign-exchange
House Removals Launceston | Removals Launceston | Removal Companies Launceston
T: 01752 546 824 call now for a free home survey and quote
E: hq@whiteandcompany.co.uk
www.whiteandcompany.co.uk