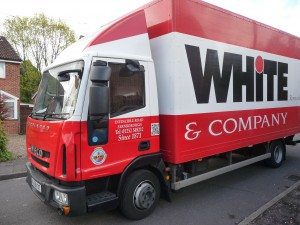 Removal Companies Blaby
Are you looking at moving to Blaby. The village is situated in central Leicestershire five miles south of Leicester city centre. Planning your move is essential and finding removal companies Blaby can be made easier by visiting, The British Association of Removers website at www.bar.co.uk. White & Company are members of BAR and have been providing a removals service to Blaby for over 145 years.
Property prices & Removal Companies Blaby
Properties here have indicated a rise of 2.69% over the last 12 months and the average house price at the moment is £259,555. You can purchase a detached home from £314,843, a semi-detached house for around £186,198; and terraced homes for approximately £165,573.
Local Estate Agents & Removal Companies Blaby
Country Properties – 34 High Street, Leicester LE8 0HQ
Tel: 0116 279 6543. www.countryproperties.org.uk
Spencers – 23 Leicester Road Blaby, Leicester LE8 4GR
Tel: 0116 202 9937. www.spencers.co.uk
Local Council & Removal Companies Blaby
If you are planning to move to Blaby, and need information on schools, planning permission, parking permits or council tax. Simply contact: www.leicester.gov.uk
Local Schools & Removal Companies Blaby
Blaby Stokes Church of England Primary School (0.4 miles)
Blaby Thistly Meadow Primary School (0.6 miles)
St Peter's Church of England Primary School Whetstone (0.7 miles)
Countesthorpe Community College (1.6 miles)
Sir Jonathan North Community College (2.6 miles)
The Lancaster School (2.6 miles)
Student Support Service PRU (0.6 miles)
The Samworth Enterprise Academy (1.6 miles)
Wigston Birkett House Community Special School (2.2 miles)
Leisure & Removal Companies Blaby
The Old Vicarage is a relaxing and traditional pub located in Whetstone less than half a mile from Blaby. You can be assured of a warm welcome, attentive staff and great quality food which is second to none in this award-winning pub.
The Old Vicarage combines a wide range of great pub food with excellent prices so no matter what your taste or budget there is something on the menu for everyone. With a children's menu, specials and offers running each week, for value you cannot go wrong here, a popular pub for families.
Cable and Phone Connections & Removal Companies Blaby
If you're moving to Blaby, and need to know the broadband availability, simply visit: https://www.cable.co.uk/
Travel Connections & Removal Companies Blaby
Getting to Blaby by car is via the: M1/A563/M69/A6030/A6
The nearest three airports are: Norwich International (7.9 miles), East Midlands Airport (18.9 miles), Coventry Airport (19.6 miles)
The closest train stations are: South Wigston (1.3 miles), Narborough (1.7 miles), Leicester (4.1 miles)
Removals Melton Blaby
This item is brought to you by www.whiteandcompany.co.uk the removals storage and shipping company serving Blaby and the surrounding area.
This service is aimed at people moving in Blaby and for those looking for a local removals, storage and shipping company.
To submit any news story or future events please submit copy and photos to newseditoruk@gmail.com
White & Company also provide specialist removal services to locations around the UK, Jersey and Guernsey. We work tirelessly to provide the best possible service and peace of mind for those looking to move home.
Houses For Sale Blaby | Removal Companies Blaby | Estate Agents Blaby