International Removals To South Africa.
International Removals To South Africa.
International removals to South Africa, White & Company have specialised in assisting individuals and families with International removals to South Africa for over 120 years. If you are looking at returning home or moving to South Africa, we can ship your household effects to all the major cities including:Bloemfontein, Cape Town, Centurion, Durban, George, Johannesburg, Midrand, Pietermaritzburg, Pinetown, Port Elizabeth, Pretoria, Rustenburg, Sandton,Witbank, and many more.
We are founding members of the FIDI Global Alliance and have held the FAIM quality standard since its inception, and being the only quality standard for overseas removals. In addition, we are also founding members of BAR (British Association of Removers) and the IMMI Payment guarantee scheme.
Because it is so important that your possessions are cared for throughout your entire process, White and Company are members of the British Association of Removers and all services performed are in accordance with European standard BS EN 12522.
White and Company are also proud winners of the British Association of Removers 'Overseas Mover of the Year' Competition 2016.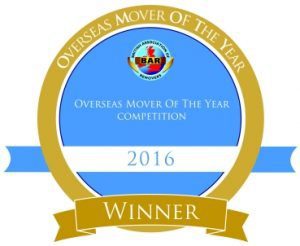 Last year alone we managed thousands of international removals incorporating household effects, personal belongings and motor vehicles, all of which we offer at unbeatable rates. For this reason, we are known as the UK's 1st choice for moving overseas.
Coordinating your International Removals to South Africa:
Following your FREE pre-move survey conducted by one of our experienced International Surveyors, we will send you a copy of our detailed written quotation. Upon receipt of our quotation, should you have any questions, please do not hesitate to contact the branch office for clarification. Our staff will guide you through the process using their extensive knowledge and experience in international removals to South Africa.
Prior to Removal:
It is understandable that you may not have a set removal date immediately. We recommend a four week notice period prior to removal. However, we appreciate that there are a number of contributing factors that may prevent you from giving this much notice. For this reason, we offer a provisional booking process, where we will allocate a crew for your removal on the provisional moving date you advise.
Items can be added/removed from your removals list prior to your removal day and the quotation will be adjusted accordingly. You can discuss any changes with your branch office.
No delivery address yet?
This is not a problem as all we will require are your contact details. The delivery address can be advised at a later date or as soon as possible following your arrival in South Africa.

The Day of your International Removals To South Africa:
On the day of your removal one of our experienced export packing teams will arrive at your residence, to start professionally packing the contents of your home. It is essential that any international removal is professionally export packed and wrapped using the correct packing materials. All items will be packed into export approved cartons and where necessary, furniture will be wrapped and protected using export approved blankets or custom made cartons.
Our export packing teams will always bring extra cartons and packing materials on your removal day, so if you are undecided over a particular item, please don't worry. The crew will create an inventory listing all the items you are shipping, as each carton is filled.
Door to door shipping to South Africa:
At White & Company we offer a problem free door-to-door shipping service to South Africa, so rest assured that you are in good hands.
Over 90 percent of full containers are loaded at your home. This is, however, not always possible and will be dependent on access to your residence and the type of load. Vehicles need to be loaded at our export depots.
If your effects do not fill a 20ft or 40ft container, then they will be shipped as a part load consignment, whereby they will be removed from your residence and taken back to one of our depots, ready for shipment in the first available shared container to our trusted agents in South Africa.
Here is a brief breakdown of our door-to-door shipping service to South Africa:
• At the time of your removal we will load your belongings into a sea freight container ready for shipment to your chosen destination in South Africa. In most cases, if your effects fill a full container, this can be loaded and sealed directly at your residence and you will be given an estimated date of arrival in South Africa.
• If you are shipping a smaller quantity of effects, then your goods will be transported back to our nearest UK depot to await shipment in the first possible shared container and you will be advised of the shipment date as soon as possible.
• It is imperative that you are in South Africa before your goods arrive, as we cannot arrange to customs clear your effects through South African Customs, without you being present in the country.
• As soon as clearance has been approved, our trusted partners in South Africa will contact you to arrange a suitable date for delivery of your goods. Alternatively, if you require your belongings to go into storage this can be arranged at the same time.
Artwork and Antiques:
Antiques and works of art older than 100 years may be imported free of duty, if they are part of a bona fide household removal and you have owned them for 12 months or more.
Transit times:
When shipping your personal belongings to South Africa the transit time between removal in the UK and arrival at your new home will be approximately 4-6 weeks for full container shipments. Part load shipments can take between 6-10 weeks and are dependent on how quickly a 20ft container can be filled.
Documents we will require before shipment:
• Customs forms DA304 & P.1.160
• Copy of original passport
• Permanent Residence or Work permit
• Removal inventory (we will provide this for you)
• Insurance Valuation form for Shipment Protection cover
NOTE: When shipping vehicles, it is best to discuss this with your surveyor, who can guide you through the process and advise the necessary documentation requirements.
Important note:
Restrictions may apply to certain items. If you are unsure, it is always best to show them to the surveyor at point of survey.
Restricted Exports to South Africa where approval maybe required:
• Firearms and accessories will require a South African Police Firearm Registrar certificate SAP 312 & Import permit.
• Wine & Alcohol
Prohibited Exports to South Africa:
• Narcotics
• Plant products
• Explosives or Fireworks
• Pornographic material
• Walkie-talkies
• Radios
• Certain feathers, furs, skins, tusks, etc. of animals which may fall under the protected species regulations.
For a more comprehensive list, please click on the link below:
http://www.sars.gov.za/ClientSegments/Customs-Excise/Pages/default.aspx
Alternatively use our branch locator to find your local branch.
When You Arrive In South Africa:
• Our trusted partners will contact you before your container arrives at the port in South Africa; this is to ascertain your requirements regarding delivery. If you are not ready to take delivery we can arrange storage at extremely preferential rates. We recommend that you contact our agents immediately upon your arrival, as you will be required to complete a customs form and produce your passport.
• All goods which arrive into South Africa are subject to South African customs and quarantine clearance procedures.
• You will need to be present in the country before customs clearance can take place, though you will not need to attend customs in person. However, you will need to be available should customs request that you attend an interview.
• Please note that customs clearance will take approximately 11 – 14 working days.
• Following Customs Clearance approval, our trusted partners will contact you to arrange a suitable date for delivery of your effects to your new home. The crew will arrive at your new property and place your items in the rooms of your choice, unwrap and will remove the packing material.