International Removals To Bangkok
White & Company, your first choice for International Removals To Bangkok

Moving To Bangkok
Are you thinking of moving to Bangkok? The city is best known as a striking, affordable and exotic tourist destination. However, more and more British ex-pats are moving there. Teaching English is the most common type of work available, along with working in the service sector and the tourist industry.
Generally, the highest paying teaching jobs are at the many International schools in Bangkok, although some of the English language schools are also a popular option. There are also a variety of international companies based in Bangkok; these include PricewaterhouseCoopers, Hewlett Packard, IBM, and Siemens.
On finding a suitable job in Bangkok, it would always be advisable to negotiate the job package in your home currency or in US Dollars.
After securing a job and getting the appropriate visa, you will need to get a work permit for Thailand and will need to meet the following requirements:
Have your original passport
Passport-sized photo
An employer's letter confirming the job appointment
Qualification certificates
Proof of residence in Thailand
In addition to the above requirements your employer may require you to undergo a medical check-up and provide the results as part of their work permit application.
Currency Conversion If Moving to Bangkok
The local official currency is Baht (THB), which is issued by the Bank of Thailand and has been in circulation since 1902. One baht is subdivided into 100 satang.
When moving overseas, making sure you get the best exchange rate possible is essential to starting your new life on a sound footing. White & Company has an exclusive arrangement with The FX Firm. Simply call us on Tel: 01494-857672 or follow the link to see what additional monies you will receive compared to using your high street bank and to set up a free account. https://www.whiteandcompany.co.uk/foreign-exchange/
Finding a property if you are thinking of moving to Bangkok
It can be difficult for foreigners to own property in Bangkok and is basically not an option for non-permanent residents. Ex-pats are allowed to buy a condominium, but only in complexes that have below a certain percentage of foreign ownership and given the country's relative instability and changing laws, if you decide you want to buy property in Thailand, you should make use of a local lawyer and an estate agent such as: http://www.siampropertygroup.com
Schools if moving to Bangkok
Bangkok has a good range of reputable international schools. Help to select a school can be found at: http://www.internationalschoolsbangkokthailand.org
Local Information
When you first move to a new city finding your way round the local taxes and requirements can be daunting, a quick visit to the following website can help you on your way. Simply visit http://www.expatarrivals.com
Travel
The traffic in Bangkok is among the worst in the world, and every care should be taken when driving in the city. A better option would be to use the good public transport system of buses, trains, taxis and tuk-tuks. The following site will help with your travel options: http://www.bangkok.com
Planning International moving
International moving is possibly one of the biggest decisions any family can make. We have all heard the adages about poor planning and what it leads to, which are mostly correct. With effective planning even complex international moves can be handled efficiently, economically and with the least possible disruption to your family.
Moving household possessions for international shipping is not like moving in the UK or even to Europe. International moves are a completely different process involving export packing, container loading, shipping, export documentation, customs and the observance of local regulations and procedures at destination. But that's all in a day's work for us.
White & Company your first choice
With over a century of experience of moving families across the world, we will take care of all the details and help you achieve a stress free move.
Plan early for International Moves
The earlier you plan your International moving the less stressful the move should be. To start planning contact our experienced team who will take you through the process. Contact your local branch using our branch locator where you will find a telephone number to call, or complete the contact form below and we will contact you. When you are ready we will arrange for one of our surveyors to visit you. For further information of the services White & Company offer read our online international moving brochure.
This service is aimed at people moving to Bangkok and for those looking for a removals, storage and shipping company.
If you are looking to move to Bangkok, White & Company have been providing an international removals, packing and storage service for over 145 years and are members of FIDI  and Omni.
White & Company also provide specialist removal services to locations around Europe and all international destinations. We work tirelessly to provide the best possible service and peace of mind for those looking to move home.
International Removals To Bangkok| Moving To Bangkok| Shipping To Bangkok, February 2015
We have the resources to ship your household goods door to door (including cars, boats, motorcycles, etc.), to any part of the world, no matter how remote, through our international, quality-assured network of business partners.
Whether you need to send an entire household or you a just shipping boxes to South Africa, by sea or by air, we'll get it there, safe and sound, anywhere in the world. And we will provide you with two months storage absolutely free of charge.
Full container or part load shipping worldwide
Two months' free storage
Airfreight
Car shipping and crating
Customs clearance
Comprehensive insurance
Storage in UK or at destination
Full financial protection for pre-payments through the overseas group of the British Association of Removers

Packing solutions
Packing for international shipping from UK is a specialist skill, so we have experienced and professionally-trained staff to provide this service for you. We'll decide what type of packing and wrapping is necessary during the pre-move survey.
We'll use modern, environmentally-friendly, purpose-made packing materials to pack all your possessions ready for moving.  China and glassware are wrapped in special paper and then packed in double-thickness cartons; furniture is wrapped in bubble blanket for extra protection; and items requiring specialist care, such as antiques, can be packed in made-to-measure wooden crates if necessary.
Air Freight Services
Air Freight and LCL, (Less than Container Load) cargo is over-cased in purpose–built, tri-wall board cases for optimum protection.
We ship globally to thousands of destinations, including Europe, Canada and shipping to South Africa. For further information on shipping goods to Australia or anywhere else, contact our international office on 01489 854175.
Marine Insurance
We are proud of the International Moving service we provide our customers and we always try to minimise problems during the moving process.
However, it pays to be aware that your possessions are exposed to a number of inherent risks which are outside our control whilst your goods are in transit and/or storage. We recommend that you consider protecting your valuable personal possessions whilst in transit and/or storage with our "All Risk" Marine Standard Liability cover.
Marine Insurance Cover is offered to you on receipt of a completed Overseas Valuation Form.  Such Marine Insurance Cover is 'Comprehensive' and 'All Risk' and is based on the values as declared by you on the Overseas Valuation Form.  There are certain exclusions as detailed within our Terms and Conditions.
Limit of Liability
If you have owner packed possessions, or do not provide us with a declaration of value, or if you do not require us to accept Marine Insurance, then our liability to you will be a maximum of £40 per item if anything is lost or damaged as a result of negligence or breach of contract on our part.
Please see our Terms & Conditions for full information. For further information on our international removals to Australia or to discuss shipping to Canada, South Africa or Europe, contact our international office on 01489 854175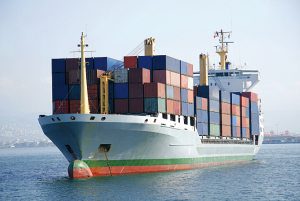 When it comes to International moving let White & Company do the hard work. Complete and submit the contact form below and one of our experienced team will contact you.
Alternatively use our branch locator to find your local branch.
[contact-form-7 404 "Not Found"]