Moving House & Removal Firms Scarborough
Moving house and removal firms Scarborough: If you are considering moving to Scarborough and want to find a new place to live in the area, you may also be searching for removals films Scarborough:
White & Company have been based in the Scarborough area for over 145 years and can provide a full removals & storage solution. As founder members of BAR, FIDI & OMNI, White & Company can provide for a local move, anywhere in the UK, Europe or to an international destination.
White and Company have over 145 years of experience in overseas shipping with more than 30 vehicles a week traveling to and from mainland Europe all providing a seamless service door to door. We can also provide first-class storage facilities if needed though our network of partners in every European country.
Because it is so important that your possessions are cared for throughout your entire process, White & Company are members of the British Association of Removers and all services performed are in accordance with European standard BS EN 12522.
White & Company are also proud winners of the British Association of Removers  'Overseas Mover of the Year' Competition 2016 as well as being finalists in the 2017 competition.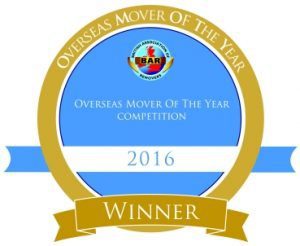 White & Company Removals Storage & Shipping
Unit 4
St James Business Pk,
Knaresborough,
Harrogate,
North Yorkshire.
HG5 8PJ
Tel: 01423 594 780 for a free moving quote
E: hq@whiteandcompany.co.uk
www.whiteandcompany.co.uk
Opening Times:
Mon 09:00 – 17:00
Tue 09:00 – 17:00
Wed 09:00 – 17:00
Thu 09:00 – 17:00
Fri 09:00 – 17:00
Sat 09:00 – 12:00
Sun Closed
Travel Connections & Removal Firms Scarborough
Driving to Scarborough is via the: A1(M)/A64 roads. If you are travelling abroad, the closest three airports are: Durham Tees Valley Airport (42.4 miles), Humberside Airport (50.1 miles) and Leeds Bradford International Airport (57.8 miles). Scarborough has a train station with two other stations nearby: Seamer (4.0 miles) and Filey (8.4 miles).
Property Prices & Removal Firms Scarborough
House prices in Scarborough have risen by 2.90% over the past 12 months. You will expect to pay around £163,943 for the average home. A detached property can be purchased for approximately £260,778, a semi-detached for £167,910 and terraced homes are selling for £125,722. Stats as per Zoopla 3rd September 2017.
Local Estate Agents & Removal Firms Scarborough
Andrew Cowen Estate & Letting Agents – 1 Harcourt Pl, Scarborough YO11 2EP
Tel: 01723 377707. www.andrewcowen.com/
Harris Bell Associates – 25 Northway, Scarborough YO11 1JH
Tel: 01723 341557. www.harrisbell.com/
Restaurants & Removal Firms Scarborough
Jeremys – 33 Victoria Park Ave, Scarborough YO12 7TR
Tel: 01723 363871. www.jeremys.co/
Cogonis Restaurant – 36 North Marine Road, Scarborough YO11
Tel: 01723 506979. www.cogonis.com/
Local Supermarkets & Removal Firms Scarborough
Tesco Superstore – Westwood, Scarborough YO11 2PN
Tel: 0345 677 9614. www.tesco.com/
Sainsbury's – Falsgrave Rd, Scarborough YO12 5EA
Tel: 01723 500693. www.sainsburys.co.uk/
Local Hotels & Removal Firms Scarborough
Royal Hotel Scarborough – St Nicholas St, Scarborough YO11 2HE
Tel: 0871 221 0208. www.britanniahotels.com
Mansion House Scarborough – 45 Esplanade, Scarborough YO11 2AY
Tel: 01723 373930. www.mansionhousehotel.com/
Leisure Centres and Gyms and Removal Firms Scarborough
Scarborough Sports Centre – Filey Rd, Scarborough YO11 2TP
Tel: 01723 360262. www.scarborough.gov.uk
Olympia Leisure – Foreshore Rd, Scarborough YO11 1NU
Tel: 01723 377960. www.olympiascarborough.co.uk/
Leisure Activities & Removal Firms Scarborough
Scarborough boasts beautiful scenery, glorious beaches and plenty to see and do. The town is also probably one of the oldest seaside resorts, dating back to the 1600s, when the health-giving properties of the Spa waters were first discovered. The town has a busy arts community, with numerous small galleries tucked away and bigger galleries in the town's 'cultural quarter', which centres on the historical Crescent, just off the main town centre. Here are a few of the many attractions worth a visit:
The Rotunda Museum – Full of fascinating objects and is home to Gristhorpe Man, a unique Bronze Age skeleton. Discovered near Scarborough buried in a tree trunk, Gristhorpe Man is the best example of a tree burial in the UK. For more information visit: www.scarboroughmuseumstrust.com/#!rotunda-museum/cvsd
Scarborough Jazz Festival – This has become a must-visit for all jazz-lovers, the September festival has headlined by global stars such as Courtney Pine and Nigel Kennedy. This year's festival runs from 23rd to 25th September with artists such as Liane Carroll and the Nicola Farnon Trio performing. Check out www.jazz.scarboroughspa.co.uk
Local Schools & Removal Firms Scarborough
Gladstone Road Junior School
Gladstone Road Infant School
Friarage Community Primary School
Scarborough Pupil Referral Unit
Scarborough Sixth Form College
St Augustine's Roman Catholic School, Scarborough
Scarborough College
Brompton Hall School
Local Council & Removal Firms Scarborough
If you are planning to move to Scarborough and need information on schools, planning permission, parking permits or council tax, council planning permission meetings are held on a regular basis. Simply contact: www.scarborough.gov.uk
Cable & Phone Connections & Removal Firms Scarborough
If you're moving to Scarborough and need to know the broadband availability, simply visit: https://www.cable.co.uk/