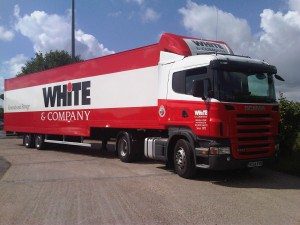 Removals Barcelona Spain
If you are moving from a local area to Europe and looking searching for removal companies to move you to the Barcelona area of Spain: White & Company have been based in the area for over 140 years and provide a full removals and storage solution. As founder members of BAR, FIDI & OMNI. White & Company can provide for a local move, to anywhere in the UK, to Europe or to any international destination in the world.
Connections & Removals Barcelona Spain
Connections in Barcelona are good. The main airport is Barcelona El Prat Airport which is situated 2 km southwest of the centre of Barcelona. The main railway station is Barcelona Sants Train Station; it runs local services, as well as long distance travel to places such as Madrid. The following roads connect Barcelona to the surrounding area: B20, C31, C33.
Schools & Removals Barcelona Spain
There is a good choice of schools in the Barcelona area.
St. Peter's School Barcelona http://www.stpeters.es/
The Benjamin Franklin International School http://www.bfischool.org/
The American School Of Barcelona http://www.a-s-b.com/
Oak House School http://www.oakhouseschool.com/
TL International School of Hospitality, Tourism and Languages http://htl.schoolinspain.com/
Leisure & Removals Barcelona Spain
Barcelona city is famous for its architecture, both medieval and modernist, its traditional tapas bars and its laid-back lifestyle. Although Spain is showing the early signs of recovery, the economy is still fragile after the Spanish property crash and the world recession., although this could make it the perfect time to purchase a property as prices are cheaper than they have been for some time.
Location & Removals Barcelona Spain
The housing market in Barcelona is buoyant, the average cost of property is currently around 3,777 € per square metre in the centre of the city. Some of the most popular areas to purchase a property are the Old city (Ciutat Vella), El Ravel, La Rivera (El Borne) and Barrio Gòtico.
White & Company
North Road,
Lee Mill Ind. Est.
Ivybridge,
Plymouth.
PL21 9GN
Tel: 01752 546 824 for a free moving quote
E: hq@whiteandcompany.co.uk
Opening Times:
• Mon 09:00 – 17:00
• Tue 09:00 – 17:00
• Wed 09:00 – 17:00
• Thu 09:00 – 17:00
• Fri 09:00 – 17:00
• Sat 09:00 – 12:00
• Sun Closed
Removals Barcelona Spain
This item is brought to you by www.whiteandcompany.co.uk the removals storage and shipping company serving Barcelona and the surrounding area. This service is aimed at people moving in Barcelona and for those looking for a local removals, storage and shipping company.
To submit any news story or future events please submit copy and photos to newseditoruk@gmail.com
White & Company Removals Storage & Shipping. Call 01752 546 824 for a free moving quote