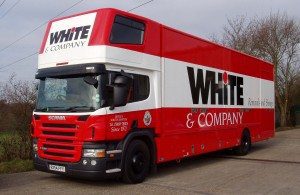 Removals Companies In Sheffield
If you are moving locally or looking to move to Sheffield and searching for removals companies in Sheffield: White & Company have been based in the area for over 145 years and provide a full removals and storage solution. As founder members of BAR, FIDI & OMNI, White & Company can provide for a local move, to anywhere in the UK, Europe or to international destinations.
Connections & Removals Companies In Sheffield
Connections in Sheffield are very good. The city is linked to the national motorway network via the M1 and M18 motorways, linking Sheffield with London to the South and Leeds to the north. Sheffield railway station runs express services to London St Pancras and Liverpool, Manchester, Hull and East Anglia. Robin Hood Airport is approximately 18 miles by car.
Schools & Removals Companies In Sheffield
There is a good choice of schools in the Sheffield area; the University of Sheffield provides higher education. It ranks 27th in the Complete University Guide 2016. • Phillimore Community Primary School (0.2 miles) • Al-Mahad-Al-Islami (0.3 miles) • Greenlands Nursery Infant School (0.4 miles) • Fir Vale School (1.5 miles) • Jamia Al Hudaa (1.6 miles) • Oakwood School (1.9 miles) • Handsworth Christian School (1.7 miles) • Hinde House 3-16 School (2.1 miles) • The Spring Lane Centre (2.1 miles)
Leisure & Removals Companies In Sheffield
Sheffield was shortlist for the first city to be designated a UK City of Culture and has many attractions. The Sheffield Walk of Fame honours famous Sheffield residents and is similar to the Hollywood Walk of Fame. The city has been home to a number of well-known bands such as The Human League and Heaven 17. The city had a museum dedicated to popular music; the National Centre for Popular Music, which opened in 1999 and is now a live music venue.
Location & Removals Companies In Sheffield
The housing market in Sheffield is healthy and house values have indicated an increase of 2.15% over the past 6 months. The average cost of property is currently at £88,663. With the highest valued streets being St Lawrence Glebe, Ridge View Drive and Woodbury Close.
White & Company
Unit 4 St James Business Pk Knaresborough Harrogate North Yorkshire HG5 8PJ Tel: 01423 594620 for a free moving quote E: hq@whiteandcompany.co.uk Opening Times: • Mon 09:00 – 17:00 • Tue 09:00 – 17:00 • Wed 09:00 – 17:00 • Thu 09:00 – 17:00 • Fri 09:00 – 17:00 • Sat 09:00 – 12:00 • Sun Closed
Removals Sheffield
This item is brought to you by www.whiteandcompany.co.uk the removals storage and shipping company serving Sheffield and the surrounding area. This service is aimed at people moving in Sheffield and for those looking for a local removals, storage and shipping company. To submit any news story or future events please submit copy and photos to newseditoruk@gmail.com
Removal Companies In Sheffield | Removals Sheffield | Removal Firms Sheffield
White & Company Removals Storage & Shipping.

Call 01423 594620

for a free moving quote