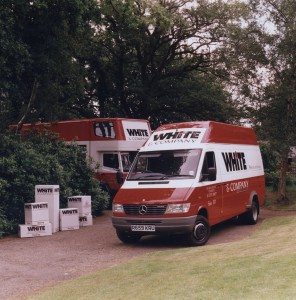 Removals Firms in Camberley
If you are moving and searching for removals firms in Camberley: White & Company have been based in the area for over 145 years and provide a full removals & storage solution. As founder members of BAR, FIDI & OMNI White & Company can provide for a local move, anywhere in the UK, Europe or international destination
Connections & Removals Firms in Camberley
Connections in Camberley are good. Camberley railway station is situated to the south of the town and is on the Ascot to Guildford line. A few miles to the south-west is Farnborough Station which provides a rail service to London Waterloo, Basingstoke and Winchester. Junctions 3 and 4 of the M3 motorway are conveniently close to the town. Healthrow airport is 16 miles by car.
Schools & Removals Firms in Camberley
There is a good choice of schools in the Camberley area, with the University of Surrey providing higher education.
• Prior Heath Infant School (0.5 miles)
• Crawley Ridge Infant School (0.7 miles)
• Crawley Ridge Junior School (0.7 miles)
• Carwarden House Community School (0.8 miles)
• Collingwood College (1.0 mile)
• Tomlinscote School and Sixth Form College (1.3 miles)
• Portesbery School (1.4 miles)
• Henry Tyndale School (3.0 miles)
• Hawley Place School (3.4 miles)
Leisure & Removals Firms in Camberley
Camberley is located in Surrey, close to the borders of Hampshire and Berkshire. The town is well known for the Royal Military Academy, Sandhurst. The town centre is host to The Mall shopping centre, which offers an excellent range of shops including House of Fraser.
Location & Removals Firms in Camberley
The housing market in Camberley is buoyant and house values have indicated an increase of 4.52% over the past 6 months. The average cost of property is currently at £375,320. With the highest valued streets being Crawley Drive, Frimley Hall Drive and Grove Road.
White & Company
23 Invincible Road, Farnborough, Hampshire. GU14 7QU
Tel: 01962 878770 for a free moving quote
E: hq@whiteandcompany.co.uk
Opening Times:
• Mon 09:00 – 17:00
• Tue 09:00 – 17:00
• Wed 09:00 – 17:00
• Thu 09:00 – 17:00
• Fri 09:00 – 17:00
• Sat 09:00 – 12:00
• Sun Closed
Removals Camberley
This item is brought to you by www.whiteandcompany.co.uk the removals storage and shipping company serving Camberley and the surrounding area. This service is aimed at people moving in Camberley and for those looking for a local removals, storage and shipping company.
To submit any news story or future events please submit copy and photos to newseditoruk@gmail.com
Removals Camberley | Removal Companies Camberley | Removal Firms In Camberley
White & Company Removals Storage & Shipping. Call 01252 549212  for a free moving quote