A Place in the Sun Florida
It's almost everyone's dream to find a place in the sun Florida and for many people Florida is the ideal place to relocate. If you are considering a move to Florida, it is essential to do your research so that you can avoid any costly issues.
Before you go ahead and make the move, you should make sure that you have:
• Researched your destination, and the local customs and laws
• Obtained independent legal advice
• Researched the tax regulations
• Made plans for your health cover
Once you have taken the decision to relocate to Florida, you will undoubtedly need to enlist the services of an international moving company to ship your goods overseas and to help manage your move. White & Company can provide a top- quality and efficient removal service to any international destination and as founder members of BAR, FIDI & OMNI; you can rest assured your move will be in safe hands.
White & Company is the proud winner of the 2016 British Association of Removers 'Overseas Mover of the Year' Competition, reinforcing the high level of service they provide to all their customers.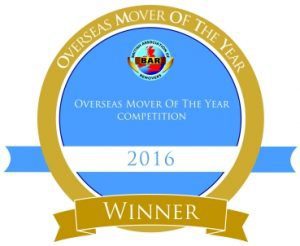 Foreign Currency Exchange
When moving overseas, making sure you get the best exchange rate possible is essential to starting your new life on a sound footing. White & Company has an exclusive arrangement with an FX Firm (foreign exchange company). Simply follow the link below to see what additional monies you will receive compared to using your high street bank and to set up a free no obligation account. White and Company/foreign-exchange
Whether you need to arrange monthly payments to service an overseas mortgage, or wish to protect yourself against exchange rate fluctuations and fix the rate for up to a year, we will be able to suggest the most suitable way to do so. Open your free, no obligation account in as long as it takes to stop for a coffee.
Founded in 1871, they are one of the UK's largest international moving companies:
White & Company Removals Storage & Shipping
Hillsons Road
Botley
Southampton
SO30 2DY
Tel: 01489 854 286 for a free moving quote
E: hq@whiteandcompany.co.uk
www.whiteandcompany.co.uk
Opening Times:
Mon 09:00 – 17:00
Tue 09:00 – 17:00
Wed 09:00 – 17:00
Thu 09:00 – 17:00
Fri 09:00 – 17:00
Sat 09:00 – 12:00
Sun Closed
White & Company Have Branches In The Following Locations
London
Bournemouth
Dunfermline
Farnborough
Forres,
Guernsey
Harrogate-York
Jersey
Knaresborough
Lancaster
Leeds-Bradford
Plymouth
Portsmouth
Southampton
Telford
Winchester
Opening Times:
Mon 09:00 – 17:00
Tue 09:00 – 17:00
Wed 09:00 – 17:00
Thu 09:00 – 17:00
Fri 09:00 – 17:00
Sat 09:00 – 12:00
Sun Closed
A Place in the Sun Florida – About Florida
Moving to Florida is a thrilling opportunity, but also one that requires dedication, plenty of organisation and time to research what is available. Thinking life will be one long holiday is a usual mistake. You'll need to prepare yourself for the physical, psychological and financial factors of moving.
Florida is well known for its many theme parks and leisure facilities. It's nicknamed the "Sunshine" state, because of its year round sunshine and warm climate. Florida has over 1,800 miles of coastline making it an ideal location for activities like fishing and water sports. It also offers wild wetlands, mangrove islands and a number of interesting artist colonies.
A Place in the Sun Florida – Buying a Property in Florida
As a general guide you will find property prices in Florida are influenced by location and demand. Your choice of location will be influenced by many things such as your place of work, where family and friends live or to be close to a good school.
Local agents will be the best place to start. The process of buying any type of property or land in Florida is strictly regulated. The services of certain professionals are required for the process. The local estate agent should be able to give an estimation of all fees and the property charges the buyer will be responsible for when they become the owner.
You can expect to pay $2400 per square metre for an apartment in a city suburb. A similar property on the outskirts of a city or town would cost $1800 per square metre.
Here is a list of real estate agents, which may prove helpful in your search for a property:
Jade Mills Estates – http://www.jademillsestates.com/
Westside Estate Agency – http://www.weahomes.com/
Regency Real Estate Brokers – http://www.regencyrealestate.com/
Team Forss: Allison James Estates and Homes – http://www.teamforss.com/
A Place in the Sun Florida – Education and Schools in Florida
Education standards in Florida are extremely high and the state has a good selection of schooling options. Different schools offer alternatives in teaching styles, content, and learning opportunities and it is essential that you take time to find a school that will best suit your child. If you decide to consider home education, resource and support information is available from local school district home education contacts and from the Office of Independent Education and Parental Choice.
Here is a list of schools in Florida:
Boca Prep International School – http://bocaprep.net/
Florida International Academy
Metropolitan International School of Miami – http://metschoolmiami.com/
A Place in the Sun Florida – Travel in Florida
Most people feel it is necessary to own a car in Florida. Car prices are less than in the UK and the price of petrol is also cheaper; although you will probably find that you are driving a lot further. Public transport around Florida's larger cities and communities is easy and you will have plenty of choice. Do what an increasing number of locals do and make use of the buses, subway or light rail system. Travelling in this way can be an efficient, affordable, safe, and eco-friendly option, particularly in areas where traffic is heavy and parking difficult. Many transport systems let you buy multi-day passes; check ticket options online before you arrive to get the best deals.
The Florida regional public transportation system is called LYNX and is a public bus system that services all of Central Florida. If you are looking for LYNX bus stops, they are often marked by a round sign with either a pink paw or pink bus symbol and are usually easy to spot.