House Movers Southport
House Movers Southport will need to arrange a whole host of things to ensure that everything runs to plan. Finding a good removal company is paramount to the day running smoothly. Use the following tips to help plan a successful move.
White & Company is a well-respected family owned removal company. They were founded in 1871 and have over a 145 years of experience.   As founder members of British Association of Removers. FIDI & OMNI White & Company can provide for a local move, to anywhere in the UK, to Jersey and Guernsey, Europe or to any international destination.
White & Company
38a Port Royal Avenue
Lune Ind Est
Lancaster
LA1 5QP
MAP
Tel: 01524 884 660
E: hq@whiteandcompany.co.uk
Opening Times:
Mon 09:00 – 17:00
Tue 09:00 – 17:00
Wed 09:00 – 17:00
Thu 09:00 – 17:00
Fri 09:00 – 17:00
Sat 09:00 – 12:00
Sun Closed
House Movers Southport advice on Packing
Moving house is an excellent time to sort through your possessions and dispose of anything you don't need. Start the packing process early; it always takes much longer than you think!  As a guide, allow two months for larger houses and one month for smaller homes.
Pack one room at a time; starting with the rooms you use least. Make sure you list what is in each box and label it to tell the movers where it should go on arrival. Pack heavy things at the bottom and fragile items on top, using plenty of packing materials.
Do not exceed a weight of 13 kilograms per box or you may cause injury when lifting them, remember to pack light items in larger boxes and heavy things in small boxes.
House Movers Southport advice for finding a Removal Company
Unless you really have only a very few possessions, it is always best to instruct a professional removal company to help you move house. There are a large variety of companies that can provide a house removal service. However, it is always advisable to choose a company that is a member of BAR (The British Association of Removers).
By choosing a BAR Member, it will ensure everything goes to plan and you will have the added peace of mind that comes from using a reputable and professional house removal company.
In the unlikely event that something does go wrong, you will have someone to turn to help sort out any issues. A BAR member is easily recognised by their membership badge. When choosing a house removal company, check that they have this badge displayed on their website and all documentation.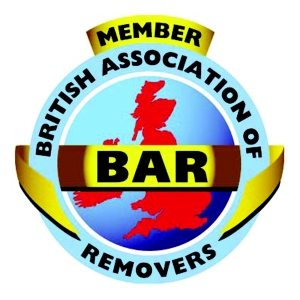 Once you have found a new home and your offer has been accepted, you will need to arrange various things in order for everything to progress. Firstly, you will need to select a conveyancing solicitor, as it is essential to get the legal side in place early on, to ensure a smooth legal transaction of your property sale and purchase. You will also need to organise for a survey to be conducted on the property you are purchasing.
House Movers Southport advice on Conveyancing
Once you have found a new home and your offer has been accepted, you will need to instruct a solicitor to look after the house conveyance.
Conveyancing describes the legal transfer of property from seller to buyer. How long it takes depends on several things, such as how many people are involved in the chain. This can be done quickly in a number of weeks or it may take some months to complete. Once you have chosen your solicitor, they will examine the draft contract and supporting documents and raise enquiries with the seller's solicitor.
They will also carry out local authority searches to ensure there is nothing that you do not know about, such as a planned new housing estate at the bottom of your garden. The solicitor will also check the 'title register' and 'title plan' at the Land Registry– these are the legal documents, which prove the seller's ownership.
They can also arrange an 'Environmental Search' if you require this to be carried out. This report will give information about contaminated land at or around the property, landfill sites, former and current industry, detailed flooding predictions, ground stability issues and radon gas hazard.
House Movers Southport advice on Property Surveys
It is always advisable to instruct a surveyor to carry out a property survey before you conclude the purchase of your new home.  They can often predict issues based on the condition of the property externally, such as missing roof tiles, rotten windows and subsidence.
An internal inspection despite limitations should be able to identify major issues such as rising damp, water ingress, woodworm and beetle infestation.
The survey should be able to outline any major repairs or alterations needed such as roof or chimney stack repairs, or if the property requires rewiring. They will also be able to give a valuation of the property for mortgage purposes.
Choosing a Surveyor
Most qualified surveyors are members of the Royal Institute of Chartered Surveyors (RICS) and it is recommended that you use a RICS qualified surveyor, as they will also carry professional indemnity insurance. If you are able to instruct a local surveyor, they are likely to have a better knowledge of local market values.
It is well worth taking some time to research the facilities and amenities of your new area.  Below is a list of professional services in the Southport area.
Estate Agents and House Movers Southport
Ball & Percival
132 Lord Street, Southport PR9 0AE
01704 536900
www.ballandpercival.com
Lynn Thompson Independent Estate Agents
10 Post Office Ave, Southport PR9 0US
01704 548000
www.lynn-thompson.co.uk
Wainwright & Edwards Estate Agents
3B Hoghton St, Southport PR9 0TE
01704 542236
www.we-estateagents.com
Solicitors and House Movers Southport
Fletchers Solicitors
The Dukes House 34 Hoghton Street, Southport PR9 0PA
01704 546919
www.fletcherssolicitors.co.uk
Peterson Solicitors
160 Lord Street, Southport PR9 0QA
01704 320160
www.petersonsolicitors.co.uk
J O'Neill Solicitors Company
32-34 King Street, Southport PR8 1JX
01704 549549
www.oneillsolicitors.co.uk
Surveyors and House Movers Southport
Edward Jackson Partnership
Suite 2 Victoria House 20 Hoghton Street, Southport PR9 0PA
01704 546686
www.edwardjackson.co.uk
Mathew Butterworth Associates Ltd.
126 Cambridge Road, Southport PR9 9RZ
01704 233111
www.mbasurveyors.co.uk
Alan Wright Building Surveyors Ltd.
Survey House 11 Beech Grove, Southport PR9 7EE
01704 212634
www.alanwrightbuildingsurveyors.com
Schools and House Movers Southport
St. Teresa'S Catholic Infant & Nursery School
Everton Road, Birkdale, Southport PR8 4BT
01704 567528
www.st-teresas-school.co.uk
Greenbank High School
13 Hastings Rd., Southport PR8 2LT
01704 567591
www.greenbankhigh.co.uk
Holy Family Catholic Primary School
Norwood Crescent, Southport PR9 7DU
01704 213084
www.holyfamilyprimary.com
Doctors and House Movers Southport
Dr S Meehan – St. Marks Medical Centre
St Marks Medical Centre 42 Derby Road, Southport PR9 0TZ
01704 511700
www.stmarksmc.nhs.uk
The Grange Surgery
41 York Road, Southport PR8 2AD
01704 560506
www.thegrangesurgerybirkdale.nhs.uk
Dentists and House Movers Southport
Crown Dental Surgery
283 Liverpool Road, Southport PR8 4PL
01704 563548
www.crowndentalsurgerysouthport.co.uk
St Pauls Dental Care and Implant Centre
St. Pauls Square, Southport PR8 1NQ
01704 533686
www.stpaulsdentalcare.com
Domestic House Movers Southport

This house movers Southport item is brought to you by www.whiteandcompany.co.uk the removals storage and shipping company serving Southport and the surrounding area. If you are looking to move home or move to Southport, White & Company have been providing a removals service for over 145 years and are members of the British Association of Removers. White & Company also provide specialist removal services to locations around the UK, Jersey and Guernsey. We work tirelessly to provide the best possible service and peace of mind for those looking to move home.
This service is aimed at people moving in Southport and for those looking for a local removals, storage and shipping company.
House Movers Southport White & Company Removers & Storers. Call 01133 509 391 for a free quote
To read independent reviews from our customers about the Lancaster branch visit Referenceline