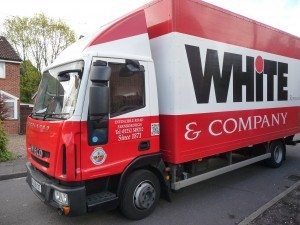 Professional Removal Service & House Removals Petersfield
Professional removal service and house removals Petersfield: Petersfield is a lovely little town, which is situated in the county of Hampshire. If you are considering relocating to this area and have been searching for house removals Petersfield: White & Company have been based in the area for over 145 years and provide a full removals & storage solution. As founder members of BAR, FIDI & OMNI,White & Company can provide for a local move, anywhere in the UK, Europe or international destination.
Travel Connections & House House Removals Petersfield
Petersfield has very good connections, the A3 heads south to Portsmouth and north east into London, a car journey of around 1 hour 25 minutes. The A272 heads east through Midhurst, Petworth and Crawley. Petersfield train station has regular departures to many nearby towns including a service to London, taking just under an hour. The closest airport is Southampton Airport (18 miles)
Property Prices & House House Removals Petersfield
The current average value of homes in the Petersfield area is £482,176. Property values have shown a slight decrease over the past year of 0.37%. You can purchase a family detached home in the region of £806,651. A semi-detached home will cost £423.471 and smaller terraced homes are approximately £338,609. The most expensive streets are situated in Steep and Hayden Farm Lane where you will see huge homes with asking prices of well over one million pounds.
Local Estate Agents & House Removals Petersfield
Williams of Petersfield – 6-8 College Street, Petersfield GU31 4AD
01730 233333. www.neilanwilliams.co.uk
Gascoigne Halman – 36 High Street, Petersfield GU31 4JA
01730 266141. www.gascoignehalman.co.uk
Local Restaurants & House Removals Petersfield
Southdowns Hotels & Restaurants – Dumpford Lane, Trotton GU31 5JN
01730 763800. www.southdownsmanor.co.uk
Paradise Balti House – 23 Lavant Street, Petersfield GU32 3EL
01730 265162. www.paradise-restaurant.com
Local Supermarkets & House Removals Petersfield
Tesco – The Causeway, Petersfield GU31 4JR
0345 677 9536. www.tesco.com
Morrisons – 1 Swan St, Petersfield GU32 3AD
Tel: 01730 266501 www.morrisons.co.uk
Nearest Leisure Centres & House Removals Petersfield
Curves Fitness for Women – Suite 3 Festival Hall Heath Road, Petersfield GU31 4DZ
01730 710724. www.curves.com
The Taro Leisure Centre – Penns Pl, Petersfield GU31 4
Tel: 01730 263996. www.dcleisure.co.uk
Local Leisure Activities & House Removals Petersfield
Petersfield Museum – Opened in 1999 and housed in the Old Magistrates Courthouse in the middle of the town. The Petersfield Area Historical Society' formed the museum, which focuses on the social and archaeological history of Petersfield and the surrounding area. Over the years, objects and archive material were collected and later formally transferred to the Museum. They now form an extensive collection of interesting historical artefacts.
Petersfield Lake – If you are looking for a quiet place to take a Sunday walk, Petersfield Lake fits the bill. The walkways are lovingly maintained and there are lots of places for children to explore. You can hire out rowing boats, which is great fun on a summers day. When you need some refreshments, the coffees shop has a range of tasty treats on offer.
Local Schools & House Removals Petersfield
Petersfield Infant School
Herne Junior School
Sheet Primary School
The Petersfield School
Horndean Technology College
Brockwood Park School
Churcher's College
Bedales School
Ditcham Park School
Local Council & House Removals Petersfield
If you are planning to move to Petersfield and need information on schools, planning permission, parking permits or council tax, council planning permission meetings are held on a regular basis. Simply contact: www.easthants.gov.uk
Cable and Phone Connections & House Removals Petersfield
If you're moving to Petersfield and need to know the broadband availability, simply visit: https://www.cable.co.uk/
White & Company Removals Storage & Shipping
International House
Unit G
Bar End Ind. Est.
Winchester.
SO23 9NP
Tel: 01962 658 118 for a free home survey and quote
E: hq@whiteandcompany.co.uk
www.whiteandcompany.co.uk
Opening Times:
Mon 09:00 – 17:00
Tue 09:00 – 17:00
Wed 09:00 – 17:00
Thu 09:00 – 17:00
Fri 09:00 – 17:00
Sat 09:00 – 12:00
Sun Closed
If you are moving away from Petersfield to start a new job overseas, White & Company are also proud winners of the British Association of Removers  'Overseas Mover of the Year' Competition 2016 and finalists in 2017.
Because it is so important that your possessions are cared for throughout your entire process, White & Company are members of the British Association of Removers and all services performed are in accordance with European standard BS EN 12522

Currency Conversion and Removals Petersfield
When moving overseas, making sure you get the best exchange rate possible is essential to starting your new life on a sound footing. White & Company has an exclusive arrangement with an FX Firm (foreign exchange company). Simply follow the link below to see what additional monies you will receive compared to using your high street bank and to set up a free no obligation account. White & Company/foreign-exchange
Whether you need to arrange monthly payments to service an overseas mortgage, or wish to protect yourself against exchange rate fluctuations and fix the rate for up to a year, we will be able to suggest the most suitable way to do so. Open your free, no obligation account in as long as it takes to stop for a coffee.
White & Company Have Branches In The Following Locations
Bedford
Bournemouth
Dunfermline
Farnborough
Forres
Guernsey
Harrogate-York
Jersey
Knaresborough
Lancaster
Leeds-Bradford
London
Plymouth
Portsmouth
Southampton
Telford
Winchester
House Removals Petersfield | Removals Petersfield | Removal Firms Petersfield
Tel: 01962 658 118 for a free home survey and quote
E: hq@whiteandcompany.co.uk
www.whiteandcompany.co.uk