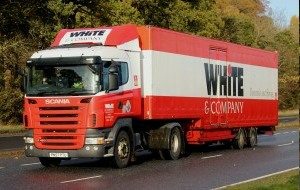 Storage & House Removals Potters Bar
Almost everyone finds that they need to move home at some time in their lives and often on many occasions. This may be when they buy their first home, move to a larger house as the family grows, have to relocate for a new job or maybe wish to down size once they have retired. If you are looking for House Removals Potters Bar, White & Company have been based in Potters Bar for over 145 years and can provide a full removals and storage solution. As founder members of BAR, FIDI & OMNI, White & Company can provide for a local move, anywhere in the UK, Europe or to an international destination.
House removals are one of the most stressful life events with the average person moving home five times during their lifetime. With 61 per cent of people placing the ordeal at the top of their stress list, it is essential to use a reputable company to carry out your house removals. Ideally it is always advisable to choose a removals company that is a member of BAR, FIDI & OMNI, to make sure the company you choose meets the highest standards within the removals industry.
There are a number of things, which you can do to ensure everything runs smoothly.
House removals Potters Bar tip 1: Hire a reputable removal company
Hiring the right removals company will make all the difference, if you're after a stress-free moving day. Consider if you would like them to take care of all the packing, some of it or whether you would like to pack yourself. White & Company have been based in the area for over 140 years and provide a full removals & storage solution. As founder members of BAR, FIDI & OMNI White & Company can provide for a local move to anywhere in the UK, Europe or to any international destination: www.whiteandcompany.co.uk
House removals Potters Bar tip 2: Book your removals company as soon as possible
Dependent on the time of year you are looking to move, planning ahead and booking your removals company is key to a stress free day. If you moving during the busy summer months, you will need to give at least four weeks notice in order to secure your booking.
House Removals Potters Bar tip 3: Get someone to look after young children
Because moving house can be very stressful and also a very emotional time, it is best to get someone to look after young children, so they do not become bored or fractious. The same goes for pets, it is best to arrange for them to go into kennels or a cattery as they often become disorientated.
House Removals Potters Bar tip 4: Make sure everyone is informed
As soon as the removals team arrives, make sure they have your mobile number and you have a number to contact them in case of an emergency. You should also have the numbers of your bank, estate agent and solicitor. Also make sure you have arranged a time to collect the keys to your new house.
You will also have to inform all your utility companies that you are moving and perhaps select different suppliers at your new home.
If you are moving to Potters Bar you may want to visit www.uswitch.com to find the most economic supplier in your area.
Having moved to Potters Bar you may wish to change your TV or Internet provider, simply visit www.broadbandchoices.co.uk/tv
House Removals Potters Bar tip 5: Pack a survival box to go with you in the car
This should include tea, coffee, milk, kettle and mugs. Some snacks, a can opener and some eating utensils. Some basic tools and a first aid kit along with any necessary instruction manuals for the appliances you are moving. It is also wise to carry on your person any medication you may need.
House Removals Potters Bar tip 6: Start moving day early
This is the day to set the alarm and get started early, as there will be a number of things you will need to do. Start by stripping the beds and packing up last minute things. Dismantle furniture, take photos of energy meter readings when you leave and also when you arrive at your new home, to avoid being overcharged. Taking pictures of wire fittings on electronic equipment such as computers will also help you set them up properly when you arrive. Set aside the hoover and cleaning equipment for your last-minute clear up before you leave the house.
House Removals Potters Bar tip 7: Make sure your removalist has storage space available
Often when you move into a new property you may want to redecorate or carry out building works. If this is the case, ideally you will want to store some of your larger pieces of furniture until the work has been completed. If you choose a removal company who has storage facilities, then they can store these pieces for you until you are ready to receive them at your new home.
House Removals Potters Bar tip 8 – Check your insurance cover
Do not assume that the removal company you have chosen will have adequate insurance to cover all your valuable items. Make sure you have checked the small print and arrange additional cover if necessary. When using a BAR registered removal company, you will have the peace of mind that they will be working to the terms and conditions of a BAR member, and will offer a degree of limited liability insurance. However, it is highly recommended that you ensure that you have arranged adequate cover.
Having moved to your new home in Potters Bar you may find the following information useful:
About Potters Bar
The town is a part of the London commuter belt benefitting from its close proximity to London.
Potters Bar benefits from excellent transport connections, being just a convenient 16 minutes to London by train, making it a popular relocation destination. The town is situated in Herfordshire in the middle of the countryside and dates back to the early 13th Century, when it was a popular coaching route into London.
The town has a good selection of restaurants and pubs and the Wyllyott Theatre provides entertainment throughout the year. High Street and Darkes Lane are the best shopping areas.There is a good leisure centre offering a swimming pool, scuba diving, tennis, cricket and a golf course.
There is a large range of homes for sale in the town. The current average price is £565,642 and a detached family home would cost in the region of £900.000. The most expensive properties are to be found on Coopers Lane, The Ridgeway and Carbone Hill.
If you are planning a day out, there is plenty to do in and close to Potters Bar, why not visit one of the following attractions:
Hatfield House and Park – www.hatfield-house.co.uk
Potters Bar Museum – www.pottersbar.org/museum
Monken Hadley Common – www.monkenhadleycommon.net
Northaw Great Wood Country Park – www.fongw.org.uk
Playzone at the Furzefield Centre – www.childrensleisure.co.uk/playzone-at-the-furzefield-centre
Gyms & Leisure Centres in Potters Bar
Furzefield Centre – www.hertsmere-children.co.uk
Parkwood Health & Fitness – www.parkwoodhealthandfitness.co.uk
Sports Academy – www.revivefitnessandspa.co.uk/
Schools in Potters Bar
There is a good range of schools in Potters Bar depending upon the age of your children and where you are relocating to in the area. According to www.schoolguide.co.uk, some of the best schools are:
Queen Elizabeth School – www.qegschool.org.uk
Dame Alice Owen's School – www.damealiceowens.herts.sch.uk
Queenswood School – www.queenswoodenterprises.co.uk
Ladbrooke Junior Mixed and Infant School
Oakmere Primary School
Stormont School
Mount Grace School
Dame Alice Owen's School
St Martha's Senior School
St John's Preparatory and Senior School
Oaktree School
The Park Education Support Centre
Local vet in Potters Bar
Village Vet Potters Bar – www.villagevet.co.uk
Oak Vets – www.oakvets.co.uk
Local doctor in Potters Bar
Annandale Surgery – www.annandalesurgery.co.uk
Highview Medical Centre – www.highviewsurgery.co.uk
Local dentist Potters Bar
A J Dental Care – www.ajdental.co.uk
Selbourne Dental Cares – www.dentistpottersbar.co.uk
About White & Company
White & Company plc Removals & Storage London
International House
Britannia Road
Waltham Cross
EN8 7PF
T: 01383 721 697 for a free moving or storage quote
w:https://www.whiteandcompany.co.uk/house-removals/
Opening Times:
Mon 09:00 – 17:00
Tue 09:00 – 17:00
Wed 09:00 – 17:00
Thu 09:00 – 17:00
Fri 09:00 – 17:00
Sat 09:00 – 12:00
Sun Closed
Travel Connections & House Removals Potters Bar
Accessing Potters Bar by car would be by the: A1/M25. Potters Bar has its own train station with two more nearby: Hadley Wood (1.6 miles) and Brookmans Park (2 miles). If you are travelling abroad the closest airports will be: London Luton Airport (15 miles), London City Airport (16 miles) and London Heathrow Airport (19 miles)
Where is Potters Bar
The map below shows the location of Potters Bar

Property Prices & House Removals Potters Bar
There has been an increase in Property prices over the past 12 months by approximately 3.27%. The average house price paid here is £626,000. There are detached homes available from £984,000, semi-detached homes for around £565,000; and terraced homes for approximately £445,000. Stats as per Zoopla 17th November 2017.
Leisure & House Removals Potters Bar
Potters Bar, it is a town situated approximately 18 Miles north of London city centre and falls within the county of Middlesex. Just 20 Minutes from Potters bar is the famous "Go Ape" adventure park. A great day out for the whole family. Set in stunning scenery, with zip wires and Tarzan swings and crossings, you will have a safety briefing before being let loose here. There is a 2-3 hour tree top adventure as well as organised day courses too. You can even book corporate team building sessions here too, so it doesn't matter about your age, it's all about having fun.
Cable and Phone Connections if Moving to Potters Bar
If you're moving to Potters Bar, and need to know the broadband availability, simply visit: www.cable.co.uk
Local Council & House Removals Potters Bar
If you are planning to move to Potters Bar, and need information on schools, planning permission, parking permits or council tax, council planning permission meetings are held on a regular basis. Simply contact: www.welhat.gov.uk
House Removals Around Potters Bar
This item is brought to you by www.whiteandcompany.co.uk the removals storage and shipping company serving Potters Bar and the surrounding area. This service is aimed at people moving in Potters Bar and for those looking for a local removals, storage and shipping company.
To submit any news story or future events please submit copy and photos to newseditoruk@gmail.com
House Removals Potters Bar – White & Co. Call 01383 721 697 for a free removals, storage or shipping quote.