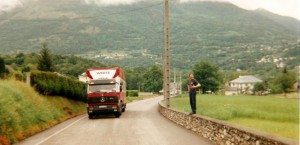 Houses for Sale in Cologne Germany
If you are considering moving to Cologne in Germany and searching for houses for sales in Cologne Germany: White & Company have been providing a full removals and storage solution to Germany for the past eighty years. As founder members of BAR, FIDI & OMNI. White & Company can provide for a local move, to anywhere in the UK, to Europe or to any international destination.
Because it is so important that your possessions are cared for throughout your entire process, White & Company are members of the British Association of Removers and all services performed are in accordance with European standard BS EN 12522.
White & Company are also proud winners of the British Association of Removers  'Overseas Mover of the Year' Competition 2016.

Why Emigrate to Cologne? – Houses for Sale in Cologne Germany
Deciding to move to another country is not an easy decision to make. However, anyone moving to Germany should find the move straightforward, especially as the country has a powerful economy. One of the most difficult issues to overcome is the country's stringent immigration regulations. Living costs in Cologne are high compared to other European cities but this should be weighed up against the higher salaries on offer in the city.
Visa when Emigrating to Cologne – Houses for Sale in Cologne Germany
It is essential that you get your paperwork in order before moving to Germany. Anyone that is a member of the European Union can enter with only their passport, entitling them to live and work in the country. However, you will still need to get a residency permit. If you are a Non-EU citizen and wish to travel to Germany for a short stay, you should apply for a 'Schengen' visa. Allow at least three weeks for this to be issued.
If you wish to travel to Cologne to do business, you will need to apply for a business visa. This will require a formal invitation from the German company you will be visiting. You will also need to provide evidence of your visit, including the duration of stay and a number of other details.
Applications for a residency permit (Aufaenhait), will need to be carried out in person at a German embassy or consulate.
All EU nationals should find this a simple formality and is unlikely to prove a problem.
All Visa regulations are subject to change at short notice, anyone looking to move to Cologne should contact their respective embassy or consulate for the latest details. The following website may offer some helpful advice: www.justlanded.com
Planning your Relocation – Houses for Sale in Cologne German
Once you have all your paperwork in order, you will need to plan to ensure your move is a success. You will need to consider what you want to do with your household effects and will probably have a number of questions such as:
• Should I take everything with me or should I just take the essentials?
• Is it cheaper to ship everything or buy everything new once I arrive?
• How long will it take for my effects to arrive in Cologne?
• How much does shipping cost?
• Will my effects be covered by insurance in case of breakages?
This is where our experienced surveyors can help. They will have the knowledge to answer your questions and will provide you with a quotation to enable you to make an informed decision as to what suits you best. All our quotations are free of charge and have absolutely no obligation attached.
Transporting My Effects – Houses for Sale in Cologne German
Moving can be a very stressful experience and it is advisable to choose an experienced removal company. White & Company have over eighty years of experience in the removal industry and have moved thousands of families to Europe over the years.
Packing for export shipping from the UK is a specialist skill. White & Company have experienced and professionally trained staff to provide this service for you. We'll decide what type of packing and wrapping is necessary during the pre-move survey.
China and glassware are wrapped in special paper and then packed in double-thickness cartons; furniture is wrapped in bubble blankets for extra protection; items requiring specialist care, such as antiques, musical instruments or large mirrors, can be packed in made-to-measure wooden crates if necessary.
As the cartons are packed, an inventory will be completed and each carton/item will be numbered and noted on the inventory. This ensures that however many boxes or packages leave your home in the UK, the same number are delivered to your new home in Cologne. You will be asked to sign the inventory once everything has been packed and you will be given a copy for your records. We can also provide storage at one of our 19 storage locations throughout the UK for any items you may not wish to move.
Finding Property – Houses for Sale in Cologne German
Once you have decided to move and have a firm time frame you will need to decide on a number of things such as:
• Which area of the city would suit my needs best
• What will property cost and what will I be able to afford?
• Should I purchase a property straight away or consider renting in the short term?
Many newcomers to the city choose to live in one of the neighbourhoods on the left side of the city, such as: Nippes, Ehrenfeld, Lindenthal, Sülz, Zollstock, Bayenthal, and Rodenkirchen.
One of the best ways to house-hunt is to simultaneously check for ads in the local newspapers and through internet databases, such as https://www.immowelt.de/. You can expect to pay approximately 3800 € per square meter for a property in a reasonable area.
Below are some estate agent web sites, which may be of interest in your search for a property:
• Engel & Völkers Köln Lindenthal – https://www.engelvoelkers.com/de-de/koeln/
• Cityhouse Immobilien GmbH – http://www.cityhouse-immobilien.de/
• QIU immobilien GmbH – http://www.qiu-immobilien.de/
Salaries in Cologne – Houses for Sale in Cologne German
Salaries in Germany are amongst the highest in the world and Cologne is no exception. Graduates in Germany can expect to earn an average of EUR 30,000 per year. If you have a job in one of the sought-after fields like finance, banking, IT and science you can expect to earn considerably more!
Schooling in Cologne – Houses for Sale in Cologne German
Education in Germany is first class and most people will usually choose to send their children to an international school in Cologne. The following schools all come highly recommended:
St. George's – The English International School Cologne www.stgeorgesschool.de/
Internationale Friedensschule Köln www.if-koeln.de/
Köln International School of Design https://kisd.de/
Leisure in Cologne – Houses for Sale in Cologne, German
There are a wide variety of museums and art galleries to visit including the Museum Ludwig which showcases 20th-century art, including many masterpieces by Picasso. There are plenty of beer halls in the Altstadt (old town), which offer an extensive range of beers from across Germany.
The following restaurants are well worth visiting:
Das kleine Steakhaus http://www.daskleinesteakhaus.de/
Hohe Str. 73-75
50667 Köln
Germany
T: +49 221 2581787
Le Moissonnier http://www.lemoissonnier.de/
Krefelder Str. 25
50670 Köln
Germany
T: +49 221 729479
Osman30 http://www.osman-cologne.de/
Im Mediapark 8
50670 Köln
Germany
T: +49 221 50052080
White & Company Have Branches In The Following Locations
Bedford
London
Bournemouth
Dunfermline
Farnborough
Forres,
Guernsey
Harrogate-York
Jersey
Knaresborough
Lancaster
Leeds-Bradford
Plymouth
Portsmouth
Southampton
Telford
Winchester
White & Company also provide specialist removal services to locations around Europe and all international destinations
Shipping To Germany | Houses For Sale In Cologne, Germany | Houses For Sale In Cologne