Moving To New Zealand
Are you are thinking of moving to New Zealand? The country offers expats with families the opportunity for a better work/life balance. Approximately one fifth of the population was born overseas and there are large expat communities from the UK, South Africa, North America, China, India and the South Pacific.
Because it is so important that your possessions are cared for throughout your entire process, White & Company are members of the British Association of Removers and all services performed are in accordance with European standard BS EN 12522.
White & Company are also proud winners of the British Association of Removers 'Overseas Mover of the Year' Competition 2016.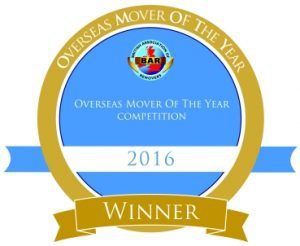 Packing solutions for your removal is a specialist skill and White & Company have experienced and professionally trained staff to provide this service for you.
Marine insurance is a key consideration when shipping overseas. White & Company are proud of the International Moving service we provide our customers and we always try to minimise problems during the moving process.
Vehicle Shipping to a new country needs careful planning and consideration. With effective planning even complex moves can be handled efficiently, economically and with the least possible disruption.
Moving To New Zealand
The New Zealand government is welcoming of new expats provided they have the experience and skills to benefit the local economy. Major areas for employment include finance, tourism, manufacturing and agriculture offering plenty of opportunities for expats to find employment.
Auckland and Christchurch are both popular cities for expats to settle, Auckland has a warm and wet, almost subtropical climate and Christchurch enjoys drier more temperate weather.
Accommodation if you are thinking of moving to New Zealand
There are plenty of accommodation options from ranch-style family homes to modern bachelor apartments and expats will find they have plenty of choice. Owing to the large number of forests in New Zealand, many houses are made from wood; it is always wise to check that insulation is adequate.
Another point to remember is that houses facing north will get the most sun, unlike homes in the UK. Properties in the larger cities such as Hamilton, Christchurch and Auckland will be more expensive than more rural locations. Most expats will usually decide to rent a property until they get a feel for the local property market.
The following site has a selection of properties: http://www.ljhooker.co.nz/
Schools if moving to New Zealand
The quality of education in New Zealand is amongst the best in the world and expats should have no problems finding a suitable school. State education in New Zealand is fully funded by the government and cities such as Auckland, Christchurch and Wellington will have a good choice of schools. Unless expats have permanent residency, they will need to look at either private or international schools.
Private schools still receive about a quarter of their funds from the Government, often making them a cheaper option than international schools. Help to select a school can be found at: Schools Portal
Local Information if moving to New Zealand
When you first move to a new city finding your way round the local taxes and requirements can be daunting, a quick visit to the following website can help you on your way.
Simply visit Banking & Tax Information
Travel if moving to New Zealand
Public transport in New Zealand is generally very good; most cities tend to be compact and pedestrian friendly. The state owned KiwiRail operates passenger trains and provides long distance services across the country. Buses are the main form of public transport with local bus services being contracted out to private companies across the country.
It is often cheaper to use a domestic flight when travelling between one island and the other. There are airports in Auckland, Christchurch and Queenstown, along with smaller regional airports across the country.
Currency Conversion If Moving To New Zealand
The currency in New Zealand is the New Zealand Dollar (NZD), which is divided into 100 cents. This is normally written with a dollar sign or as NZ$ to distinguish it from other dollar currencies. A NZ$ is sometimes informally called a Kiwi!
When moving overseas making sure you get the best exchange rate possible is essential to starting your new life on a sound footing. White & Company has an exclusive arrangement an FX Firm.
Simply call us on Tel: 01494-857672 or follow the link to see what additional monies you will receive compared to using your high street bank and to set up a free account. Foreign-Exchange
For further information on our removals services for New Zealand, to start your new job, or any other international destination, contact our international office on 01489 854175. Alternatively complete the form below with your details and we will contact you.