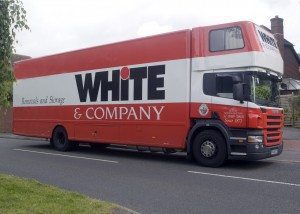 Finding Good Removal Companies Near Me Telford
Whether you are moving to a new home or organising office removals when your company relocates, your first question will be "how do I find the best removal companies near me"? With so many out there it is hard to know which one you can trust.
Top of your list should be White & Company. We have been based in Telford for over 145 years and can provide a full removals and storage solution. As founder members of BAR, FIDI & OMNI, you will always have the peace of mind that comes from using a reputable, professional and safe removal company.
Our services include domestic, European, international and office removals along with self-storage for furniture and archiving of documents. We are also able to offer a full packing and unpacking service.
With 16 branches located across the UK from the Channel Islands to Scotland and a network of industry partners, our relocation network allows us to provide the perfect removal solution no matter where you're moving.
16 Branches Nationwide
19 Storage Locations
240 specialist vehicles
Complete Packing service
Fully trained and security cleared removal staff
A White & Company move to Telford will be tailored to meet your specific requirements. Our highly qualified and security-cleared crew will be available throughout your move to ensure everything runs smoothly.
As soon as you have a moving date, make sure you contact White & Company to arrange for a free no obligation quotation. We will always send a trained professional to your home, so that we can provide you with an accurate quotation and anticipate anything that may require special attention. Below you will see how you find removal companies near me Telford.
How to Find Removal Companies Near Me Telford
White & Company Removals Storage & Shipping
Haybrook
Halesfield 9
Telford
Shropshire
TF7 4QW
T: 01952 897604 for a free home survey and quote
E: hq@whiteandcompany.co.uk
www.whiteandcompany.co.uk
Opening Times:
Mon 09:00 – 17:00
Tue 09:00 – 17:00
Wed 09:00 – 17:00
Thu 09:00 – 17:00
Fri 09:00 – 17:00
Sat 09:00 – 12:00
Sun Closed
Here is some information you may find helpful if you are anticipating moving in the Telford area.
About Telford and Removal Companies Near Me Telford
Telford is surrounded by a number of historic towns and beautiful countryside. The Town is relatively new and was built between the 1960's and 1970's. It was named after Thomas Telford, the famous civil engineer who was responsible for the engineering of many of Telford's main roads and rail projects.
The town advertises itself as "The Birthplace of Industry" and is seen as being pivotal to the Industrial Revolution because of its coal production. Telford's prosperity is partly due to the linking to the M54 and it is one of the fastest growing towns in the UK. Large companies such as EDS and Fujitsu have their headquarters here.
Where is Telford
The map below shows the location of Telford.
Property Prices in Telford
Properties here have indicated a dip in value of 1.94% over the last 12 months and the average house price is £133,000. You can purchase a detached home from £206,000, a semi-detached house for around £135,000 and terraced homes for approximately £103,000. Prices as per Zoopla 22nd June 2017.
Estate Agents in Telford
Tristans Estate Agents
57 Market Street, Telford TF2 6EA
01952 615103
www.tristans-estates.co.uk
Andrew Dixon Estate Agents
Grosvenor House, Central Park, Telford TF2 9TW
01952 521000
www.andrew-dixon.co.uk
Nock Deighton
7 Pearson Road, Telford TF2 9TX
01952 292300
www.nockdeighton.co.uk 
Schools in Telford
Thomas Telford School
Telford, Telford and Wrekin TF3 4NW, Telford TF3 4NW
01952 200000
www.ttsonline.net
Randlay Primary School
Randlay, Telford TF3 2LR
01952 386986
www.randlayprimary.taw.org.uk
St. Georges C of E Primary School
London Road, Telford TF2 9LJ
01952 387750
www.stgeorgescofe.education
Local Council in Telford
If you are planning to move to Telford, and need information on schools, planning permission, parking permits or council tax, council planning permission meetings are held on a regular basis. Simply contact: www.telford.gov.uk/