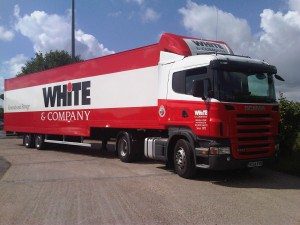 Removal Companies Tokyo
Anyone considering moving to Tokyo will have much to learn about living in Japan with all its cultural differences: Before leaving the UK it would be wise to ensure that everything runs as smoothly as possible. One of the main priorities when looking for removal companies Tokyo is to find someone who has experience of international removals: White & Company have been providing a full removals and storage solution to Tokyo for the past seventy years. As founder members of BAR, FIDI & OMNI, White & Company can provide all your moving and storage needs.
Family owned White & Company has many years of experience in moving people to Japan. They can help at all stages of the removal process and can provide a packing service if you require. Their knowledgeable international surveyors can give you practical advice on the technical issues involved in moving to Tokyo such as customs regulations and the costs involved. Book a survey today at a White & Company branch near you, the surveyor will be able to provide you with a quotation free of charge and within 48 hours of a home visit.
Living and Removal Companies Tokyo
Anyone who moves to Tokyo for the first time may well find a culture shock awaits them, compared with life in the UK. Japanese society has a very fixed code of 'acceptable' conduct, especially in business terms. Foreigners, often called 'gaijin', rarely fit into this code without making a considerable effort.
That said, the Japanese are very hospitable and friendly toward people from other countries and regard them as honoured visitors to their country.
Learning the language is advisable but can be very challenging if you want to progress beyond the basics. Apart from learning how to read and write with the Japanese alphabet, there is a very complex system of formal language, which can be difficult to master.
Once you have arrived in Tokyo you will notice that a great value is put upon maintaining harmony. It is advisable that if you are speaking with someone, that you avoid frowning as this is seen as a sign of disagreement. You will probably notice that in most matters, the Japanese maintain an impassive expression throughout all communications. Making eye contact is important, but it is considered very rude to stare, especially in the presence of someone more senior in terms of status or age.
Bowing is also an intrinsic part of the culture. If you meet someone, ask for something, thank someone or you just wish to be polite, it is important to bow with your hands at your side. The deeper the bow, the greater respect you are showing.
There are many books published on cultural etiquette and it would be a good idea to get one before you leave the UK. A copy of 'Etiquette Guide to Japan: Know the Rules that Make the Difference!' by Boye Lafayette De Mente will stand you in good stead for most social situations.
Leisure Activities and Removal Companies Tokyo
Tokyo has so much to offer. It is a country that thrives on the contrasts between modern and traditional and a Japanese attention to detail. There are a wide variety of places to go and sights to see. Tokyo's cuisine is outstanding, has more Michelin stars than any other city. You can enjoy the best sushi you have ever tasted, with ingredients bought from the famous Tsukiji Market. The city has the world's tallest tower, the Tokyo Sky Tree, a twisting spire like no other.
Travel Connections and Removal Companies Tokyo
You will find travelling around Tokyo is an easy and pleasant experience. The city has an efficient public transport network, which connects to the other larger cities. Japanese public transportation is characterized by its punctuality and its superb service. Tokyo has an extensive bus service and the Yamanote Line, which connects Tokyo's major city centres. A trip around the whole circle takes approximately one hour.
Tokyo has two airports: Narita Airport handles the majority of international flights and only a small number of domestic flights. It is located 38 miles outside the city centre. The more centrally located Haneda Airport handles a smaller number of international flights and the majority of domestic flights.
Property Prices and Removal Companies Tokyo
Anyone moving to Tokyo would be advised to seek a property through a real estate agent, as they will understand the language and be able to provide a list of suitable accommodation. As a general rule, the closer a property is to the centre of Tokyo and to public transport, the more expensive it will be. New apartments also command a higher price than older property. Apartments are common; the smaller ones in older buildings are called 'apato'. Newer buildings with larger apartments are called 'mansions'. You can expect to pay around 1,885,630.00 ¥ per square metre for a property in a good area of Tokyo. You may find the following list of real estate agents useful:
Tokyo Investment Property Inc – http://www.tokyoapartmentinc.com/
Housing Japan – https://housingjapan.com/
HIKARI HOME – http://www.hikarihome.co.jp/
Axispoint Inc – http://www.tokyoroomfinder.com/
Schools and Removal Companies Tokyo
Options for education in Tokyo are plentiful and there are a number of very good international and private English speaking schools in the city. Tuition fees and costs can vary and you should always check if there would be any additional costs for uniforms, field trips and technology fees. Here is a list of schools in Tokyo:
Tokyo International School – http://tokyois.com/new/
The British School in Tokyo – http://www.bst.ac.jp/
K. International School Tokyo – http://www.kist.ed.jp/
Nishimachi International School – http://www.nishimachi.ac.jp/
St. Mary's International School – http://www.smis.ac.jp/
Location & Removal Companies Tokyo
The Tokyo housing market is very active, you can currently expect to pay approximately 2,223,191.00 ¥ per square meter to buy an apartment in the city centre. Outside the centre the prices drop to 985,686.00 ¥.
White & Company
Hillsons Road
Botley
Southampton
SO30 2DY
Tel: 01489 858027 for a free moving quote
E: hq@whiteandcompany.co.uk
Opening Times:
• Mon 09:00 – 17:00
• Tue 09:00 – 17:00
• Wed 09:00 – 17:00
• Thu 09:00 – 17:00
• Fri 09:00 – 17:00
• Sat 09:00 – 12:00
• Sun Closed
Because it is so important that your possessions are cared for throughout your entire process, White & Company are members of the British Association of Removers and all services performed are in accordance with European standard BS EN 12522.
 
When moving overseas, making sure you get the best exchange rate possible is essential to starting your new life on a sound footing. White & Company has an exclusive arrangement with an FX Firm (foreign exchange company). Simply follow the link below to see what additional monies you will receive compared to using your high street bank and to set up a free no obligation account. White & Company/foreign-exchange
Whether you need to arrange monthly payments to service an overseas mortgage, or wish to protect yourself against exchange rate fluctuations and fix the rate for up to a year, we will be able to suggest the most suitable way to do so. Open your free, no obligation account in as long as it takes to stop for a coffee.
Moving to Tokyo | Removal Companies Tokyo | Removal Firms Tokyo