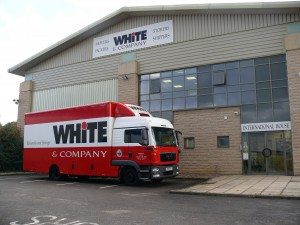 Removals Bingley
If you are moving locally or looking to move to Bingley and searching for Removals Bingley: White & Company have been based in the area for over 145 years and provide a full removals & storage solution. As founder members of BAR, FIDI & OMNI. White & Company can provide for a local move, anywhere in the UK, Europe or international destination.
Connections & Removals Bingley
Bingley's connections are good, the A650 passes through the town giving access south to Bradford and Halifax and north onto the A629 and onto Skipton. The larger motorways M606, M62 and M621 also give access to Leeds and Huddersfield. Bingley has its own train station and offers services to Leeds, Bradford, Skipton, Carlisle and Morcambe. The nearest airport is Leeds Bradford International Airport (7 miles)
Schools & Removals Bingley
There is a good choice of schools in the area:
Trinity All Saints CofE VA Primary School (0.0 miles)
St Joseph's Catholic Primary School (0.3 miles)
Priestthorpe Primary School (0.3 miles)
Beckfoot School (0.3 miles)
Bingley Grammar School (0.9 miles)
The Samuel Lister Academy (1.1 miles)
Bradford Grammar School (3.3 miles)
Bradford Christian School (3.4 miles)
Coral College for Girls (4.0 miles)
Leisure & Removals Bingley
Bingley is a market town located around 6 miles from the larger city of Bradford in the Aire Valley. The town centre is a busy bustling hub, with plenty to do and see. There are some historic inns and cafes, specialist shops and Bingley Arts Centre is a very popular evening attraction.
At the bottom end of the town, Bailey Hills suggest the site of a castle, and one 17th Century historian claimed to found evidence of such a building. Through the Middle Ages and up to the Industrial Revolution, Bingley was a manufacturing town and an agricultural centre. You can take a ride on one of the canal boats and view the town from a different angle, or if you prefer you can get away from the town and wander through the tranquil woodlands and river walks of the St Ives estate. You will certainly find something to do in Bingley that appeals to you.
Location & Removals Bingley
The property market has been slow here in recent years, however latest statistics have indicated that property values in Bingley are on the increase with a rise of 1.61% in the last three months alone, good news for homeowners in this region. The current average value is £208,571 and a good sized family home would cost in the region of £345,000. Greenhill Lane and Glen Road are two of the most expensive streets in Bingley with homes valued between £600,000 and £615,000.
White & Company plc Removals & Storage
International House
Ghyll Royd
Guiseley
Leeds
LS20 9PP
Email: https://www.whiteandcompany.co.uk/removals-leeds/
Tel: 01133 509 391
Opening Times:
Mon 09:00 – 17:00
Tue 09:00 – 17:00
Wed 09:00 – 17:00
Thu 09:00 – 17:00
Fri 09:00 – 17:00
Sat 09:00 – 12:00
Sun Closed
Removals Bingley | Removal Companies Bingley | Removal Firms Bingley
White & Company Removals Storage & Shipping. Call 01133 509 391 for a free moving quote