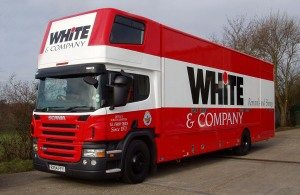 Removals Chertsey
Are you going through the process of moving home and looking for removals Chertsey? You could not be in safer hands than those of White & Company. Our reputation as one of the leading removal companies in the UK is well known. Not only have we been in business for over 145 years, we are founder members of the regulators BAR, FIDI & OMNI. White & Company are also proud winners of the (BAR) British Association of Removers 'Overseas Mover of the Year' Competition 2016. Proving that we are still providing the best possible service to our customers.
Travel Connections & Removals Chertsey
If you are travelling to Chertsey by car it will be via the M3/M25. The closest airports are Heathrow, Gatwick and London City Airports. The closest three train stations are Chertsey, Addlestone and Weybridge.
Property Prices & Removals Chertsey
The value of homes in Chertsey have shown a decrease in value of 0.71% over the last 12 months. The average asking price is currently £448,304. Detached homes can be purchased for approximately £670,061, semi-detached homes for £428,327 and terraced homes are selling for around £356,451. Stats as per Zoopla 16th October 2017.
Estate Agents & Removals Chertsey
Leaders – 4 Guildford Road, Chertsey KT16 9HH
01932 950900. www.leaders.co.uk
Pearce & Co. – 64 Guildford Street, Chertsey KT16 9BD
01932 582501. www.pearceco.co.uk
Hodders Estate Agents – 15 Windsor St, Chertsey, Surrey KT16 8AY
T: 01932 562321. http://www.hodders.net/
Johnson & Jones Estate Agents – 10 London St, Chertsey, Surrey KT16 8AA
T: 01932 560777. http://www.johnsonandjones.co.uk/
Pubs, Restaurants & Removals Chertsey
The Kingfisher – Chertsey Bridge Road, Chertsey KT16 8LF
01932 579811. www.thekingfisherchertsey.co.uk
Taj Mahal Tandoori Restaurant – 186 Station Road, Addlestone KT15 2BD
01932 857955. www.tajmahal.co.uk
Chertsey Restaurant – 38 Guildford St, Chertsey KT16 9BE
T: 01932 565221.
Caspari Bar & Restaurant – 1-2, Liberty House, 3 Guildford St, Chertsey KT16 9GU
T: 01932 566699. www.casparirestaurant.co.uk/
Local Supermarkets & Removals Chertsey
Sainsbury's – 1 The Sainsbury Centre, Guildford Street, Chertsey KT16 9AG
01932 566503. www.sainsburys.co.uk
Morrisons – 179 Station Rd, Addlestone KT15 2BA
01932 820251. www.morrisons.co.uk
Londis – 8 Brox Rd, Chertsey, KT16 0HL
T: 01932 872388. www.supermarket.londis.co.uk/
Leisure Centres & Removals Chertsey
Addlestone Leisure Centre – School Lane, Addlestone KT15 1TD
01932 858966. www.addlestone-leisure-centre.co.uk
Curves – 1A London Street, Chertsey KT16 8AP
01932 566100 www.curves.com
Leisure Activities & Removals Chertsey
Historically Chertsey's economy was based on agriculture and later, market gardening. Tile and brick making was an important industry in the area from the 13th to 20th centuries. In the early 18th Century it became fashionable for the gentry to live away from London and number of fine buildings in Chertsey were built in this period. In 1848 the railway station was opened, and this was largely responsible for the subsequent expansion of the town.
Reputed to be one of Surrey's most elegant commuter towns. Wedged between the M25 and M3 motorways and with its own train station offering speedy links to London, a journey of around 1 hour. Popular with young professionals, the town centre underwent a refurbishment in the 2000s and is now a pleasant place to shop, socialise and work. Some parts are pedestrianised and the streets are lined by a number of trendy wine bars and restaurants.
Local Hotels & Removals Chertsey
The Bridge Hotel & Boat House Restaurant – Bridge Rd, Chertsey KT16 8JZ
T: 01932 565644. www.bridgehotelchertsey.com/
The Crown Hotel – 7 London St, Chertsey KT16 8AP
T: 01932 564657. www.crownchertsey.co.uk/
Local Schools & Removals Chertsey
St Anne's Catholic Primary School
Stepgates Community School
Meadowcroft Community Infant School
Sir William Perkins's School
Salesian School, Chertsey
Jubilee High School
St Peter's Teaching Centre
TASIS – The American School in England
ACS Egham International School
Local Council & Removals Chertsey
If you are planning to move to Chertsey and need information on schools, planning permission, parking permits or council tax, council planning permission meetings are held on a regular basis. Simply contact: www.runnymede.gov.uk
Cable & Phone Connections Chertsey
If you're moving to Chertsey and need to know the broadband availability, simply visit: https://www.cable.co.uk/
Contact your local branch:
White & Company
23 Invincible Road,
Farnborough
Hampshire.
GU14 7QU

Tel: 01252 549212 for a free moving quote

Opening Times:
Mon 09:00 – 17:00
Tue 09:00 – 17:00
Wed 09:00 – 17:00
Thu 09:00 – 17:00
Fri 09:00 – 17:00
Sat 09:00 – 12:00
Sun Closed
Domestic Removals Chertsey
This item is brought to you by www.whiteandcompany.co.uk the removals storage and shipping company serving Chertsey and the surrounding area. White & Company have been providing a removals service for over 145 years and are members of the British Association of Removers.  This service is aimed at people moving in Chertsey and for those looking for a local removals, storage and shipping company.
Removals Chertsey – Moving to Chertsey – Houses For Sale Chertsey. White & Company Removals & Storers. Call 01252 549212 For a free moving quote
If you are moving away from Chertsey and considering an overseas location in the sun, White & Company ship to all European and International destinations.
Because it is so important that your possessions are cared for throughout your entire process, White & Company are members of the British Association of Removers and all services performed are in accordance with European standard BS EN 12522.
 
When moving overseas, making sure you get the best exchange rate possible is essential to starting your new life on a sound footing. White & Company has an exclusive arrangement with The FX Firm (foreign exchange company). Simply follow the link below to see what additional monies you will receive compared to using your high street bank and to set up a free no obligation account. White & Company/foreign-exchange
Whether you need to arrange monthly payments to service an overseas mortgage, or wish to protect yourself against exchange rate fluctuations and fix the rate for up to a year, we will be able to suggest the most suitable way to do so. Open your free, no obligation account in as long as it takes to stop for a coffee.
White & Company Have Branches In The Following Locations
Bedford
London
Bournemouth
Dunfermline
Farnborough
Forres
Guernsey
Harrogate-York
Jersey
Knaresborough
Lancaster
Leeds-Bradford
Plymouth
Portsmouth
Southampton
Telford
Winchester
Opening Times:
Mon 09:00 – 17:00
Tue 09:00 – 17:00
Wed 09:00 – 17:00
Thu 09:00 – 17:00
Fri 09:00 – 17:00
Sat 09:00 – 12:00
Sun Closed
To read independent customer reviews please visit Referenceline
"Very competitive price very efficient staff who gave helpful advice and were very supportive during the move."
"They made what we feared was going to be a difficult and traumatic event go off with smooth efficiency – we can – not recommend them more highly they can be proud of their work!. "
Absolutely top drawer. Very good team. courteous, helpful and worked so hard.