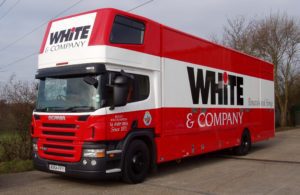 Removals Eastleigh
If you are one of the many house movers this autumn, you will probably be planning to complete your move before Christmas. It is really important that you pick a sensible and achievable moving date before the 25th December and work towards this.
Research removals companies in your area to find out who would best meet your needs and make sure you book them well in advance as they will become very busy in the months leading up to Christmas.
Initially, thinking you can carry out the house move yourself may not sound too problematic. However, there is a certain amount of skill involved when packing household effects in order to avoid damages. Lifting heavy items of furniture is very hard work not to mention potentially dangerous, many back injuries have occurred during home moves. It also takes time which is always a precious thing in our busy lives. Invariably, the weather will also play a part in the move this time of the year, all these things combined, can leave you drained and very
stressed.
You can avoid this trauma by choosing a professional removal company such as White & Company. They are members of BAR (British Association of Removers), FIDI & OMNI. All members have to adhere to the very highest of standards of service and code of practice. Their staff will have all the necessary training, expertise, experience and professionalism to carry out your move as efficiently as possible.
About White & Company
White & Company has 16 branches located across the UK from the Channel Islands to Scotland and a network of industry partners, their relocation network allows them to provide the perfect removal solution no matter where you're moving.
• 16 Branches Nationwide
• 19 Storage Locations
• 240 Specialist Vehicles
• Complete Packing Service
• Fully trained and security cleared removal staff
How to find White & Company
White & Company Removals Storage & Shipping
Hillsons Road
Botley
Southampton
SO30 2DY
To book your free home survey, simply contact your local branch on Tel: 01489 854 286
E: hq@whiteandcompany.co.uk
www.whiteandcompany.co.uk
Opening Times:
• Mon 09:00 – 17:00
• Tue 09:00 – 17:00
• Wed 09:00 – 17:00
• Thu 09:00 – 17:00
• Fri 09:00 – 17:00
• Sat 09:00 – 12:00
• Sun Closed
Estate Agents & Movers Eastleigh
Here is a list of estate agents in the Eastleigh area. Before instructing an estate agent it would be wise to make sure you have an idea of the value of your property. We recommend looking at what similar properties are being sold for in Eastleigh on sites such as Zoopla:
Connells Estate Agents
19 Market Street, Eastleigh SO50 5RH
023 8061 8343
www.connells.co.uk
Churchill's
62 Market Street, Eastleigh SO50 5RB
023 8065 3333
www.churchillsonline.co.uk
Solicitors & Movers Eastleigh
Before you exchange contracts you will need to instruct a solicitor or conveyancer. Here is a list of solicitors and conveyancers in the Eastleigh area:
Julia Hodgson Solicitors
297 High Street, Eastleigh SO50 5NB
023 8065 1100
www.juliahodgson.co.uk
Eric Robinson Solicitors
6-8 Brownhill Road, Chandlers Ford, Eastleigh SO53 2EA
023 8025 4676
www.ericrobinson.co.uk
Schools & Movers Eastleigh
There are a number of schools in the Eastleigh area. Here is a selection covering all age groups in the Eastleigh area:
Stoke Park Infant School
Stoke Park Junior School
Fair Oak Junior School
Wyvern College
Woodside Centre PRU
Eastleigh College
The King's School
Allbrook School
St Mary's College
Property Prices & Movers Eastleigh
Properties in Eastleigh have shown a rise of 0.72% over the last 12 months and the average house price is now £283,000. You can purchase a detached home from £421,000, a semi-detached house for around £277,000 and terraced homes for approximately 244£,000. The Average price paid is £280,000. Statistics provided by Zoopla 5th October 2017.
Transport Links & Movers Eastleigh
Moving to an area that has good transport links can be very important, especially if you need to commute to work.
Reaching Eastleigh by road would be via the: M3/M27/A36/A33. The closest train stations are: Eastleigh, Southampton Airport Parkway (2.3 miles) and Hedge End (2.5 miles). The closest airports are: Southampton Airport (2.0 miles), Bournemouth Airport (26.3 miles), Shoreham Airport (45.4 miles)
Council Tax Bands & Movers Eastleigh
If you are planning to move to Eastleigh the council tax bands are as follows:
A Band £1,004.19
B Band £1,171.56
C Band £1,338.92
D Band £1,506.29
E Band £1,841.02
F Band £2,175.76
G Band £2,510.48
H Band £3,012.58
Doctors & Movers Eastleigh
The Fryern Surgery
Oakmount Road, Eastleigh SO53 2LH
023 8027 3252
http://www.thefryernsurgery.co.uk/
Eastleigh Health Centre
Newtown Rd, Eastleigh SO50 9AG
023 8061 2197
http://www.archerspractice.co.uk/
Dentists & Movers Eastleigh
There are a number of dentists in Eastleigh, here is a list of some of them:
Fair Oak Dental Practice
1 Campbell Way Fair Oak, Eastleigh SO50 7AX
023 8069 4030
http://www.fairoakdental.co.uk/
mydentist
Shakespeare Road, Eastleigh SO50 4QP
023 8061 2888
https://www.mydentist.co.uk/
To read independent customer reviews please visit Referenceline
"All there removal worked really hard. They communicated throughout the whole day with me and with each other."
"Excellent service throughout quote telephone help packaging to removal"
"Very happy and will be recommending White and co highly."
"Clean, careful removal Company and very competent."