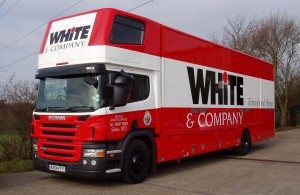 Removals Loughborough
Loughborough is situated in the county of Leicestershire and has a population of around 58,000. It is home to a number of major engineering firms as well as several large pharmaceutical companies and the internationally respected Loughborough University.
These factors attract many people looking to relocate into the area. If you are planning a move here and searching for removals Loughborough, White & Company are one of the largest and most respected removal companies providing UK domestic moving. Contact your nearest branch today to arrange a visit from one of our professional estimators who will provide you with a free quotation.
White & Company have been based in the area for over 145 years and provide a full removals and storage solution. As founder members of BAR, FIDI & OMNI, White & Company can provide for a local move to anywhere in the UK, to Europe or to any international destination.
White & Company
Haybrook
Halesfield 9
Telford
Shropshire
TF7 4QW
Tel: 01952 897 604 for a free moving quote
E: hq@whiteandcompany.co.uk
*
Opening Times:
• Mon 09:00 – 17:00
• Tue 09:00 – 17:00
• Wed 09:00 – 17:00
• Thu 09:00 – 17:00
• Fri 09:00 – 17:00
• Sat 09:00 – 12:00
• Sun Closed
Connections & Removals Loughborough
Connections in Loughborough are very good. The M1's junction 23 lies just to the west of the town. The north of the town can be accessed from Junction 24, travelling through Kegworth and Hathern on the A6 road and the south west from Junction 22. Loughborough railway stations provides excellent links with services to London St. Pancras International, as well as services to Bedford, Luton, Lincoln, Sheffield, Leeds and York. The East Midlands Airport is approximately 5 miles by car and Norwich International Airport just over seven miles.
Where is Loughborough
The map below show the location of Loughborough

Schools & Removals Loughborough
There is a good choice of schools in the Loughborough area, with Loughborough University providing higher educations and ranking 11th in the Complete University Guide 2016.
• De Lisle Catholic School Loughborough Leicestershire
• Thorpe Acre Junior School
• Thorpe Acre Infant School
• Charnwood College (High)
• Charnwood College (Upper)
• Loughborough College
• Ashmount School
• Our Lady's Convent School
• Ratcliffe College
Property Prices & Loughborough Removals
Properties in this area have increased in value over the past 12 months by 3.68%. The average asking price currently is £215,000. For a detached property you will expect to pay around £317,000, for a semi-detached home £193,000 and terraced homes £162,000. Statistics as per Zoopla 26th June 2017.
Estate Agents & Loughborough Removals
John German – 8 Forest Road, Loughborough LE11 3NP
01509 239121. www.johngerman.co.uk
Sinclair Estate Agents – Eltham House, 6 Forest Rd, Loughborough LE11 3NP
01509 611887. www.sinclairestateagents.co.uk
Restaurants & Loughborough Removals
The Cedars Hotel & Restaurant – Cedar Road, Loughborough LE11 2AB
01509 214459. www.thecedarshotel.com
Orange Tree – 99 High St, Loughborough LE11 2TP
01509 238852. www.orangetree.co.uk
Local Supermarkets & Loughborough Removals
Sainsbury's – Greenclose Lane, Loughborough LE11 5AS
01509 237724. www.sainsburys.co.uk
Morrisons – Maxwell Drive, Loughborough LE11 4RZ
01509 843618. www.morrisons.co.uk
Leisure Centres & Loughborough Removals
Cerco Leisure – Browns Lane, Loughborough LE11 3HE
01509 611080. www.fusion-lifestyle.com
Charnwood Golf & Leisure Centre – Derby Road, Loughborough LE11 5AD
01509 260972. www.charnwoodgolfcomplex.com
Leisure & Loughborough Removals
Loughborough is ideally placed with Nottingham, Derby and Leicester all only 30 minutes away by train and helping to keep Loughborough a comfortable market town. It has a twice-weekly street market, weekly "flea" (bric-a-brac) market and monthly farmers market. The town is home to the world's largest bell foundry, the Taylor's Bell Foundry and the only museum of bells and bell founding of its kind in the UK.
Loughborough has a good shopping centre with a range of retail establishments. The main shopping area in the town is situated around Market Street, Market Place and The Rushes on Swan Street. There are a number of original art deco buildings and one of these houses the towns cinema.
A large outdoor market is held every Thursday and Saturday and there is a monthly farmers market. If you enjoy museums, Loughborough has five to choose from. The biggest is Charnwood Museum, which Hosts a range of interesting exhibits and displays detailing the history of the town.
Located just south of Loughborough is Beacon Hill Country Park, which is perfect for those who like the outdoors. There are lots of woodland walks, open heathland and cycle paths to enjoy. It has a summit which reaches 248 metres and offers the stunning panoramic views over the Leicestershire countryside and beyond.
You can see a range of flora and fauna. Discover the rhododendron labyrinth and the many unique wooden sculptures dotted along the way. Visit the new children's play area near the lower car park and discover the hazel maze and log train in the Natural Play Area.
Local Council & Loughborough Removals
If you are planning to move to Loughborough and need information on schools, planning permission, parking permits or council tax, council planning permission meetings are held on a regular basis. Simply contact: www.leics.gov.uk
Cable, Phone Connections & Loughborough Removals
If you're moving to Loughborough and need to know the broadband availability, simply visit: www.cable.co.uk
Removals Loughborough
This item is brought to you by www.whiteandcompany.co.uk the removals storage and shipping company serving Loughborough and the surrounding area. This service is aimed at people moving in Loughborough and for those looking for a local removals, storage and shipping company.
To submit any news story or future events please submit copy and photos to newseditoruk@gmail.com
Removal Companies Loughborough | Removals Loughborough | Removal Firms Loughborough
White & Company Removals Storage & Shipping. Call 01952 897 604 for a free moving quote