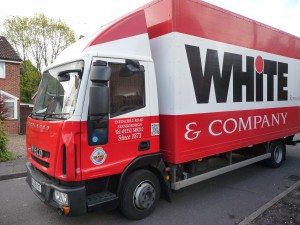 Removals Market Harborough
Are you thinking of moving to Market Harborough, it is classed as a market town, in the Harborough district of Leicestershire, it lies approximately 12 miles from Kettering.Planning your move is essential and finding removal companies Market Harborough can be made easier by visiting, The British Association of Removers website at www.bar.co.uk. White & Company are members of BAR and have been providing a removals service to Market Harborough for over 140 years.
Property prices and Removal Companies Market Harborough
Properties here have indicated a rise of 1.83% over the last 12 months and the average house price at the moment is £291,425. You can purchase a detached home from £380,968, a semi-detached house for around £223,048; and terraced homes for approximately £188,856.
Local Estate Agents and Removal Companies Market Harborough
Henderson Connellan – 17 St Marys Road, Market Harborough LE16 7DS
Tel: 01858 410400 www.hendersonconnellan.co.uk
James Sellicks – 13 Church Street, Market Harborough LE16 7AA
Tel: 01858 410008 www.jamessellicks.com
Local Council and Removal Companies Market Harborough
If you are planning to move to Market Harborough, and need information on schools, planning permission, parking permits or council tax, council planning permission meetings are held on a regular basis. Simply contact: www.harborough.gov.uk
Local Schools and Removal Companies Market Harborough
Farndon Fields Primary School (0.9 miles)
Welland Park Community College (1.4 miles)
Lubenham All Saints Church of England Primary School (1.4 miles)
Brooke House College (1.7 miles)
The Robert Smyth Academy (2.0 miles)
Montsaye Academy (6.2 miles)
Maplefields School (9.9 miles)
Kettering Buccleuch Academy (10.4 miles)
Kettering Science Academy (10.8 miles)
Leisure and Removal Companies Market Harborough
Rockingham Castle in Market Harborough is a great way to spend a few hours. Built on the instruction of William the Conqueror, it has been the Watson's family home for 450 years. Prior to the Watson's ownership the Castle was held by the crown.
You can enjoy a guided tour which in very informative and you will learn about how the castle came into being and was inhabited over the centuries. It has stunning landscaped gardens to enjoy and a little tea shop on site that allows for a rest and a light lunch. Tranquil as well as impressive, a great place to visit.
Cable and Phone Connections and Removal Companies Market Harborough
If you're moving to Market Harborough, and need to know the broadband availability, simply visit: https://www.cable.co.uk/
Travel Connections and Removal Companies Market Harborough
Getting to Market Harborough by car is via the: A4304/A508/A6/A43/A14
The nearest three airports are: Norwich International (20.0 miles), Coventry Airport (23.4 miles), East Midlands Airport (30.3 miles)
Market Harborough has its own train station with the next two closest stations being: Kettering (10.1 miles) and Corby (10.9 miles)
Removals Market Harborough
This item is brought to you by www.whiteandcompany.co.uk the removals storage and shipping company serving Market Harborough and the surrounding area.
This service is aimed at people moving in Market Harborough and for those looking for a local removals, storage and shipping company.
To submit any news story or future events please submit copy and photos to newseditoruk@gmail.com
White & Company also provide specialist removal services to locations around the UK, Jersey and Guernsey. We work tirelessly to provide the best possible service and peace of mind for those looking to move home.
Removals Market Harborough | Removal Companies Market Harborough | Estate Agents Market Harborough