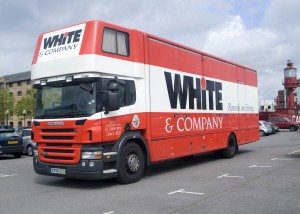 Removals New York
Removals New York, If you are thinking about relocating to New York and removals New York: White & Company have been providing a full removals and storage solution in New York for the past eighty years. As founder members of BAR, FIDI & OMNI. White & Company can provide for a local move, to anywhere in the UK, to Europe or to any international destination.
It can be daunting just moving from one UK address to another. Moving to a different country can be even more stressful, especially when you have to factor in children too. There are many things you need to take into consideration when doing your planning.
One of the first things is to decide what you want to take with you. Is your company paying for the move? in which case you will probably want to take everything. You may want to "start over" once you get there and just plan to take your essentials. These decisions will invariably boil down to the cost of shipping.
This is where our experienced International Surveyors can assist you. The surveyor will have the knowledge to answer all your questions and can provide you with several quotations so that you can compare costs and therefore enable you to make an informed decision as to what best suits you and your family and your budget. All our quotations are free of charge and have absolutely no obligation attached. You will receive a written quotation within 48 hours of the visit.
About New York & Removals New York
There is a host of different reasons why people decide to relocate here. This could be to enjoy a warmer climate, to take advantage of a more fulfilling social life, perhaps you already have family members living there or you might have been given an employment internal transfer or you may simply want to experience a different kind of life and the cultural differences a new country can offer, whatever the reason, there is much to consider before taking the final jump.
New York City is considered by many to be the greatest city on the planet. The city that never sleeps, the Big Apple, is an exciting place to be and you absolutely cannot get bored in this city. The diversity of its population makes it a great place to be and to meet people from all over the world and learn about many different cultures. Even if you have a limited budget, you will always find free entertainment of some sort or another.
Just walk through Central park, there is always someone playing or singing or juggling. Living in New York you will get used to being surrounded by creative types – tech entrepreneurs, actors, dancers, designers, directors, painters, authors. People flock to the city in the hope they will "make it big", as a consequence, there are many creative street entertainers show casing their particular skills on every street corner.
If you have a little more cash in your back pocket, the sky is the limit. The usual attractions spring to mind, such as the Empire State Building, the Stature of Liberty, Times Square to name but a few. The nightlife is legendary and clubs are open all night, it really is a single person's heaven. There are restaurants to suit all budgets, from cheap diners and pizza places to the exclusive Masa, a Japanese and sushi restaurant, located in the Time Warner Centre, don't be surprised to see at least one famous person dining here.
Broadway Shows
The experience of watching a show on Broadway is fantastic. Going to the theatre is extremely popular in New York and there are countless shows to see, musicals, dramas, dance extravaganzas and plays, definitely something for all tastes and ages.
New Yorkers are friendly and tolerant and proud of their anything goes society, fashion, religion, sexual orientation to name a few are left to the individual to express him or herself, you may find this liberalism alarming at first, but the live and let live attitude of New York is infectious and you will soon become accustomed to it. Of course a great feature of New York is the night life, the city never sleeps and there is always somewhere open at all times of the day or night.
Another reason New York is so popular is the shopping, visitors come from all over the world to enjoy retail therapy in the many designer shops and department stores such as Bloomingdales and Macy's. For Foodies, you will find every type of cuisine known to man the choice is unbelievable! Huge portions are served and one tip to remember is never ask for your steak to be cooked well done….
Obtaining your Visa and Removals New York
The USA Government is very strict regarding immigration. There are a number of ways to obtain a residence visa or working visa and you will need to do your homework thoroughly to ensure you get it right and apply for the visa which most suits your circumstances, such as: Lawful Permanent Residence Status, immigration through investment, employment or a relative, and even the Diversity Visa Lottery Program. Visit the web site below for further visa information:
• www.unitedstatesvisa.gov.
Searching for Employment and Removals New York
According to the Telegraph online, "New York is a major destination for those seeking employment from aboard. About 14 million workers in the United States are foreign, with percentages of foreign workers in New York is split between the service industries and large overseas companies, particularly those in banking, finance and computers".
New York is an expensive city to live in and consequently, the salaries are generally higher than in other US cities and competition for jobs can be very fierce. Looking for job openings in New York is fairly easy, if you are online and listed below are the four main web sites to visit to begin your employment search:
1. www.nytimes.com
2. www.newyork.craigslist.org
3. www.monster.com
4. www.villagevoice.com.
Shipping My Effects and Removals New York
Moving can be a very stressful experience but White & Company, with its eighty years of experience in the removal industry, can help make the whole process a lot less traumatic. White & Company move thousands of families around the globe each year and have branches all over the UK.
We can arrange a free no obligation quotation, which is carried out by one of our qualified surveyors, who will be able to answer any of the questions and concerns you may have. The surveyor will undertake a thorough survey to determine the volume of affects you wish to move, following which you will receive a written quotation.
Receiving My Effects and Removals New York
Over the years, White & Company have built very good relationships with a number of USA agents and depending on which area you are relocating to, our trusted partners in the USA will be there to receive your consignment and assist in arranging a trouble free customs import and onward delivery of your effects to your new residence in New York.
Our agents are fully aware of the import process and its regulations and will contact you prior to your effects arriving so that you are kept informed of what you need to do and what documentation is required. Upon delivery of your effects the delivery crew will place the boxes in appropriate rooms and unpack as little or as much as you want them to and they will take away any empty boxes and wrapping paper.
For further information on USA Import Customs and Regulations visit the following web sites
• www.help.cbp.gov
• www.iamovers.org/files/newimages/member/shippers/united_states.pdf
Cost of Living and Removals New York
New York is widely regarded as the most expensive city to live in within the USA, especially in relation to salaries earned. While the cost of living is cheaper than other big cities like London, Sydney, Hong Kong and Tokyo, the 'Big Apple' is by no means a cost-friendly location. New York City was ranked 16th out of 207 cities in Mercer's Cost of Living Survey for 2015. Fuel is cheaper than the UK, currently it is 48p per litre. Depending on the model, motor cars are generally at least 10% cheaper to buy in the USA. The cost of heating, water, gas and internet are half that of the UK.
Getting around and Removals New York
The cost of getting around in New York via the excellent subway system, is very reasonable. The subway in New York City operates around the clock and is by far the fastest way to get around the city. Despite New York's dense subway network, buses remain a great alternative when it comes to getting across the city and buying a MetroCard is advisable, this can be used on the subway and the buses.
Driving in the city is possible, however, as with London, it does require nerves of steel! Once a foreigner becomes a resident of the state they are residing in, they should visit the local Department of Motor Vehicles in order to obtain a driver's license. Taxis and trains are great alternatives too and as with the subway and buses are reasonably priced.
A monthly pass which enables you to use the bus, train and subway costs £82 compared with £130 in the UK. Even though transport costs are reasonable a huge percentage of the population tend to walk, nothing is too far to get to on foot, much healthier and of course completely free!
Property Prices and Removals New York
Once you have landed your dream job, you will need to find somewhere to live. There is good news and bad news about the New York housing market. The bad news is that it is expensive and cut-throat. The good news is that there is so much diversity in the five boroughs of New York City that you'll find your ideal home eventually.
When it comes to buying property in New York, you will find that again, prices are comparatively cheaper than those of the UK, but still expensive. Currently the price per square metre of real estate in the city is £10,618 almost 37% cheaper than the UK. This price drops to £6,945, 15% cheaper if you buy further out of the city.
For expats, the process of purchasing property is pretty straight forward and mortgages are available through a U.S or non U.S bank. The down side is that since the credit crisis, mortgage lenders have tightened their rules and now require around a 40% deposit from foreign buyers.
New York Estate Agents
Enlisting the help of a good estate agent is recommended, they have the knowledge to guide you through the whole purchase procedure which although not complicated, is different to the way we purchase property in the UK. See below a list of real estate agents:
•Gouglas Elliman Real Estate – Serving Brooklyn and the Surrounding Area
Phone number +1-347-394-2612. www.elliman.com
Corcoran Real Estate Broker – Serving Manhattan and the Surrounding Area
Phone number +1-929-382-2453. www.corcoran.com
Currency Conversion – Foreign Exchange (FX)
Foreign Exchange. Whatever the reason for moving your money abroad, we can make sure that you get the best value from it. Whether you are relocating abroad, purchasing property or investing your funds, we can typically save 3-4% of the total transaction value when compared to retail banks, so you really will be making the most of your money.
When moving overseas, making sure you get the best exchange rate possible is essential to starting your new life on a sound footing. White and Company has an exclusive arrangement with The FX Firm (foreign exchange company). Simply follow the link below to see what additional monies you will receive compared to using your high street bank and to set up a free no obligation account. White and Company/foreign-exchange
Whether you need to arrange monthly payments to service an overseas mortgage, or wish to protect yourself against exchange rate fluctuations and fix the rate for up to a year, we will be able to suggest the most suitable way to do so. Open your free, no obligation account in as long as it takes to stop for a coffee.
Education & Schools & Removals New York
Every child in the USA receives free public schooling from kindergarten (age 6) through high school (age 18), but the quality of the education varies widely from state to state. The only alternative is home schooling your child yourself or enrolling them in a private school. There are some excellent private schools in the country, but their tuition fees can be more expensive than university.
The decision on what type of school you send your child to may determine which neighbourhood you decide to settle in New York. Public school attendance is based on school zones, so expats who want their children to attend a public school in New York will need to ensure they can find and afford a place in that catchment area. Those opting to send their child to a private or international school in New York will have more flexibility, as admissions aren't governed by the student's address.
New York International Schools
In a city as diverse and international as New York, it will come as no surprise that there are a large number of schools available to meet the demands of the city's expat population. Fees tend to be higher and due to the very long waiting lists for international schools it is strongly advised to start the application process as soon as possible. See below several good International Schools:
•Town House International School – 1209 Park Ave, New York 10128
+1 (212) 427-6930 www.thisny.org
•Anglo American International School – 18 W 89th St, New York 10024
+1 (212) 724-6360 www.dwight.edu
America excels when it comes to its higher education facilities. American universities perennially rank among the world's very best, with names like Stanford, Harvard and MIT attracting the best and brightest from around the globe. Even at the lower end of the scale, American state universities are excellent.
Every state has at least one or two, and the quality of instruction is very good value for money – See more at:
• www.expatsblog.com
Healthcare costs and Removals New York City
Expats relocating to New York should establish whether their employer will provide them with comprehensive health insurance policy, or whether they must organise this themselves. Insurance will cover most expenses, and expats will only have a small co-payment to make themselves.
The same is true of prescriptions: if patients have to see a specialist, which is often the case since GPs only treat every day infections and viruses, they'll need healthcare coverage for consultations, X-rays, hospital procedures, MRIs and other procedures.
Other useful websites and Removals New York
• www.emigrate2.co.uk
• www.wirednewyork.com/forum/showthread.php?t=12600
• https://www.mymove.com/guide/moving-to-new-york.html
White & Company Have Branches In The Following Locations
London
Bournemouth
Dunfermline
Farnborough
Forres,
Guernsey
Harrogate-York
Jersey
Knaresborough
Lancaster
Leeds-Bradford
Plymouth
Portsmouth
Southampton
Telford
Winchester
Opening Times:
Mon 09:00 – 17:00
Tue 09:00 – 17:00
Wed 09:00 – 17:00
Thu 09:00 – 17:00
Fri 09:00 – 17:00
Sat 09:00 – 12:00
Sun Closed
Head Office
White & Company winners of the Overseas Mover of the Year 2016