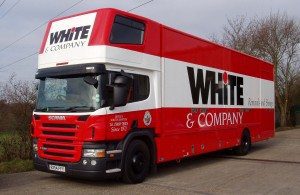 Removals St Neots
If you are moving locally or looking to move to St Neots and searching for Removals St Neots: White & Company have been based in the area for over 145 years and provide a full removals & storage solution. As founder members of BAR, FIDI & OMNI, White & Company can provide for a local move, anywhere in the UK, Europe or international destination.
Connections & Removals St Neots
St Neots's connections are good. St Neots is bypassed by the A1 which links the town by road with London to the south and Peterborough to the North, while the nearby A14 provides access to the Midlands and East Anglia. The A1 just south of the town also connects with Bedford and Milton Keynes and carries much of the traffic between Oxford and Cambridge. It has its own train station which provides a half-hourly service south to London (London King's Cross) and north to Peterborough. Journey times to London King's Cross typically range from 36 minutes to one hour. The closest airport is Luton airport which is around 25 miles away.
Schools & Removals St Neots
There is a good range of schools in the area, with Longsands Academy receiving an "overall good" from its 2014 Ofsted Inspection which also stated that students at the school were "making outstanding progress in English".
The Round House Primary School (0.4 miles)
Priory Junior School (0.7 miles)
Priory Park Infant School (1.0 mile)
Longsands Academy (0.9 miles)
Ernulf Academy (2.0 miles)
Hinchingbrooke School (6.6 miles)
Samuel Pepys School (1.1 miles)
Spring Common School (7.6 miles)
Kimbolton School (7.6 miles)
Leisure & Removals St Neots
St Neots is a thriving market town and an attractive destination for tourism.
You will always be able to find something to do here. The market square, surrounded by lovely Georgian buildings. It is alive with gastro-pubs and cafés and al fresco eating in the summer. The farmer's market appears on the second and fourth Sunday of each month, complete with live entertainment. Cricket and rugby are played on the huge 160-acre common and there is a choice of three golf courses. Nearby Grafham Water, a huge man-made reservoir. It draws people from miles around for walking, water skiing, windsurfing and other water sports.
Location & Removals St Neots
Property prices begin to rise as you get closer to Cambridge. but Great Gransden, The average house price is currently £272,000. You can expect to pay around £384,000 for the average detached family home. Savilles Close in St Neots has homes priced around the £900,000 mark with overall property prices rising by nearly 5% in the past 6 months.
Removals St Neots
This item is brought to you by www.whiteandcompany.co.uk, the removals storage and shipping company serving Nottingham and the surrounding area. This service is aimed at people moving in St Neots and for those looking for a local removals, storage and shipping company.
To submit any news story or future events please submit copy and photos to newseditoruk@gmail.com
Removal Companies St Neots | Removals St Neots | Removal Firms St Neots