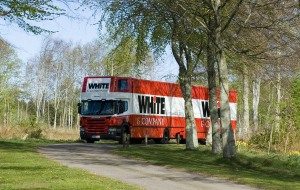 Looking For Removals Stoke on Trent
If you are looking for removals Stoke on Trent, check out White & Company. They have been based in Stoke on Trent for over 145 years and can provide a full removals and storage solution. As founder members of BAR, FIDI & OMNI, White & Company can provide for a local move, anywhere in the UK, Europe or to an international destination.
Anyone who has ever experienced moving house will know just how trying it can be. House removals are one of the most stressful life events, but with careful organisation it is possible to make sure the big day runs smoothly.
Here is some information you may find helpful if you are anticipating a move to Stoke on Trent. We have compiled a list of local estate agents, solicitors, schools, doctors, dentists and finally when you can relax, some local attractions and places of interest.
Local House Prices
Property values in Stoke on Trent have increased 1.50% from March 2017. You can expect to pay an average of £141,000 for a property in this area. The cost for a good-sized 4 bedroomed detached home is around and £131,000 for a two bedroomed  terrace property, you can expect to pay around £75,000. Prices as per Zoopla 22nd June 2017.
Estate Agents
Dale & Collins Ltd – http://www.daleandcollins.com/
Austerberry Estate Agents – http://www.austerberry.co.uk/
Northwood Stoke On Trent – http://www.northwooduk.com/branches/stoke-on-trent-estate-agents
Solicitors
Buying a home is an exciting time but it can be daunting, especially if you're a first-time buyer. Conveyancing describes the legal transfer of property between the buyer and seller. How long it takes depends on several things, such as how many buyers and sellers are involved in the chain, it can take a few weeks or a number of months. A solicitor can help you buy your home by explaining the steps involved, completing local searches and helping you to resolve any legal issues that may arise.
Here are some local solicitors situated in Stoke on Trent:
Grindeys Solicitors – http://www.grindeys.co.uk/
Salmons Solicitors – http://www.salmonssolicitors.co.uk/
Myers & Co Solicitors – http://www.myerssolicitors.co.uk/
Local Doctors
Longton Hall Surgery – http://www.longton-hall-surgery.nhs.uk/
Dr John Gilby – www.brookmedicalcentre.nhs.uk
Foden Street Surgery – http://www.fodenstreetsurgery.nhs.uk/contact1.aspx
Local Dentist
Liverpool Road Dental Practice – http://www.liverpoolroaddental.co.uk/
Diana Dental – http://www.dianadental.co.uk/
Weston Family Practice Ltd – http://www.westonfamilypractice.co.uk/
Local Vets
Meir Park Veterinary Hospital – http://www.limetreesvets.co.uk/
Shires Vets Ltd – http://www.shiresvets.com/index.htm
Medivet Stoke-On-Trent – http://www.medivet.co.uk
Leisure Activities
Stoke on Trent is a large town in Staffordshire; it was brought together from the boroughs of Hanley, Burslem, Longton and Stoke, together with the districts of Tunstall and Fenton. Stoke was chosen as the centre, despite the fact that Hanley and Burslem, were far more established. In recent times there have been a number of developments include the Potteries Shopping Centre in Hanley, and the entertainment complex, Festival Park.
The Art Deco Regent Theatre reopened after renovation in 1999. The Wedgwood Story, a £4.5 million interactive tour, opened in 2000 and is located at the Wedgwood site. The theme park Alton Towers is easily accessible from Stoke, whilst the Peak District National Park and the Staffordshire Moorlands are both a short drive from the city centre.
If you are planning a day out, you will find plenty to do in and around Stoke on Trent, here is a list of local attractions:
Gladstone Pottery Museum – http://www.stokemuseums.org.uk/visit/gpm/
Etruria Industrial Museum and Heritage Centre – www.etruriamuseum.org.uk/
Alton Towers – https://www.altontowers.com/
The Spode Museum – http://www.spodemuseumtrust.org/
Travel Connections Stoke on Trent
Stoke-on-Trent is ideally placed in the Heart of England. It is less than an hour from Birmingham, Manchester, Liverpool and Nottingham. It is less than 90 minutes on the half hourly train service from London. By Car it is conveniently located just off junctions 15 and 16 of the M6 motorway and on the A50, which provides a direct link from the M1 and the East of the country.
Planning Your Move
Planning your move as early as possible is definitely beneficial, as there are a host of things that need to happen to ensure your move takes place on the day or days you require. One of your first tasks should be to arrange a written quote from an established removal firm. White & Company can offer a free home survey to assess your moving and storage requirements. Our professional surveyor will identify the volume of goods you are moving and supply you with a detailed quotation within 48 hours of a home visit.
Choosing A Removal Company
It goes without saying that your belongings are precious and should be handled and moved with care throughout the entire moving process. You will want to know that your worldly possessions will be treated with respect from the moment the movers arrive until the last item is placed into your new home.
Choosing White & Company, who are a BAR, FIDI & OMNI registered removal expert, will ensure you are using a company that meets the highest standards within the removals industry. Our removal staff have the necessary training, expertise, experience and professionalism to carry out your move as efficiently as possible.
Before committing to a removals company, it would be wise to check that they hold sufficient insurance to cover the true value of your belongings. White & Company offers comprehensive insurance and will be happy to supply you with full details.
Packing Your Possessions
Once you have decided to move home, you should consider if you wish to pack your possessions yourself or arrange for a removal company to pack some or all of your effects for you. If you choose to pack yourself, White & Company can supply you with top quality packaging materials delivered to you as and when you need them.
If you would like us to pack for you, we will ensure china and glassware are wrapped in special paper and then packed in double-thickness cartons; furniture can be wrapped in bubble blanket for extra protection; and items requiring specialist care, such as antiques, can be packed in made-to-measure wooden crates. On arrival at your new home we can provide an unpacking service and on leaving you, we will remove all cartons and packaging materials leaving your home free from any waste.
Local Schools
There are 89 state primary schools and 25 state secondary schools in Stoke-on-Trent, so finding a suitable one should not be too difficult. Find out as much as you can about the school of your choice. If you can, arrange to visit the school and speak to the head teacher, they should be more than happy to welcome you and answer any questions you may have.
Here is a list of local schools in Stoke on Trent:
Stoke-on-Trent College
Regent College www.regentcollegestoke.co.uk/
Newcastle-under-Lyme School www.nuls.org.uk/
St Thomas Aquinas Catholic Primary School www.st-thomasaquinas.stoke.sch.uk/
City of Stoke-on-Trent Sixth Form College www.stokesfc.ac.uk/
St Mark's CofE (A) Primary School www.st-marks.stoke.sch.uk/
Location
White & Company
Haybrook
Halesfield 9
Telford
Shropshire
TF7 4QW
Map showing location of Telford branch of White & Company

Tel: 01952 897604  for a free moving quote
E: hq@whiteandcompany.co.uk
Opening Times:
• Mon 09:00 – 17:00
• Tue 09:00 – 17:00
• Wed 09:00 – 17:00
• Thu 09:00 – 17:00
• Fri 09:00 – 17:00
• Sat 09:00 – 12:00
• Sun Closed
If you are moving away from the UK and looking at moving overseas.
White & Company are also proud winners of the British Association of Removers 'Overseas Mover of the Year' Competition 2016 and finalists in the 2017 competition.

Foreign Currency Exchange
When moving overseas, making sure you get the best exchange rate possible is essential to starting your new life on a sound footing. White & Company has an exclusive arrangement with an FX Firm (foreign exchange company). Simply follow the link below to see what additional monies you will receive compared to using your high street bank and to set up a free no obligation account. White & Company/foreign-exchange
Whether you need to arrange monthly payments to service an overseas mortgage, or wish to protect yourself against exchange rate fluctuations and fix the rate for up to a year, we will be able to suggest the most suitable way to do so. Open your free, no obligation account in as long as it takes to stop for a coffee.
White & Company Have Branches In The Following Locations
Bedford
London
Bournemouth
Dunfermline
Farnborough
Forres
Guernsey
Harrogate-York
Jersey
Knaresborough
Lancaster
Leeds-Bradford
Plymouth
Portsmouth
Southampton
Telford
Winchester
Removals Stoke on Trent
This item is brought to you by www.whiteandcompany.co.uk the removals storage and shipping company serving Stoke on Trent and the surrounding area. This service is aimed at people moving in Stoke on Trent and for those looking for a local removals, storage and shipping company.
To submit any news story or future events please submit copy and photos to newseditoruk@gmail.com
Removals Stoke on Trent | Removal Companies Stoke on Trent | Removal Firms Stoke on Trent
White & Company Removals Storage & Shipping: 01952 897 604 for a free moving quote
For independent reviews of White & Company Telford, please visit Referenceline