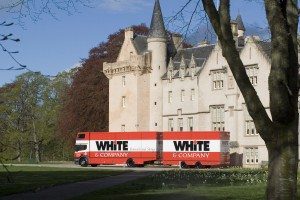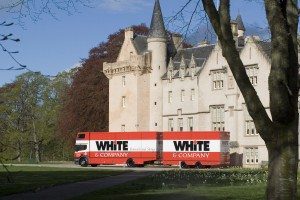 Removals Strathaven
If you are moving locally or looking to move to Strathaven and searching for Removals Strathaven: White & Company have been based in the area for over 145 years and provide a full removals & storage solution. As founder members of BAR, FIDI & OMNI. White & Company can provide for a local move, anywhere in the UK, Europe or international destination
Connections & Removals Strathaven
Strathaven's connections are good, it lies on the A71 which links to the main M74 motorway, a route north to Glasgow and south to Carlisle. The A77 in the west heads to Preswick and Stranraer. Larkhall is the closest railway station, it offers services to Glasgow, Dalmuir, Balloch via Clydebank and Mid Lanark. The closest airport is Glasgow Airport (20 miles)
Schools & Removals Strathaven
There is a varied choice of schools and colleges in the area:
St Patrick's Primary School (0.4 miles)
Kirklandpark Primary School (0.5 miles)
Wester Overton Primary School (0.6 miles)
Strathaven Academy (0.2 miles)
Larkhall Academy (5.3 miles)
South Lanarkshire College (6.5 miles)
Hamilton College (7.4 miles)
Victoria Park School (10.0 miles)
Fernhill School (10.4 miles)
Leisure & Removals Strathaven
Strathaven is seen as one of Scotland's best kept secrets and The Jewel in the Crown of South Lanarkshire. Located close to Hamilton and East Kilbride. Strathaven retains the atmosphere of a market town and still today much of the surrounding area has productive dairy farms supplying milk to near and far towns. The town is on high ground and has a reputation for getting snowed-in!
Strathaven is known for is local delicacy, Stra'ven toffee, which is like tablet (Scottish fudge). Visit the Wee Sweetie Shop where the Gilmour family has produced sweets and chocolates for the past 100 years. Old favourites can be purchased such as pineapple chunks and cola cubes and of course Strathaven Toffee. Visit the fifteenth-century ruined castle which was once home to the Earls of Douglas, or wander through the pretty cobbled streets of the old town and find a nice little pub where you can sit, relax and enjoy the Scottish hospitality.
Location & Removals Strathaven
Property prices in Strathaven are buoyant and have shown a good increase in value over the past 12 months of just over 7%. The current average value now stands at £202,070.
White and Company Removals Storage & Shipping
Pitreavie Crescent
Queensferry Road
Dunfermline
Fife.
BH11 8LN
T: 01383 721 697
E: hq@whiteandcompany.co.uk
Opening Times:
Mon 09:00 – 17:00
Tue 09:00 – 17:00
Wed 09:00 – 17:00
Thu 09:00 – 17:00
Fri 09:00 – 17:00
Sat 09:00 – 12:00
Sun Closed
Domestic Removals Strathaven
This item is brought to you by www.whiteandcompany.co.uk the removals storage and shipping company serving the South of Scotland the North of England and the surrounding area.This service is aimed at people moving and for those looking for a local removals, storage and shipping company. White & Company work tirelessly to provide the best possible service and peace of mind for those looking to move home.
Strathaven Removals | Removals Strathaven | Removal Companies Strathaven
White and Company call 01383 721 697 now for a free removals, storage or shipping quotes.