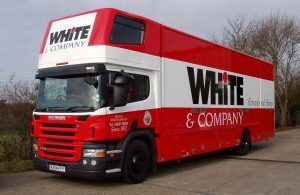 Are You Looking For BAR Registered Removals Companies Serving Tenerife?
If you are moving and searching for removals Tenerife in the Canary Islands: White & Company provide shipping to the island and provide a full removals and storage solution. As founder members of BAR, FIDI & OMNI, White & Company can provide for a local move, to anywhere in the UK, to Europe, such as removals Tenerife, or to any international destination.
Removals Tenerife – Planning Your Move
Planning your removals Tenerife, move as early as possible is definitely beneficial, as there are a host of things that need to happen to ensure your move takes place on the day or days you require. One of your first tasks should be to arrange a written quote from an established removal firm. White & Company can offer a free home survey to assess your moving and storage requirements. Our professional surveyor will identify the volume of goods you are moving and supply you with a detailed quotation within 48 hours of a home visit.
Removals Tenerife – Choosing a Removal Company
It goes without saying that your belongings are precious and should be handled and moved with care throughout the entire moving process. You will want to know that your worldly possessions will be treated with respect from the moment the movers arrive until the last item is placed into your new home.
Choosing White & Company, who are a BAR, FIDI & OMNI registered removal expert, will ensure you are using a company that meets the highest standards within the removals industry. Our removal staff have the necessary training, expertise, experience and professionalism to carry out your move as efficiently as possible.
Before committing to a removals company, it would be wise to check that they hold sufficient insurance to cover the true value of your belongings. White & Company offers comprehensive insurance and will be happy to supply you with full details.
Removals Tenerife – Transporting My Effects
Moving can be a very stressful experience but White & Company, with its 145 years of experience in the removal industry, can help make the whole process a lot less traumatic. White & Company move thousands of families around the world each year and have branches all over the UK. We can arrange a visit by one of our qualified surveyors, who will be able to answer any of the questions and concerns you may have. The surveyor will undertake a thorough survey to determine the volume of affects you wish to move, following which you will receive a written quotation.
Removals Tenerife – Packing Your Possessions 
Once you have decided to move home, you should consider if you wish to pack your possessions yourself or arrange for a removal company to pack some or all of your effects for you. If you choose to pack yourself, White & Company can supply you with top quality packaging materials delivered to you as and when you need them.
If you would like us to pack for you, we will ensure china and glassware are wrapped in special paper and then packed in double-thickness cartons; furniture can be wrapped in bubble blanket for extra protection; and items requiring specialist care, such as antiques, can be packed in made-to-measure wooden crates. On arrival at your new home we can provide an unpacking service and on leaving you, we will remove all cartons and packaging materials leaving your home free from any waste.
White & Company
Hillsons Road
Botley
Southampton
SO30 2DY
Tel: 01489 858027 for a free moving quote
E: hq@whiteandcompany.co.uk
Map showing location of Southampton branch of White & Company
Opening Times:
• Mon 09:00 – 17:00
• Tue 09:00 – 17:00
• Wed 09:00 – 17:00
• Thu 09:00 – 17:00
• Fri 09:00 – 17:00
• Sat 09:00 – 12:00
• Sun Closed
Why Move To Tenerife?
Are you searching for removals to Tenerife? (The Island of Eternal Spring) has been an attractive location for British expats for many years and is the most popular of the Canary Islands. It is the largest of the seven Canary Islands. The island is bathed in sunshine for most of the year. It attracts around five million tourists annually. Just a short flight from the UK taking around 4 hours, means that it is nice and close for family and friends who want to visit.
An increasing number of people from all over the world have relocated to Tenerife and have successfully opened businesses that cater for holidaymakers. 'Overseas Imports' is an example of this. Selling a range of products imported from British supermarkets such as Iceland and Tesco's. Goods are a bit more expensive here but some items such as Marmite cannot be replicated. There is a very big expat community which makes it very easy to make new friends. The lifestyle is typically Mediterranean and a lot of time is spent outside.
Summer temperatures hardly ever exceed 30ºC (86ºF) and winter daytime temperatures rarely fall below 22ºC (72ºF), making it a great place to bring up your children.
Removals Tenerife – Where is Tenerife
The map below shows the location of Tenerife

Removals Tenerife – Property Market
The approach to buying property in Tenerife is similar to the UK and elsewhere in Europe. Most property is transacted through estate agents, who are usually bi-lingual, and very knowledgeable about the local housing market. You will need to appoint a solicitor to deal with the legal aspects of the move. Mortgages can be granted in Tenerife and again it is advisable to speak to an agent who can speak English to avoid problems. The estate agents in Tenerife are more than happy to drive you to a selection of properties which suit your needs.
Removals Tenerife – Estate Agents
The estate agents listed below would be happy to assist you with your property search:
•Tenerife Estate Agents – www.tenerifeestateagents.net
•Tenerife Property Shop, S.L – www.tenerifepropertyshop.com
•Zenit 85 – www.zenit85.com
Removals Tenerife – Leisure Activities
Tenerife is the largest of Spain's Canary Islands, off West Africa and is dominated by Mt. Teide, which rises 7,500m above the ocean floor and is among the world's largest volcanoes. The island is best known for its huge pre-Lent Carnival, as well as its beaches (with sands ranging from yellow to black) and the popular and busy holiday resorts, including Los Cristianos and Playa de las Américas. Tenerife offers a wide range of four- and five-star hotels, chic boutiques, bars and restaurants.
On the south-east coast the resort of El Médano is fanned by almost constant trade winds attracting surfers and still retains a Canarian culture. It also boasts some of the best natural beaches on the island.
Leisure Attractions
You will find plenty of things to do in your down time. Having a car is essential and driving enables you to see the natural beauty of the Island. Here are some of the most popular attractions:
•Siam Park is a water park with a Thai theme. It has plenty of slides, pools, a wave machine and an artificial river.
•Loro Zoo started as a Parrot sanctuary but has grown considerably over the years. It features an aquatic world with dolphins, sharks and penguins. You can book a safari, or experience an evening excursion to the castle at San Miguel and watch the knights jousting and fighting battles.
•Going to the beach is of course, a popular pastime. Most people tend to think that Tenerife's beaches are all black sand but this is incorrect. There are lots of beaches which feature golden sands. Most of the beaches also have excellent facilities such as sun loungers for hire, showers, changing rooms and lots of al fresco beach style eateries.
•Shopping is a great experience and there are plenty of places to indulge in this activity. El Corte Ingles is a well-known store in the centre of Santa Cruz offering a complete range of upmarket products. Plaza del Duque is a sophisticated shopping mall situated in the Adeje area in the south of the island, featuring not only brand name shops, but also some fine restaurants, bars and clubs.
Removals Tenerife – Education & Schools
You will of course want to ensure that your children receive the best education possible whilst living in Tenerife. The Spanish state schools are free to attend if you are a resident. However, unlike schools in the UK you have to supply all the necessary books and materials for your child. Some schools insist on a uniform but most do not. Primary school starts at the age of 6 to 11 years; secondary school caters for ages 12 to 16 years.
Further education is not compulsory for 17 to 18 year olds unless they want to go onto university. Private schools are an option but can prove to be expensive. There are a few international schools to choose from, but these are also very costly. Most estate agents can assist with information on local schools in the areas. See the link below for further education information:
www.tenerife-information-centre.com/british-schools-in-tenerife.html
Wingate School      www.wingateschool.com/
Saint Andrew's School      www.saintandrewstenerife.com/    
Callao Learning Centre      www.callaolearning.org/
The British School of Tenerife      http://britishschooltenerife.com/en/
Removals Tenerife – Healthcare Provision
Healthcare in Tenerife forms part of the overall European united system. Its administration is the sole responsibility of the Servicio Canario de Salud, under the control of the Government of the Canary Islands. European citizens on holiday in Tenerife are entitled to free healthcare on any of the Canary Islands. For those people who are legally resident, have an NIE number and are employed, paying their social security monthly fees will entitle them to free medical treatment.
Removals Tenerife – Further Information
There are lots of web sites out there to assist you with helpful information and advice when relocating to Tenerife. See below a list of some good sites:
•www.lovetenerife.com/guide_to_buying_property_in_tenerife.html
•www.tenerife-information-centre.com/
•www.etenerife.com
•www.expat.com
Removals To Tenerife
White & Company Have Branches In The Following Locations
Bedford
London
Bournemouth
Dunfermline
Farnborough
Forres,
Guernsey
Harrogate-York
Jersey
Knaresborough
Lancaster
Leeds-Bradford
Plymouth
Portsmouth
Southampton
Telford
Winchester
White & Company are also proud winners of the British Association of Removers  'Overseas Mover of the Year' Competition 2016 and finalists for 2017

Removals Tenerife | Removal Companies Tenerife | Removal Firms Tenerife
White & Company Removals Storage & Shipping. Call 01489 858027 for a free moving quote
For independent reviews of White & Company Southampton, please visit Referenceline