Removals Watford
With White & Company moving to Watford is simple. Complete our online form for a free moving quotation.
Move to Watford with Us in 4 Easy Steps!
1

Survey

We feel it is important that you know exactly what your moving costs will be upfront with no nasty surprises.

Our surveyor will conduct a detailed pre-move survey to ascertain the volume of effects being moved.

The surveyor will either visit your home or conduct a video survey and note any items you want to transfer.

There will also be an opportunity to discuss any special requirements or questions you may have.
2

Quote

Once the consultation has been carried out, a free no obligation written quotation will follow within 48 hours.

Our quotation will outline exactly what is covered, as per your instructions and a price.

If you are not quite at the stage of wanting to receive a home visit you can still take advantage of our Guesstimate tool.

Just complete the quick estimate form on our website to get an approximate idea of the costs involved.
3

Packing

Having been specialists in removals for so long, we can assure you that there is nothing we have not moved before.

You can rest assured that your personal belongings will be well protected and safe throughout the transportation process.

When you choose the option of a full packing service, everything will be wrapped, packed and listed on a detailed inventory before being loaded onto the vehicle.

A copy of the inventory will follow shortly after.
4

Moving & Storage

White & Company is also able to provide flexible storage solutions for all your needs.

Whether that be storage while you have building works carried out on your new home or while you live in rented accommodation for a period of time.

Whatever your storage needs may be we can help. We offer a range of different sized units with competitive prices, easy access in safe, dry and secure personally dedicated storage containers.
Removals to Watford
Are you looking to move to Watford? Set amongst the leafy suburbs of Hertfordshire but falling within the M25 orbital motorway, Watford is an incredibly well-connected town with several high performing schools and excellent amenities.
Some people attempt to undertake the move themselves by hiring a small van but often underestimate the scale of the task at hand. Hiring a professional removals company can not only ensure your move runs smoothly but could even save you money.
White & Company have been established since 1871 and are among the best in the business. Most of our work is generated through word of mouth, a fact we are immensely proud of and which speaks volumes about the service it provides.
If you are moving to Watford let White & Company do the hard work for you. We will professionally wrap, pack and transport your personal effects safely and respectfully to your new home. Give us a call today to book an appointment with one of our friendly estimators and receive a free written quotation within 48 hours of our visit.
About White & Company
White & Company has 16 branches located across the UK from the Channel Islands to Scotland and a network of industry partners.
This extensive relocation network allows us to provide the perfect removal solutions no matter where you're moving.
Through hard work, commitment and excellent service, we are now one of the industry's largest removal companies.
We have 240 specialist vehicles, full trained and security cleared removals staff and 19 storage locations across the UK.
Our Mission Statement
"To continue the traditions founded in 1871 by providing the quality expected by our clients; backed up by superb packing materials, highly trained crews, effective management and a genuine commitment to customer care and the environment."
Rest assured you can trust White & Company to take care of your personal effects with care and respect from collection to delivery.
Why move to Watford?
Nestled in between the leafy suburbs of Hertfordshire and the M25 at the end of the London Underground's Metropolitan line, Watford is in somewhat of an awkward position. Considered too distant to be a commuter town but too monoculture to be an appealing alternative to city life.
That all appears to be changing however. The town has been earmarked for a transport overhaul which will better connect the city to London via two new stations created at Cassiobridge and Watford Vicarage Road. Similar changes are also being made to the town centre to make it more user friendly with new pedestrian and cycling facilities.
The high street is also set to undergo a facelift to transform Watford into one of the UK's top shopping and leisure outfits. This included the unveiling in September 2018 of the intu Watford shopping extension, a large glass dome housing the latest in retail fashion and quality dining.
With competitive average property prices well below the average for the home counties, Watford is an untapped resource of huge potential. Its excellent schools, leisure facilities and transport connections all add up to spell out the signs of a town that is well and truly on the up.
Once you have relocated to your new home in Watford, there is a whole host of important things you need to organise. Below is some practical information which may prove helpful.
Things to Do in Watford
Warner Bros' studio in Leavesden has been the filming location of various high-scale British film and TV productions and is also the home of the illustrious 'Making of Harry Potter Studio Tour'.
This is a great day out for the kids or avid Harry Potter fans where you can find out all about the making of the film, ride the Hogwarts Express and even enjoy a butter beer outside Privet Drive.
Watford is also home to a 1,392-seat Colosseum. Originally built in 1937 in the heart of the town it reopened in 2011 following a £5.5m restoration and is widely praised for its excellent acoustics which draw in a host of well-known musicians and entertainers.
Outside of the city centre there are no shortage of great green spaces to relax in. Cassiobury and Woodside park offer residents play areas, bowling greens, cricket and football pitches.
Cheslyn House has 3.5 acres of formal gardens and semi natural woodlands perfect for a picnic or a leisurely stroll.
Watford also sits on the Grand Union Canal, one of Watford's best kept secrets. The canal passes along the western side of Cassiobury Park and links Birmingham to the River Colne.
It has been described in The Shell Book of Inland Waterways as 'one of the loveliest sections of canal so near a town anywhere in Britain'.
Working in Watford
As a town with firm commuting credentials, a high number of residents make use of the excellent transport connections in order to commute to the capital for work.
Having said that, there are still a large amount of local jobs also. Unemployment continues to fall as does the number of residents claiming jobseeker's allowance.
Watford is home to some very large and well-known company headquarters such as TK Maxx, Warner Bros and Camelot. Other sectors of employment are in IT, manufacturing and pharmaceuticals.
According to Manny Lewis, Managing Director of Watford Borough Council, the £100 million redevelopment of the Charter Place shopping centre in the town centre will create over 1,000 new jobs in the hospitality, leisure and retail sectors.
Plans for redevelopment of the town centre are well underway, along with new transport infrastructure. It would appear likely that employment prospects in Watford will remain positive for many years to come.
Schools & Education
Watford has a good selection of schools, from Nursery through to high school. Within the municipal borough, there are six linked pairs of infant schools and junior schools, and 14 primary schools, of which two are Roman Catholic.
Watford is also served by schools in the neighbouring districts of Three Rivers and Hertsmere.
There are two highly regarded Grammar schools serving Watford in the form of Watford Boys Grammar School and Watford Girls Grammar School. Both of which have achieved excellent GCSE and A Level exam results.
Watford has six state-funded secondary schools, while Watford College provides sixth form and further education and St Mark's West Essex Catholic School also provides sixth form education.
The closest college is West Herts College. The College has campuses in Watford, Hemel Hempstead and Kings Langley
For more information on researching and finding schools and colleges serving the local area consult the Schools Guide.
Property Prices in Watford
The Watford property market is notorious for high demand and short supply, and properties in this popular area tend to be snapped up particularly quickly,
Statistics for the area indicate a drop in the value of homes by 3.96% over the past year.
The average property price in Watford is currently £424,953, which is below the average in other compare Home Counties in Surrey and Kent.
There is a range of property types in Watford, although most consist of Victorian and Edwardian period conversions.
There is also a good selection of complete period buildings and Victorian villas. In the last 15 years there have been many modern apartments built or converted to satisfy the high demand in the area.
The most expensive properties are to be found in Nancy Downs, Aldenham and Letchmore Heath where you can expect to pay in excess of £1.5m for a home. The leafy border areas of Bushey, Leavesden and Garston are also considered very pleasant areas to live in.
Popular Places to Live in Watford
White & Company offers local removals and storage in:
Nancy Downs
Holbrook Gardens
Common Lane
Church Lane
Broadfield Way
Heathdene Manor
Grandfield Avenue
Beken Court
First Avenue
Garston
The Pippins
Garston
Williamson Road
Hollingsworth Mews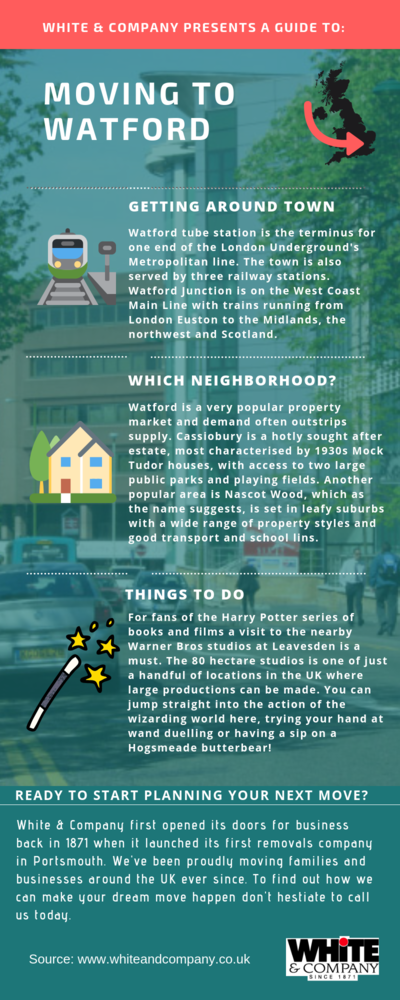 Wayne Middleton and Brian Witherford were professional and extremely helpful. Did a brilliant job. Would recommend Whites to anyone. Thanks very much.
Have used this company regularly for 5 years including my time in the armed forces. They are professional and efficient. Will use them again on our next move.
The move went very smoothly and they were very polite.
 A very smooth move by White and Co. The team worked very hard and were polite, professional and helpful.