Toronto recently surpassed Chicago in size and is now the fourth largest city in North America.
With its sights set firmly on future economic expansion, now is a great time to relocate to the Great White North.
It is located on the north-western shore of one of the five stunning Great lakes of Canada. Lake Ontario is home to the city of Toronto.
Lake Ontario has a unique biodiversity and contributes to Toronto's unique climate making it warmer in the winter than many of its Canadian counterparts. Toronto is not only the capital of the Ontario province, but it is also the financial capital of Canada.
The number of job opportunities within the financial sector is increasing year-on-year, meaning if you are looking for a well-paying place in the business sector, then this is the city for you.
Still not convinced? Read over the following nine reasons as to why now is a great time to move to Toronto:
Diversity
The City of Toronto has been recognised as Canada's Best Diversity Employers in 2018, an award that recognises diversity in the workplace and inclusivity programmes.
From Human rights to homelessness and illiteracy; the City of Toronto has shown a strong stance on all. Alongside this, half of the population were born outside of Toronto, making it a welcoming multicultural haven for expats.
Additionally, the city claims the quirk of having no nationality holding the dominant position, making it THE most diverse city in the world!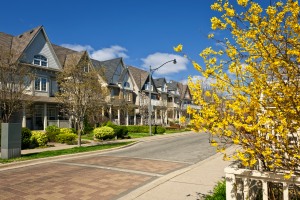 Lower Rent Prices and Bills
As we all know, rent prices within the UK aren't something to be coveted. With rent in the main cities reaching absurd amounts, there must be an alternative.
Well, if you move to Toronto, Numbeo shows us that rent is roughly 25% cheaper than London. Not only this but do you remember those horrendous bills (utilities) that we receive each month?
Consider them halved if you move to Toronto… So why are you waiting?
Warm Summers
Being a citizen of the UK comes with many advantages, but the weather is not one of them.
Hiding behind the seemingly endless overcast, the Sun rarely makes an appearance. Markedly more so in the so-called Summer months.
Living in Toronto, you could be seeing an average daily temperature of 25/26oC in the Summer months with roughly 9 hours of sun a day!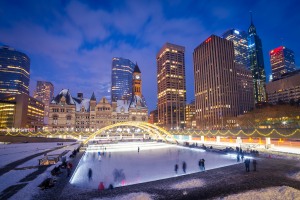 'Warm' Winters
If you've heard of Canada, then you know their winters are something to be feared.
Toronto, on the other hand, has some of the most relaxed winters throughout Canada. Compared to the excruciating -30C that some cities may receive, in 2019, Toronto was relatively comfortable with an average of -3oC throughout January.
Unlike the blistering cold UK winters that only bring rain and sludge, the winters are worth it in Toronto with the arrival of snow providing plenty of opportunities for winter sports.
This increases the chance of that ever-eluding White Christmas that doesn't class as 'one snowflake falling on the Buckingham Palace throughout a 24-hour period'….
Best food market in the World
In the centre of Old Town Toronto, one of Canada's great markets can be found.
In 2012 it was listed as the world's best food market by the National Geographic; outranking both the New York's Union Square Greenmarket and Borough Market in London.
Opened over 200 years ago, St. Lawrence Market has 120 vendors, merchants and artisans.
While it is split into three sections, the South Market contains food from all over the world. From Japan to Spain, it is sure enough to take you multiple visits to fully explore.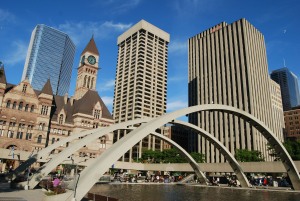 Every Penny Counts
Over the past three years, the strength of the Canadian Dollar has been slowly growing against the pound.
Shortly after New Year's day 2016, the Canadian dollar was equal to £0.48 and is now at a high of £0.63 as shown on XE.
With every penny stretching that bit further here, now is the perfect time to move to Toronto.
Great Healthcare
Moving to Toronto will make you eligible for the publicly funded Ontario Health Insurance Plan (OHIP), which covers all residents of the Ontario province.
Just like with the NHS, a monthly premium is deducted from your salary in tax and means you are without the worry of forking out large amounts for medical needs.
The OHIP was given a 100% rating by the Business Insider in 2018 and is available to apply for after three months of permanent residency.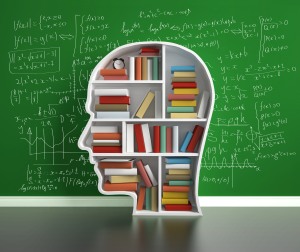 World-class Education
Worried that the educational opportunities within Toronto won't rival those available in the UK?
Well, you can stop now.
The World University Rankings puts the University of Toronto in the top 25 Universities in the World and is the number one university within Canada.
For the younger generations, there are almost 600 primary schools in Toronto alone, allowing ample options to find the right school for your child.
7th most liveable city of 2019
According to Business Insider, Toronto has been rated the 7th most liveable city in the world. An equal rating to the capital of Japan, Tokyo.
While this considers Healthcare and Education, it also looks at the culture and environment of a city, and Toronto was given a 97.2 out of 100.
Finally, safety is another factor which will play on everyone's mind when moving to an entirely new environment. In 2017, Toronto was voted by the EIC as the 4th safest city out of the 60 in the study.
Now is the time to stop worrying and move to Toronto to start your new life in this stunning and surreal location; a haven for Canadians and British expats alike.
Move to Toronto with White and Company
If you want to discuss your move to Canada with one of our international relocation experts, don't hesitate to get in touch with White and Company today.
Over the years, White & Company has positioned itself as the international removals firm of choice for all Removals to North America.
Our experience is second to none. As members of BAR, FIDI and OMNI, White & Company have been relocating people to destinations all over the world for 145 years.
Our experienced teams located across the UK will pack and prepare your valuable, fragile and bulky furniture ready for export.
To find out more about how we could get your dream move to Toronto underway. Don't hesitate to give us a call today.
Alternatively, fill out a quick quote form or chat to our Bot and we'll get in touch with you straight away.