What are the best Cornwall seaside towns?
If you are searching for one of the best Cornwall seaside towns, this is the ideal article for you.
Cornwall's popularity has skyrocketed in recent years.
There are various reasons for this boost in appeal.
Cornwall seaside towns are some of the most beautiful locations across the whole of the UK!
With a great choice of stunning locations, it is no surprise that Cornwall seaside towns are one of the defining factors in drawing people to the area.
With property prices across the UK steadily increasing, the appeal of moving to one of the many Devon seaside towns offers buyers a cost-effective alternative.
Coast line locations throughout Cornwall provide more space whilst also offering locals with great transport links!
If you are thinking of living in one of these great Cornwall seaside towns, there are many to choose from.
Cornwall seaside towns offer beautiful coastlines, excellent scenery and outstanding great amenities.
It is clear to see why Cornwall seaside towns are the ideal home for so many buyers.
With a range of excellent towns, it may seem daunting to start your search!
Moving to one of these Cornwall seaside towns is sure to appeal, irrespective of your needs.
Here are our 11 top picks for the best Cornwall seaside towns.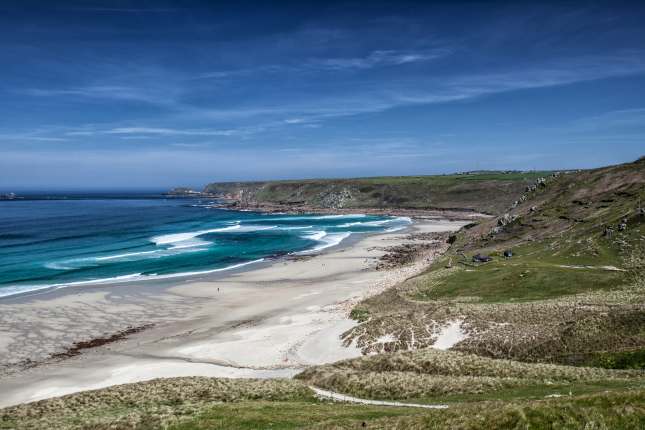 Sennen
The small costal village of Sennen is home to under 1000 residents. Bounded by the sea to the west and bordered by serval small parishes set in a very attractive area.
It is almost the most westerly point of the UK and a firm favourite with surfers as the swell from the Atlantic Ocean creates great waves.
The small harbour supports a fleet of fishing vessels and it has its own lifeboat station and enjoys a  very close knit community led population.
Shops are limited, but adequate and there are some great pubs such as the Old Success Inn where you can savour some of the areas fresh seafood whilst enjoying the magnificent sea views.
The village sits close to some of Cornwall's best attractions such as Land's End, the Minack Theatre, and the notable town of Penzance.
There is lots to do particularly with regard to water sports. Boat and surf boards can be hired, or a day spent lazing on the sandy cove with a swim in clean clear water makes for a great day out.
Property is hard to come by, due in part to Sennen being so small and because once here its hard to leave.
The average cost of a home is £326,486. In the last 12 months just four homes have been sold.
Gorran Haven
Another of Cornwall's coastal villages Gorran Haven sits with an Area of Outstanding Natural Beauty on the Roseland Peninsula and offering coastal scenery with quiet secluded coves, golden sandy beaches, and rocky headlands.
Gorran has two beaches, Gorran Beach and Little Perhaver.  Both are sheltered and sandy, perfect for families with small children.
The village has been subjected to human settlements since the middle Stone Age period. Today it has remained unchanged for many years and is full of old-world charm.
Sitting well off the beaten track it is a little gem and not as well-known as many other towns in the area which just enhances its appeal.
Fishing has been the mainstay for the village for generations. In the 18th and 19th centuries it became a port handling merchandise brought from Fowey by barges and lighters.
The area also enjoys an abundance of flora and fauna and being on the South West coastal path it is an ideal location for walkers.
Several little shops serve the community and for a more comprehensive shopping experience, the large town of St Austell is just 20 minutes away by car.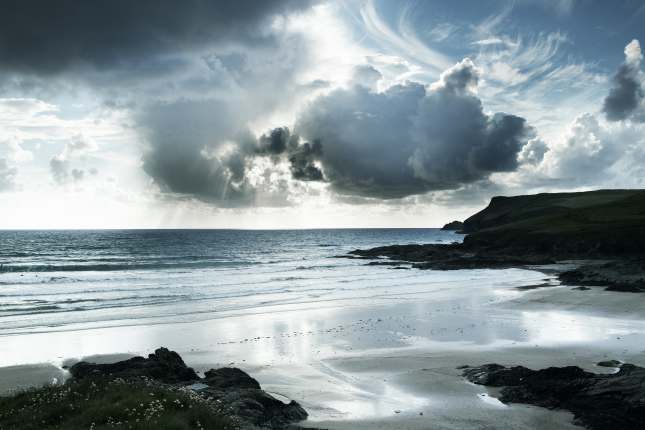 Polzeath
Polzeath (meaning dry creek) is a small seaside resort village in the civil parish of St Minver in Cornwall. It is approximately 6 miles north west of Wadebridge on the Atlantic coast.
The award winning large golden beach attracts a multitude of surfers due to its easily accessible location and long slow breaking consistent waves.
Not just attractive to human beings, Polzeath's nature reserve attracts wildlife such as dolphins and many types of coastal birds, including puffins.
Stunning coastal paths offer visitors and locals the opportunity to enjoy 180-degree views whilst soaking in the clean fresh air.
Amenities are good for a village of its size, and a number of pubs, cafés and restaurants cater to residents and visitors.
As with so many of Cornwall's seaside villages, homes for sale are in short supply and Polzeath has just three for sale currently at an average cost of £876,930.
Portreath
The village and fishing port of Portreath is around 3 miles northwest of Redruth and 13 miles from Truro, nestled in a valley between imposing cliffs.
Portreath (meaning "sandy cove") was first recorded in 1485, and tin mining in the valley was recorded from 1602.
In its heyday in the 19th century, over 100,000 tons of copper ore passed through Portreath bound for destinations around the world
Today however, all the industry has died and only a few fishing boats use the village as a base. Home to around 1400 people, Portreath has become mainly a holiday destination.
The village extends along both sides of a stream valley and is centred on the harbour and beach, very much a quiet haven which has avoided commercialisation,
West of the harbour entrance and breakwater are two sandy beaches that are popular with holidaymakers, surfers and naturists.
A beautiful area both along its coast and well known with walkers as sections of the historical Coast to Coast Trail passes through the village linking Portreath with the harbour of Devoran on Restronguet Creek and on into Falmouth.
In contrast a visit to Tehidy Cunty Park is a lovely thing to do in Portreath. Covering an area of 250 acres with over 9 miles of nature trails. The park is also a haven for birds.
The property market is limited with 9 homes for sale which range from £195,000 for a 2 bedroomed apartment up to £675,000 for an end of terrace with sea views.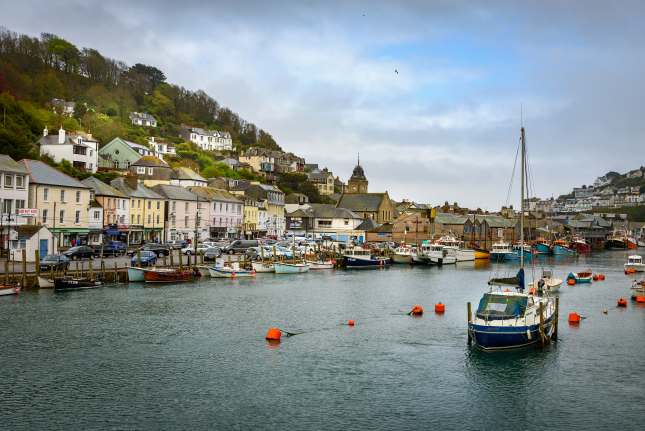 Looe
Looe is perfect for those searching for a coastal home close to Plymouth.
The area provides easy access to the wider Cornwall region.
Looe is undoubtedly one of the best Cornwall seaside towns.
Residents living in Looe enjoy a range of perks when that are on offer in this famous fishing town.
Looe boasts a gorgeous locale of vertical hills strewn with stunning homes.
Looe's cobbled streets wind throughout the town leading to the busy harbour.
Residents are also provided with a stunning sandy beach!
There is also an excellent choice of properties.
Captivating cottages and glorious townhouses are some of the offerings!
Locals also have access to a range of year-round events.
Looe Island houses a range of vital wildlife habitats.
With a range of woodland, maritime, grassland and rocky reef, it is an important diverse location.
Looe also plays host to a yearly festival.
Each September Looe welcomes visitors to one of Cornwall's biggest events!
The Looe Music Festival is a three-day festival.
Located on both the beach and town centre the festival is an excellent spectacle!
Mousehole
One of the smallest villages on the Cornwall coast with a population of just under 700, Mousehole is also set within the Cornwall Area of Outstanding Natural Beauty.
Although very small it nonetheless is just as beautiful as any of its neighbours.
The unspoilt picturesque harbour is surrounded by stone cottages, narrow streets, and yellow lichened houses, which huddle together creating a stunning location.
Dotted with small independent gift shops and art galleries, superb pubs, and restaurants it makes a splendid place to wander and shop.
The local primary, Mousehole Community School is rated highly by Ofsted as is the closes secondary Humphry Davy School, so education is not a problem.
The village has a convenience store as well as a post office, for anything else Penzance is just a 10-minute journey away.
Quiet and slow paced Mousehole is perfect as a holiday destination or as an area in which to live.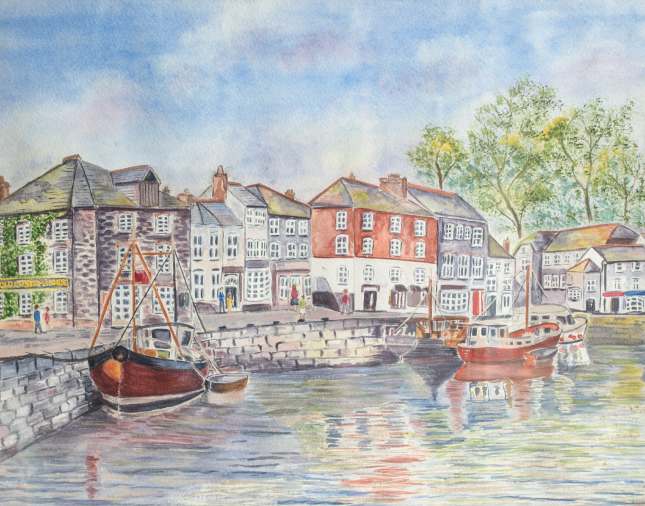 Padstow
One the most well known of all Cornwall seaside towns, Padstow has a desirable reputation.
The snaking streets set back from the harbour offer a variety of stunning cottages.
Many of these properties are now available to lease throughout the year.
Padstow's popularity ensures the property market is thriving!
House prices have risen considerably over the past decade.
Some properties have risen by 200%!
The average price paid for property as of March 2021 is currently a jaw dropping £492,625.
Padstow is well known for being the start and end point for the Camel Cycle Trail.
This makes the town an excellent base for participating in all manner of aquatic sports.
Padstow lays approximately 5 miles northwest of Wadebridge, 10 miles northwest of Bodmin and 10 miles northeast of Newquay.
The town offers excellent amenities, with a Tesco store conveniently located nearby.
There are also various clothing stores, galleries and craft shops to explore throughout the town.
Padstow offers the sea, landscape, and laidback lifestyle many can only dream about.
It is clear to see why it is one of the best Cornwall seaside towns!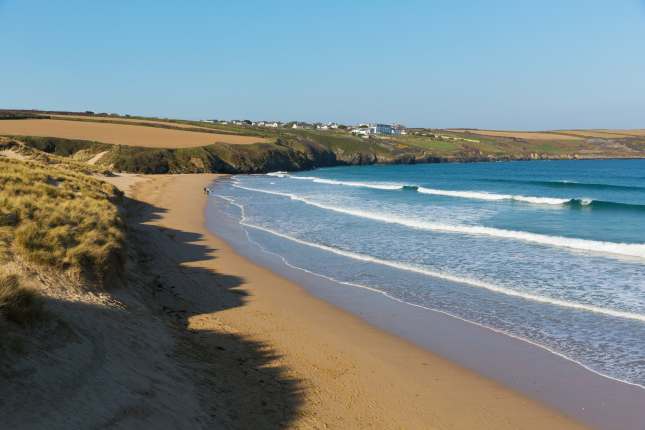 Perranporth
Perranporth town boasts a 3 miles long beach consisting of golden sand, huge surf and towering sand dunes.
In the 19th century Perranporth was a tin mining village. The town's modern name comes from Porth Peran, the Cornish for the cove of Saint Piran, the patron saint of Cornwall.
An impressive location where life pretty much revolves around the ocean, both commercially and recreationally.
Visitors flock to enjoy the surfing, especially kite surfing, and also the extensive sand dunes which reach nearly a mile inland. Known as Penhale Sands, the dunes are used for orienteering competitions, and there is an 18-hole links golf course.
A lively town with plenty going on such as the The "Perranporth Shout" a Sea-song and Shanty Festival and the Extreme Surf Triathlon held every September. A popular but gruelling event involving swimming, cycling and ends with a run around the dunes and cliffs.
The town centre has various shops, cafés and pubs. Like so many places in the region, the long-distance South West Coast Path runs past the town bringing in plenty of visitors.
Definitely Poldark Country as Winston Graham wrote his first Poldark novel in 1945 whilst living in Perranporth no doubt inspired back then by all that the town had to offer and still does today.
Cheaper than a lot of towns and villages, the average cost of a home will set you back £304,262. The cost of a home in Perranporth has increased exponentially by 200% since 2001.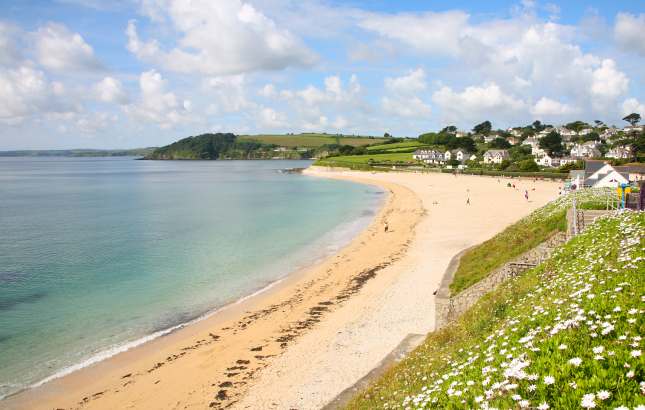 Fowey
The towns name is pronounced "Foy" which in old Cornish means 'Beech Trees'. The town has been in existence since well before the Norman invasion, with the local church first established sometime in the 7th century.
Situated on the south coast of Cornwall between Looe and Mevagissey, Fowey is not only an historic town but also a commercial seaport.
The pretty but very tidal estuary of the River Fowey forms a natural harbour which enabled the town to become an important trading centre.
In days gone by, Fowey was a notorious location for pirates, a business which thrived for hundreds of years along the Cornish coast. In later history, fishing became the mainstay of the town but even then, some dabbled in a little smuggling on the side!
Today Foweys residents are much more law abiding and enjoy a very envious lifestyle in a beautiful, tranquil area alongside a host of interesting things to do with their spare time.
Fowey has an eclectic mix of shops offering everything from groceries to clothing, antiques to art and fruit and veg to freshly baked bread.
Tourism is also an important source of income, contributing £14m to the local economy and accounting for more than half of the jobs in the town
Packed with atmospheric narrowing streets showcasing some of Fowey's most desirable mediaeval and Georgian buildings, the old town is a wonderful place to spend time browsing.
Zoopla have 70 homes for sale in the area and prices start at £99,950 for a 2-bedroom flat up to the most expensive home, a 5 bedroom mansion on the market for £1,700,000.
Falmouth
The town and Port of Falmouth sits on the River Fal. A relatively large town with an estimated population of 23,000.
Falmouth has a rich maritime heritage due to its strategic location.
King Henry VIII constructed Pendennis Castle, a mighty fortress to defend the country against invasion.
It still stands and is now a tourist attraction.
In its heyday, the port received all sorts of interesting cargo, sourced from around the globe including exotic animals, gold, and botanical specimens.
Charles Darwin sailed to and from Falmouth during his travels around the world.
Those who call the town home would likely agree with the Sunday Times Poll of 2017 which voted it the UK's best town in which to live.
A busy calendar of all year-round events, Falmouth is not just known for its golden sands and inviting waters, but also for its many glorious parks and green spaces.
Some of which have won accolades in the Britain In Bloom awards over the years.
The characterful town centre plays host to a number of charming shops, well-known stores and is full of artisan retailers that combined cater to most needs.
Falmouth has good road links to the rest of Cornwall.
The A39 heading north towards Truro and the A394 heading towards Helston, Land's End and Penzance.
With regard to housing costs, the majority of sales in Falmouth during the last year were terraced properties, selling for an average price of £304,844.
Detached properties sold for an average of £430,576, with flats fetching £265,076.
St Ives
St Ives is certainly amongst the best Cornwall seaside towns.
There are two main things that people associate with St Ives, art and surfing.
St Ives is ideal for lovers of the arts!
The town has a truly trendy and avant-garde feel.
This feeling is reinforced by the seaside culture.
Asround 60% of St Ives resident's surf!
The town's stunning bay enjoys seven miles of spectacular beaches.
Living in St Ives offers residents plenty of excellent amenities.
These include a range of varied and unique shops and restaurants.
Shopping in the town is a distinctive experience.
Many shops are intriguingly placed in amongst the town centre's quirky streets.
Travel links in the town are good.
Residents enjoy easy access to the other Cornwall seaside towns via the A30.
Located 31 miles away and a 45 minute drive is Newquay airport.
Thanks to St Ives size and popularity, acquiring a home is a little easier than some other Cornwall seaside towns.
A detached home in St Ives sells for an average of £480,000.
Semi-detached properties are sitting at £320,000, with one-bedroom flats start at £170,000.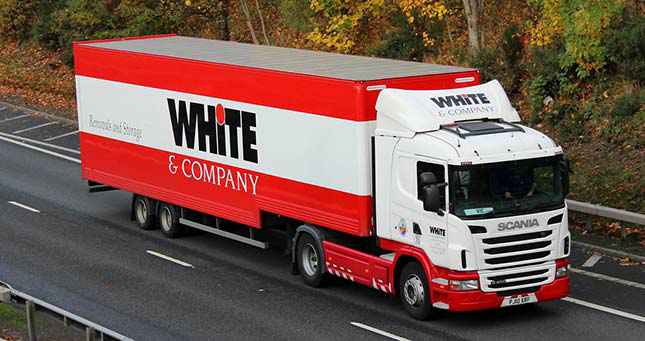 Ready to Move to One of These Cornwall Seaside Towns?
Have you picked one of these Cornwall seaside towns to start living in?
Cornwall seaside towns offer buyers some exceptional properties for families, young professionals, retirees and everything in between!
If you want to move to one of these Cornwall seaside towns and have found the perfect property, we are here to help you get moving.
You can start planning your dream move with the assistance of our Cornwall Removals service from White & Company today.
White & Company are also pleased to announce our new video survey service.
During these unprecedented times, we can safely conduct remote removals surveys.
We can gather all the relevant information for your move from the comfort of your own home.
So, give us a call today or fill out a quick quote form to see how we can get your dream move to Cornwall in the works.