European Moving. If you are planning European moving you need to be sure that your personal possessions will be handled with care at origin, destination and during transit.
White & Company understand European moving. We know that local customs, regulations, restrictions, taxes, holidays, road systems, geography and of course, language can all combine to make moving to Europe something of a challenge.
White & Company have over 145 years of experience in overseas shipping with more than 30 vehicles a week traveling to and from mainland Europe all providing a seamless service door to door.
We can also provide first-class storage facilities if needed though our network of partners in every European country.
Removals Europe
Austria, Belgium, Bulgaria, Croatia, Republic of Cyprus, Czech Republic, Denmark, Estonia, Finland, France, Germany, Greece, Hungary, Ireland, Italy, Latvia, Lithuania, Luxembourg, Malta, Netherlands, Poland, Portugal, Romania, Slovakia, Slovenia, Spain, Sweden & Switzerland
Because it is so important that your possessions are cared for throughout your entire process, White & Company are members of the British Association of Removers (BAR) and all services performed are in accordance with European standard BS EN 12522.
White & Company are proud winners of the British Association of Removers  'Overseas Mover of the Year' Competition 2016.

European Moving Services
Regular services to and from all European countries
Weekly service to Spain and the Balearic Islands
Our own offices in Osnabruck, Germany and Palma de Mallorca
Storage facilities at origin or destination
Local partners to provide local knowledge
Comprehensive insurance
Packing for Europe
Packing for European moving from the UK is a specialist skill, so we have experienced and professionally trained staff to provide this service for you. We'll decide what type of packing and wrapping is necessary during the pre-move survey.
Considering the Environment
White & Company use modern, environmentally friendly, purpose-made packing materials to pack all your possessions ready for moving.  China and glassware are wrapped in special paper and then packed in double-thickness cartons; furniture is wrapped in bubble blanket for extra protection.
Any items requiring specialist care, such as antiques, can be packed in made-to-measure wooden crates if necessary.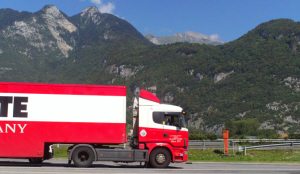 White & Company European Moving – Truck near Chablais Switzerland
Planning your Move
The earlier you plan your European move the less stressful the move should be. To start planning contact our experienced team who will take you through the process. Contact your local branch using our branch locator where you will find a telephone number to call or complete the contact form below and we will contact you.
For a Guesstimate complete the quick estimate form.
To arrange a  survey, during which we will explain the process and provide you with an itemised quote, contact your local branch.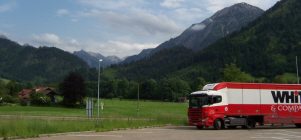 White & Company European Moving – Truck near Hindelang Bavaria