Good Removal Company & House Movers Basingstoke
House movers to Basingstoke will need to arrange a whole host of things to ensure that everything runs to plan. Finding a good removal company is paramount to the day running smoothly.
White & Company is a well-respected family owned removal company. They were founded in 1871 and have over a 145 years of experience.
As founder members of BAR, FIDI & OMNI, White & Company can provide for a local move, to anywhere in the UK, to Europe or to any international destination.
White & Company Removals Storage & Shipping
23 Invincible Road
Farnborough
Hampshire
GU14 7QU
Tel: 01252 759 458 for a free moving quote
E: hq@whiteandcompany.co.uk
www.whiteandcompany.co.uk
Opening Times:
Mon 09:00 – 17:00
Tue 09:00 – 17:00
Wed 09:00 – 17:00
Thu 09:00 – 17:00
Fri 09:00 – 17:00
Sat 09:00 – 12:00
Sun Closed
Use the following tips to help plan a successful move.
House Movers Basingstoke advice on Packing
Moving house is an excellent time to sort through your possessions and dispose of anything you don't need. Start the packing process early; it always takes much longer than you think! As a guide, allow two months for larger houses and one month for smaller homes. Pack one room at a time; starting with the rooms you use least. Make sure you list what is in each box and label it to tell the movers where it should go on arrival. Pack heavy things at the bottom and fragile items on top, using plenty of packing materials. Do not exceed a weight of 13 kilograms per box or you may cause injury when lifting them, remember to pack light items in larger boxes and heavy things in small boxes.
House Movers Basingstoke advice for finding a Removal Company
Unless you really have only a very few possessions, it is always best to instruct a professional removal company to help you move house. There are a large variety of companies that can provide a house removal service. However, it is always advisable to choose a company that is a member of BAR (The British Association of Removers).
By choosing a BAR Member, it will ensure everything goes to plan and you will have the added peace of mind that comes from using a reputable and professional house removal company.
In the unlikely event that something does go wrong, you will have someone to turn to help sort out any issues. A BAR member is easily recognised by their membership badge. When choosing a house removal company, check that they have this badge displayed on their website and all documentation.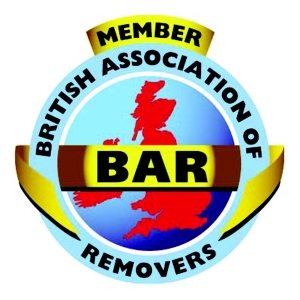 Once you have found a new home and your offer has been accepted, you will need to arrange various things in order for everything to progress. Firstly, you will need to select a conveyancing solicitor, as it is essential to get the legal side in place early on, to ensure a smooth legal transaction of your property sale and purchase. You will also need to organise for a survey to be conducted on the property you are purchasing.
House Movers Basingstoke advice on Conveyancing
Once you have found a new home and your offer has been accepted, you will need to instruct a solicitor to look after the house conveyance.
Conveyancing describes the legal transfer of property from seller to buyer. How long it takes depends on several things, such as how many people are involved in the chain. This can be done quickly in a number of weeks or it may take some months to complete. Once you have chosen your solicitor, they will examine the draft contract and supporting documents and raise enquiries with the seller's solicitor.
They will also carry out local authority searches to ensure there is nothing that you do not know about, such as a planned new housing estate at the bottom of your garden. The solicitor will also check the 'title register' and 'title plan' at the Land Registry– these are the legal documents, which prove the seller's ownership. They can also arrange an 'Environmental Search' if you require this to be carried out. This report will give information about contaminated land at or around the property, landfill sites, former and current industry, detailed flooding predictions, ground stability issues and radon gas hazard.
House Movers Basingstoke advice on Property Surveys
It is always advisable to instruct a surveyor to carry out a property survey before you conclude the purchase of your new home. They can often predict issues based on the condition of the property externally, such as missing roof tiles, rotten windows and subsidence.
An internal inspection despite limitations should be able to identify major issues such as rising damp, water ingress, woodworm and beetle infestation.
The survey should be able to outline any major repairs or alterations needed such as roof or chimneystack repairs, or if the property requires rewiring. They will also be able to give a valuation of the property for mortgage purposes.
Most qualified surveyors are members of the Royal Institute of Chartered Surveyors (RICS) and it is recommended that you use a RICS qualified surveyor, as they will also carry professional indemnity insurance. If you are able to instruct a local surveyor, they are likely to have a better knowledge of local market values.
It is well worth taking some time to research the facilities and amenities of your new area. Below is a list of professional services in the Basingstoke area.
Estate Agents & House Movers Basingstoke
Martin & Co.
16 London Street, Basingstoke RG21 7NT
01256 859960
www.martinco.com
Haart
31 Wote St, Basingstoke RG21 7NF
01256 812652
www.haart.co.uk
Redwoods Estate Agents
10 New St, Basingstoke RG21 7DE
www.redwoodsproperty.co.uk
01256 811220
Solicitors & House Movers Basingstoke
Spencers Solicitors
Matrix House, Basing View, Basingstoke RG21 4FF
01256 337800
www.spencerssolicitors.com
Shoosmiths Access Legal
Quantum House Basing View, Basingstoke RG21 4EX
0370 086 8686
www.access-legal.co.uk
Phillips Solicitors
38 London Street, Basingstoke RG21 7NY
01256 460830
www.phillips-law.co.uk
Surveyors & House Movers Basingstoke
BDB Surveying Services
2Nd Floor, The Management Suite, Paddington House Town Centre, Basingstoke RG21 7LJ
01256 357717
www.marstanbdb.com
W G Edwards Surveyors
45 Fairthorne Rise, Old Basing, Basingstoke RG24 7EJ
01256 354426
www.wgedwards.co.uk
Hall & Ensom Chartered Surveyors
Kestrel Court Vyne Road, Basingstoke RG24 9HJ
01256 889851
www.hallandensom.co.uk
Schools & House Movers Basingstoke
The Costello School
The Costello School, Crossborough Hill, BASINGSTOKE RG21 4AL
01256 321263
www.costello.hants.sch.uk
Vyne Pre School
Vyne Road, Basingstoke RG21 5PB
01256 473003
vyne.hants.sch.uk
Dove House School
Sutton Road, Basingstoke RG21 5SU
0845 603 5638
www.dovehouse.hants.sch.uk
Doctors & House Movers Basingstoke
The Hackwood Partnership
Essex House, Essex Road, Basingstoke RG21 8SU
01256 637210
www.hackwoodpartnership.co.uk
Bermuda Practice
Shakespeare House Health Ctre Shakespeare Road, Basingstoke RG24 9DT
0844 880 0498
www.marlowepractice.co.uk
Dentists & House Movers Basingstoke
Winchester Road Dental Practice
33 Winchester Road, Basingstoke RG21 8UL
01256 322922
https://www.winchester-road-dental-practice.co.uk
Glen Holme
15 Chequers Road, Basingstoke RG21 7PU
01256 465130
www.glenholmedental.co.uk
White & Company are proud winners of the British Association of Removers 'Overseas Mover of the Year' Competition 2016 and finalists for 2017.
 
When moving overseas, making sure you get the best exchange rate possible is essential to starting your new life on a sound footing. White & Company has an exclusive arrangement with an FX Firm (foreign exchange company). Simply follow the link below to see what additional monies you will receive compared to using your high street bank and to set up a free no obligation account. White & Company/foreign-exchange
Whether you need to arrange monthly payments to service an overseas mortgage, or wish to protect yourself against exchange rate fluctuations and fix the rate for up to a year, we will be able to suggest the most suitable way to do so. Open your free, no obligation account in as long as it takes to stop for a coffee.
White & Company Have Branches In The Following Locations
Bedford
London
Bournemouth
Dunfermline
Farnborough
Forres,
Guernsey
Harrogate-York
Jersey
Knaresborough
Lancaster
Leeds-Bradford
Plymouth
Portsmouth
Southampton
Telford
Winchester
Opening Times:
Mon 09:00 – 17:00
Tue 09:00 – 17:00
Wed 09:00 – 17:00
Thu 09:00 – 17:00
Fri 09:00 – 17:00
Sat 09:00 – 12:00
Sun Closed
 To read independent customer reviews please visit Referenceline
"Andy and Luke who were the removal operators. I can not praise them enough for there professionalism in the way they carried out my removal without any stress to my self or daughter. "
"Excellent professional service-very friendly and helpful movers who remained good humoured and calm throughout."
"White's start at all levels were very helpful and polite both before the move ( we had problems in the chain loading to uncertainly with dates) and on the 2 days of the move. Time keeping, care in packing and loading and willingness to " go the extra mile " on delivery, were all to the best standards.
Several days after the move the local brand of whites were also very quick and supportive in collecting the used packaging. "