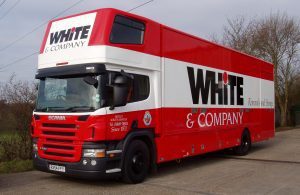 Local House Removals Covering the Village of Durley, Hampshire
House Removals Durley. Almost everyone finds that they need to move home at some time in their lives and often on many occasions. This may be when they buy their first home, move to a larger house as the family grows, have to relocate for a new job or maybe wish to down size once they have retired. If you are looking for house removals Durley, White & Company have been based in Durley for over 145 years and can provide a full removals and storage solution.
As founder members of BAR, FIDI & OMNI, White & Company can provide for a local move, anywhere in the UK, Europe or to an international destination.
House removals are one of the most stressful life events with the average person moving home five times during their lifetime. With 61 per cent of people placing the ordeal at the top of their stress list, it is essential to use a reputable company to carry out your house removals. Ideally it is always advisable to choose a removals company that is a member of BAR, FIDI & OMNI, to make sure the company you choose meets the highest standards within the removals industry.
White & Company Removals Storage & Shipping
Hillsons Road
Botley
Southampton
SO30 2DY
Tel: 01489 854 286 for a free moving quote
E: hq@whiteandcompany.co.uk
www.whiteandcompany.co.uk
Opening Times:
Mon 09:00 – 17:00
Tue 09:00 – 17:00
Wed 09:00 – 17:00
Thu 09:00 – 17:00
Fri 09:00 – 17:00
Sat 09:00 – 12:00
Sun Closed
There are a number of things, which you can do to ensure everything runs smoothly.
House removals Durley tip 1: Hire a reputable removal company,
Hiring the right removals company will make all the difference, if you're after a stress-free moving day. Consider if you would like them to take care of all the packing, some of it or whether you would like to pack yourself. White & Company have been based in the area for over 145 years and provide a full removals & storage solution. As founder members of BAR, FIDI & OMNI White & Company can provide for a local move to anywhere in the UK, Europe or to any international destination: www.whiteandcompany.co.uk
House removals Durley tip 2: Book your removals company as soon as possible
Dependent on the time of year you are looking to move, planning ahead and booking your removals company is key to a stress free day. If you moving during the busy summer months, you will need to give at least four weeks notice in order to secure your booking.
House Removals Durley tip 3: Get someone to look after young children
Because moving house can be very stressful and also a very emotional time, it is best to get someone to look after young children, so they do not become bored or fractious. The same goes for pets, it is best to arrange for them to go into kennels or a cattery as they often become disorientated.
House Removals Durley tip 4: Make sure everyone is informed
As soon as the removals team arrives, make sure they have your mobile number and you have a number to contact them in case of an emergency. You should also have the numbers of your bank, estate agent and solicitor. Also make sure you have arranged a time to collect the keys to your new house.
You will also have to inform all your utility companies that you are moving and perhaps select different suppliers at your new home.
If you are moving to Durley you may want to visit www.uswitch.com to find the most economic supplier in your area.
Having moved to Durley you may wish to change your TV or Internet provider, simply visit www.broadbandchoices.co.uk/tv
House Removals Durley tip 5: Pack a survival box to go with you in the car
This should include tea, coffee, milk, kettle and mugs. Some snacks, a can opener and some eating utensils. Some basic tools and a first aid kit along with any necessary instruction manuals for the appliances you are moving. It is also wise to carry on your person any medication you may need.
House Removals Durley tip 6: Start moving day early
This is the day to set the alarm and get started early, as there will be a number of things you will need to do. Start by stripping the beds and packing up last minute things. Dismantle furniture, take photos of energy meter readings when you leave and also when you arrive at your new home, to avoid being overcharged. Taking pictures of wire fittings on electronic equipment such as computers will also help you set them up properly when you arrive. Set aside the hoover and cleaning equipment for your last-minute clear up before you leave the house.
House Removals Durley tip 7: Make sure your removalist has storage space available
Often when you move into a new property you may want to redecorate or carry out building works. If this is the case, ideally you will want to store some of your larger pieces of furniture until the work has been completed. If you choose a removal company who has storage facilities, then they can store these pieces for you until you are ready to receive them at your new home.
House Removals Durley tip 8 – Check your insurance cover
Do not assume that the removal company you have chosen will have adequate insurance to cover all your valuable items. Make sure you have checked the small print and arrange additional cover if necessary. When using a BAR registered removal company, you will have the peace of mind that they will be working to the terms and conditions of a BAR member, and will offer a degree of limited liability insurance. However, it is highly recommended that you ensure that you have arranged adequate cover.
Having moved to your new home in Durley you may find the following information useful:
About Durley
Durley is a small village with a population of just 850. It is situated in the county of Hampshire. It was first mentioned in A.D.900 when Edward the Elder made a grant of land to the Abbey of New Minster at Winchester, when the area was known as Doerleage.
Durley is surrounded by pretty countryside, winding lanes and woodland. The larger town of Hedge and the historic village of Bishops Waltham are a short car journey away and offer a range of shops and retail outlets. For a wider selection of shops, the city of Southampton is located 7 miles away and Winchester is around 1 miles away by car. Although the village has grown in recent times with some small developments of new homes, it still retains an active village community.
There are a few good pubs to visit. The Robin Hood is one of the best in the area and it is an AA recommended pub as well as receiving some excellent reviews on TripAdvisor. In the winter the open fires create a warm cosy atmosphere and in the summer months the large outside area has plenty of seating and space for children to play.
Leisure activities in and around Durley
If you are planning a day out, there is plenty to do in and close to Durley, why not visit one of the following attractions:
Marwell Zoo – www.marwell.org.uk
The Adventure Barn – www.theadventurebarn.co.uk
Go Ape Itchen Valley – www.goape.co.uk
Bishops Waltham Abbey Ruins – www.english-heritage.org.uk/…/places/bishops-waltham-palace
Itchen Valley Country Park – www.visit-hampshire.co.uk/things-to-do/itchen-valley-country-park
West Quay Shopping Centre – www.west-quay.co.uk
Gyms and Leisure Centres in Durley
Collymore Leisure – www.gymfreaks.co.uk
Virgin Active – www.virginactive.co.uk
Dsx Fitness – www.dsxfitness.co.uk
Schools in Durley
There is a good range of schools in Durley. According to www.schoolguide.co.uk, some of the best schools are:
Durley Church of England Primary School – www.durley.hants.sch.uk
Wellstead Primary School – www.wellsteadprimary.co.uk
Botley Church of England Primary School – www.botley.hants.sch.uk
Local vet in Durley
Shield Veterinary Centre – www.shieldveterinarycentre.co.uk
Hedge End Veterinary Health Centre – www.hedgeendveterinarycentre.co.uk
Local doctor in Durley
Bishops Waltham Surgery – www.bishopswalthamsurgery.nhs.uk
St. Lukes Surgery – www.stlukesandbotleysurgery.co.uk
Local Dentist Durley
Oakwood Dental Practice – www.oakwooddp.co.uk
Thurlow Dental Care – www.thurlowdentalcare.co.uk
White & Company are proud winners of the British Association of Removers 'Overseas Mover of the Year' Competition 2016 and finalists in 2017.
 
Foreign Exchange
When moving overseas, making sure you get the best exchange rate possible is essential to starting your new life on a sound footing. White & Company has an exclusive arrangement with an FX Firm (foreign exchange company). Simply follow the link below to see what additional monies you will receive compared to using your high street bank and to set up a free no obligation account. White & Company/foreign-exchange.
Whether you need to arrange monthly payments to service an overseas mortgage, or wish to protect yourself against exchange rate fluctuations and fix the rate for up to a year, we will be able to suggest the most suitable way to do so. Open your free, no obligation account in as long as it takes to stop for a coffee.
White & Company Have Branches In The Following Locations
Bedford
London
Bournemouth
Dunfermline
Farnborough
Forres
Guernsey
Harrogate-York
Jersey
Knaresborough
Lancaster
Leeds-Bradford
Plymouth
Portsmouth
Southampton
Telford
Winchester
Opening Times:
Mon 09:00 – 17:00
Tue 09:00 – 17:00
Wed 09:00 – 17:00
Thu 09:00 – 17:00
Fri 09:00 – 17:00
Sat 09:00 – 12:00
Sun Closed