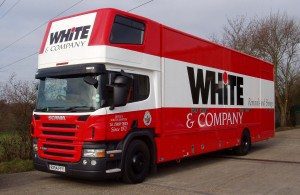 House Removals Huntingdon
House Removals Huntingdon, if you are looking into house removals Huntingdon, you will need to arrange a whole host of things to ensure that everything runs to plan. Finding a good removal company is paramount to the day running smoothly. Use the following tips to help plan a successful move. White & Company is a well-respected family owned removal company. They were founded in 1871 and have over a 145 years of experience.
As founder members of BAR, FIDI & OMNI, White & Company can provide for a local move, to anywhere in the UK, to Europe or to an international destination.
Advice on Packing & House Removals Huntingdon
Moving house is an excellent time to sort through your possessions and dispose of anything you don't need. Start the packing process early; it always takes much longer than you think! As a guide, allow two months for larger houses and one month for smaller homes. Pack one room at a time; starting with the rooms you use least. Make sure you list what is in each box and label it to tell the movers where it should go on arrival. Pack heavy things at the bottom and fragile items on top, using plenty of packing materials. Do not exceed a weight of 13 kilograms per box or you may cause injury when lifting them, remember to pack light items in larger boxes and heavy things in small boxes.
Advice for Finding a Removal Company & House Removals Huntingdon
Unless you really have only a very few possessions, it is always best to instruct a professional removal company to help you move house. There are a large variety of companies that can provide a house removal service. However, it is always advisable to choose a company that is a member of BAR (The British Association of Removers).
By choosing a BAR Member, it will ensure everything goes to plan and you will have the added peace of mind that comes from using a reputable and professional house removal company. White & Company are founder members of BAR.
In the unlikely event that something does go wrong, you will have somewhere to turn to help sort out any issues. A BAR member is easily recognised by their membership badge. When choosing a house removal company, check that they have this badge displayed on their website and all documentation.

Once you have found a new home and your offer has been accepted, you will need to arrange various things in order for everything to progress. Firstly, you will need to select a conveyancing solicitor, as it is essential to get the legal side in place early on, to ensure a smooth legal transaction of your property sale and purchase. You will also need to organise for a survey to be conducted on the property you are purchasing.
Advice on Conveyancing & House Removals Huntingdon
Once you have found a new home and your offer has been accepted, you will need to instruct a solicitor to look after the house conveyance.
Conveyancing describes the legal transfer of property from seller to buyer. How long it takes depends on several things, such as how many people are involved in the chain. This can be done quickly in a number of weeks or it may take some months to complete. Once you have chosen your solicitor, they will examine the draft contract and supporting documents and raise enquiries with the seller's solicitor.
They will also carry out local authority searches to ensure there is nothing that you do not know about, such as a planned new housing estate at the bottom of your garden. The solicitor will also check the 'title register' and 'title plan' at the Land Registry– these are the legal documents, which prove the seller's ownership. They can also arrange an 'Environmental Search' if you require this to be carried out. This report will give information about contaminated land at or around the property, landfill sites, former and current industry, detailed flooding predictions, ground stability issues and radon gas hazard.
Advice on Property Surveys & House Removals Huntingdon
It is always advisable to instruct a surveyor to carry out a property survey before you conclude the purchase of your new home. They can often predict issues based on the condition of the property externally, such as missing roof tiles, rotten windows and subsidence.
An internal inspection despite limitations should be able to identify major issues such as rising damp, water ingress, woodworm and beetle infestation.
The survey should be able to outline any major repairs or alterations needed such as roof or chimneystack repairs, or if the property requires rewiring. They will also be able to give a valuation of the property for mortgage purposes.
Most qualified surveyors are members of the Royal Institute of Chartered Surveyors (RICS) and it is recommended that you use a RICS qualified surveyor, as they will also carry professional indemnity insurance. If you are able to instruct a local surveyor, they are likely to have a better knowledge of local market values.
Helpful Hints & Tips & House Removals Huntingdon:
House Removals Huntingdon tip 1: Book your removals company as soon as possible
Dependent on the time of year you are looking to move, planning ahead and booking your removals company is key to a stress free day. If you moving during the busy summer months, you will need to give at least four weeks notice in order to secure your booking.
House Removals Huntingdon tip 2: Get someone to look after young children
Because moving house can be very stressful and also a very emotional time, it is best to get someone to look after young children, so they do not become bored or fractious. The same goes for pets, it is best to arrange for them to go into kennels or a cattery as they often become disorientated.
House Removals Huntingdon tip 3: Make sure everyone is informed
As soon as the removals team arrives, make sure they have your mobile number and you have a number to contact them in case of an emergency. You should also have the numbers of your bank, estate agent and solicitor. Also make sure you have arranged a time to collect the keys to your new house.
You will also have to inform all your utility companies that you are moving and perhaps select different suppliers at your new home.
If you are moving to Huntingdon you may want to visit www.uswitch.com to find the most economic supplier in your area.
Having moved to Huntingdon you may wish to change your TV or Internet provider, simply visit www.broadbandchoices.co.uk/tv
House Removals Huntingdon tip 4: Pack a survival box to go with you in the car
This should include tea, coffee, milk, kettle and mugs. Some snacks, a can opener and some eating utensils. Some basic tools and a first aid kit along with any necessary instruction manuals for the appliances you are moving. It is also wise to carry on your person any medication you may need.
House Removals Huntingdon tip 5: Start moving day early
This is the day to set the alarm and get started early, as there will be a number of things you will need to do. Start by stripping the beds and packing up last minute things. Dismantle furniture, take photos of energy meter readings when you leave and also when you arrive at your new home, to avoid being overcharged. Taking pictures of wire fittings on electronic equipment such as computers will also help you set them up properly when you arrive. Set aside the hoover and cleaning equipment for your last-minute clear up before you leave the house.
House Removals Huntingdon tip 6: Make sure your removalist has storage space available
Often when you move into a new property you may want to redecorate or carry out building works. If this is the case, ideally you will want to store some of your larger pieces of furniture until the work has been completed. If you choose a removal company who has storage facilities, then they can store these pieces for you until you are ready to receive them at your new home.
House Removals Huntingdon tip 7: Check your insurance cover
Do not assume that the removal company you have chosen will have adequate insurance to cover all your valuable items. Make sure you have checked the small print and arrange additional cover if necessary. When using a BAR registered removal company, you will have the peace of mind that they will be working to the terms and conditions of a BAR member, and will offer a degree of limited liability insurance. However, it is highly recommended that you ensure that you have arranged adequate cover.
Having moved to your new home in Huntingdon you may find the following information useful:
About Huntingdon
Located in the county of Cambridgeshire, the market town of Huntingdon is a much sought after area for relocation. It has lots to offer, such as pretty countryside, riverside walks, historic sites, charming churches, traditional produce markets and an antiques and collectables market held every Friday. With London just an hour away, it is the perfect commuter location.
The shopping centre is pedestrianised and the historic High Street, St Benedicts Court and Chequers Court offer a good mix of shops for all tastes. Huntingdon Racecourse is just a stone's throw from the town, directly off the A14 and holds regular race meetings including family fun days. The Great River Ouse is a lovely place to walk and enjoy at any time of the year.
Even though the town is not too far from London, the properties are very reasonably priced. There is a range of styles to choose from, quaint Victorian terraced homes to modern new house builds. You can expect to pay around £188,000 for a two bedroom terraced home and currently on the market there are some good sized family homes selling for £353.000. Statistics provided by Zoopla 7th August 2017.
Leisure Activities in & Around Huntingdon
If you are planning a day out, there is plenty to do in and close to Huntingdon, why not visit one of the following attractions:
Hinchingbrooke Country Park – www.huntingdonshire.gov.uk
Grafham Water – www.anglianwater.co.uk
Island Hall – www.islandhall.com
Cromwell Museum – www.cambridgeshire.gov.uk/…/24/cromwell_museum
Huntingdon Castle – www.castlesfortsbattles.co.uk/east/huntingdon_castle
Gyms & Leisure Centres in Huntingdon
One Leisure Huntingdon – www.oneleisure.net
LA fitness – www.lafitness.co.uk
Huntingdon gym club – www.huntingdon-gymnastics.org
Local Vet in Huntingdon
Vets4Pets – www.vets4pets.com
medivet the vets – www.medivet.co.uk
Local Doctor in Huntingdon
Priory Fields Practice – www.prioryfields.co.uk
Roman Gate Surgery – www.romangatesurgery.nhs.uk
Local Dentist Huntingdon
Private Dentists Huntingdon – www.wensleydaledental.co.uk
Huntingdon Dental Care – www.huntingdondentalcare.co.uk
Travel Connections & House Removals Huntingdon
Reaching Huntingdon by road would be via the: A421, A1, A428. Huntingdon has its own train station and two other stations to choose from, St Neots (8.5 miles) and Whittlesea (14.5 miles). The nearest airports are: London Luton Airport (33.5 miles), London Stansted Airport (35.7 miles) and Norwich International (52.2 miles).
Local Supermarkets & House Removals Huntingdon
Waitrose – Prince's Street, Huntingdon PE29 3PR
01480 458759. www.waitrose.com
Iceland Foods -113 High Street, Huntingdon PE29 3LD
01480 450621. www.iceland.co.uk
Local Hotels & House Removals Huntingdon
The Old Bridge Hotel – 1 High Street, Huntingdon PE29 3TQ
01480 424300. www.huntsbridge.com
George Hotel – George Street, Huntingdon PE29 3AB
01480 432444. www.oldenglishinns.co.uk
Local Council & House Removals Huntingdon
If you are planning to move to Huntingdon and need information on schools, planning permission, parking permits or council tax, council planning permission meetings are held on a regular basis. Simply contact: www.cambridgeshire.gov.uk/
Cable & Phone Connections & House Removals Huntingdon
If you're moving to Huntingdon and need to know the broadband availability, simply visit: https://www.cable.co.uk/
Removers & Storers Ltd
Wolseley Road
Kempston
Bedford
MK42 7EF
T: 01234 819 469 call now for a free home survey and quote
E: hq@whiteandcompany.co.uk
www.whiteandcompany.co.uk
Opening Times:
Mon 09:00 – 17:00
Tue 09:00 – 17:00
Wed 09:00 – 17:00
Thu 09:00 – 17:00
Fri 09:00 – 17:00
Sat 09:00 – 12:00
Sun Closed
 White & Company are also proud winners of the British Association of Removers  'Overseas Mover of the Year' Competition 2016 and finalists for 2017

If you are moving away from the UK and looking at moving overseas.
When moving overseas, making sure you get the best exchange rate possible is essential to starting your new life on a sound footing. White & Company has an exclusive arrangement with an FX Firm (foreign exchange company). Simply follow the link below to see what additional monies you will receive compared to using your high street bank and to set up a free no obligation account. White & Company/foreign-exchange
Whether you need to arrange monthly payments to service an overseas mortgage, or wish to protect yourself against exchange rate fluctuations and fix the rate for up to a year, we will be able to suggest the most suitable way to do so. Open your free, no obligation account in as long as it takes to stop for a coffee.
White & Company Have Branches In The Following Locations
Bedford
Bournemouth
Dunfermline
Farnborough
Forres
Guernsey
Harrogate-York
Jersey
Knaresborough
Lancaster
Leeds-Bradford
London
Plymouth
Portsmouth
Southampton
Telford
Winchester
House Removals Huntingdon | Removals Huntingdon | Removal Companies Huntingdon