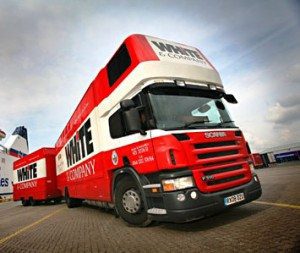 House Removals Southampton & Removal & Storage Experts
House Removals Southampton. If you are looking for house removals Southampton, you will be anxious to find a reputable house removals company that you can rely upon. However tempting it can be to base your decision purely on price, it is important to remember that value for money and a cheap price are not the same thing. At White & Company we believe we provide excellent value for money and offer outstanding customer care.
We are happy to arrange for one of our home surveyors to visit your existing property and provide you with a free, no obligation quotation. This will cover all aspects of your move and will ensure a suitable vehicle size and crew are allocated for your move. We will also check on access to both properties and be able to advise on any special items that will need moving, such as antiques, fine art, wine etc.
White & Company since 1871
White & Company has been moving people in the Southampton area since 1871. As founder members of BAR, FIDI & OMNI, you can be sure we will always meet the highest standards within the removals industry.
White & Company can provide for a local move, anywhere in the UK, Europe or to any international destination. We are more than happy to answer any questions you may have about the removal and/or storage process. Our friendly office staff will help with any queries and can make arrangements to provide you with a free, no obligation quotation.
Domestic House Removals Southampton
White & Company Removals Storage & Shipping
Hillsons Road
Botley
Southampton
SO30 2DY
Tel: 01489 858 027 call now for a free home survey and quote
E: hq@whiteandcompany.co.uk
W: https://www.whiteandcompany.co.uk/house-removals/
Opening Times:
Mon 09:00 – 17:00
Tue 09:00 – 17:00
Wed 09:00 – 17:00
Thu 09:00 – 17:00
Fri 09:00 – 17:00
Sat 09:00 – 12:00
Sun Closed
Travel Connections & House Removals Southampton
Getting to Southampton by car would be via the: M27/M271/A33. Southampton has its own train station, with two further stations close by: Woolston and Sholing. The nearest three airports are: Southampton Airport (4 miles), Bournemouth Airport (21 miles) and Shoreham Airport (48 miles).
House Moving Hints and Tips
House Removals Southampton tip 1: Hire a reputable removal company
Hiring the right removals company will make all the difference, if you're after a stress-free moving day. Consider if you would like them to take care of all the packing, some of it or whether you would like to pack yourself. White & Company have been based in the area for over 145 years and provide a full removals & storage solution. As founder members of BAR, FIDI & OMNI White & Company can provide for a local move to anywhere in the UK, Europe or to any international destination: www.whiteandcompany.co.uk
House Removals Southampton tip 2: Book your removals company as soon as possible
Dependent on the time of year you are looking to move, planning ahead and booking your removals company is key to a stress free day. If you moving during the busy summer months, you will need to give at least four weeks notice in order to secure your booking.
House Removals Southampton tip 3: Get someone to look after young children
Because moving house can be very stressful and also a very emotional time, it is best to get someone to look after young children, so they do not become bored or fractious. The same goes for pets, it is best to arrange for them to go into kennels or a cattery as they often become disorientated.
House Removals Southampton tip 4: Make sure everyone is informed
As soon as the removals team arrives, make sure they have your mobile number and you have a number to contact them in case of an emergency. You should also have the numbers of your bank, estate agent and solicitor. Also make sure you have arranged a time to collect the keys to your new house.
You will also have to inform all your utility companies that you are moving and perhaps select different suppliers at your new home.
If you are moving to Southampton you may want to visit www.uswitch.com, to find the most economic supplier in your area.
Having moved to Southampton you may wish to change your TV or Internet provider, simply visit www.broadbandchoices.co.uk/tv
House Removals Southampton tip 5: Pack a survival box to go with you in the car
This should include tea, coffee, milk, kettle and mugs. Some snacks, a can opener and some eating utensils. Some basic tools and a first aid kit along with any necessary instruction manuals for the appliances you are moving. It is also wise to carry on your person any medication you may need.
House Removals Southampton tip 6: Start moving day early
This is the day to set the alarm and get started early, as there will be a number of things you will need to do. Start by stripping the beds and packing up last minute things. Dismantle furniture, take photos of energy meter readings when you leave and also when you arrive at your new home, to avoid being overcharged. Taking pictures of wire fittings on electronic equipment such as computers will also help you set them up properly when you arrive. Set aside the hoover and cleaning equipment for your last-minute clear up before you leave the house.
House Removals Southampton tip 7: Make sure your removalist has storage space available
Often when you move into a new property you may want to redecorate or carry out building works. If this is the case, ideally you will want to store some of your larger pieces of furniture until the work has been completed. If you choose a removal company who has storage facilities, then they can store these pieces for you until you are ready to receive them at your new home.
There are many reasons why you may also require storage facilities. This could be due to a delay between the sale and purchase of your new home. You may be working abroad or carrying out some renovations on your new home before you move in. Maybe you need storage prior to the sale of your home to maximise the potential of your property to prospective purchasers by clearing some of the clutter.
UK Storage Locations
Perhaps you would like to store items during months they are not required, such as bulky garden furniture and other outdoor equipment. Whatever your reason, White & Company can offer competitive rates for both domestic and business customers at our 19 storage locations throughout the UK. Our storage facilities are clean, dry, secure and accredited to European standard BS EN 14873. You can rest assured that everything you leave with us will be safely stored until you need it.
House Removals Southampton tip 8 – Check your insurance cover
Do not assume that the removal company you have chosen will have adequate insurance to cover all your valuable items. Make sure you have checked the small print and arrange additional cover if necessary. When using a BAR registered removal company, you will have the piece of mind that they will be working to the terms and conditions of a BAR member, and will offer a degree of limited liability insurance. However, it is highly recommended that you ensure that you have arranged adequate cover.
Having moved to your new home in Southampton you may find the following information useful:
About Southampton
Southampton is a large city located on the south coast and situated on the river Itchen. The city has something for everyone with shopping, nightlife, history and culture all available. With its many universities, there is a huge number of students studying, living and working in the area, contributing to its vibrant and busy social scene.
Once known as 'the gateway to the world', thanks to the key role it played in early transatlantic travel. It has recently had a massive cruise line terminal built to serve the thousands of people flowing though it en route to the Caribbean, the Mediterranean and many other exciting destinations. Southampton has played host to some of the world's most elite cruise ships such as the three Queens, Victoria, Queen Mary and Queen Elizabeth. There has been a cruise line terminal at Southampton docks since 1843. The infamous Titanic left from here on its fateful journey.
Southampton & King Canute
Southampton has a history which extends back hundreds of years. It is believed to be the location of King Canute's attempt to hold back the sea! The ruins of the city's mediaeval walls are still visible and guided tours of the walls offer an insight into its past history. Another interesting fact is that Southampton is the first place to record a case of the Black Death. It was the home of the very first plague victim, apparently the disease entered the country via a ship from abroad.
Shopping in Southampton is easy, there is a huge selection of high street retailers as well as some independents. The large West Quay shopping centre is packed full of great shops, large number of restaurants, fast food chains and coffee shops. Outside the centre, the precinct is pedestrianised and also has a varied selection of shops, restaurants, pubs and bars.
Where is Southampton
Southampton is well known as a University City and as such there are plenty of pubs, clubs and restaurants to cater for students. There is a huge range of shops to choose from. All the usual high street fashion chains, and the West Quay shopping mall is very popular.
The mall is over three levels and is full of shops of every description. The top floor is dedicated to food outlets. Pizza Hut, MacDonald's, KFC, Nandos and more. On Saturdays there is a large market situated around the Bargate area. You can spend the whole day here, it certainly is a shopper's paradise!
The map below shows the location of Southampton.
Estate Agents & House Removals Southampton
Morris Dibben
1 St. Johns Road Stirling House, Southampton SO30 4AA
01489 619670
www.morrisdibben.co.uk
Leaders
1 Freegrounds Road, Southampton SO30 0HG
01489 899477
www.leaders.co.uk
Solicitors & House Removals Southampton
Clarke Willmott Solicitors Southampton
Burlington House Botleigh Grange Business Park, Southampton SO30 2AF
023 8008 2000
www.clarkewillmott.com
Eric Robinson Solicitors
5A St John's Road Hedge End, Southampton SO30 4AA
01489 788922
www.ericrobinson.co.uk
Surveyors & House Removals Southampton
Chartered Building Surveyors
81 London Road, Southampton SO15 2AA
023 8038 8688
www.the-bcb.com
Maddisons Chartered Surveyors
The Stables, Lockhams Hill, Lockhams Road, Southampton SO32 2BD
01252 792134
www.maddisons.org.uk
Leisure Activities in & around Southampton
If you are planning a day out, there is plenty to do in and close to Southampton, why not visit one of the following attractions:
There is much to discover in the city itself too. Art galleries, museums, exhibitions, theatre and history. It is well worth booking a guided tour of the ancient walls which surround parts of Southampton. These old defences have a very interesting story to tell of its inhabitants through the centuries.
Tudor House is another great place to visit. Southampton's most important historic building, Tudor House reveals over 800 years of history in one fascinating location at the heart of the Old Town.
Solent Sky Museum – www.solentskymuseum.org
River Rafting and Tubing – www.yumping.co.uk
SeaCity Museum (The Titanic Story) – www.seacitymuseum.co.uk
Tudor House and Garden – www. tudorhouseandgarden.com
Southampton Town Walls – www.discoversouthampton.co.uk
Wes Quay Shopping Centre – www.west-quay.co.uk
Southampton City Art Gallery – www.southampton.gov.uk/art
Virgin Active
Botley Road, West End SO30 3XA
023 8036 0360
www.virginactive.co.uk
The Gym Group
Antelope Park Bursledon Road, Southampton SO19 8NE
0330 055 3938
www.thegymgroup.com
Southampton Restaurants
Finding somewhere to have lunch or dinner is easy. From Chinese to Italian and French to Thai, there is a restaurant to suit everyone's taste. There are several night clubs, a casino and a host of bars to choose from too. Everything you need for a great night out.
It is well worth taking some time to research the facilities and amenities of your new area.  Here is a list of schools and professional services in the Southampton area.
Gyms and Leisure Centres in Southampton
Pure Gym – www.puregym.com
City Gym – www.citygym.net
St. Marys Leisure Centre – www.solent.ac.uk
Bitterne Leisure Centre – www.activenation.org.uk
Schools in Southampton
There is a good range of schools in the Southampton area. According to www.schoolguide.co.uk, some of the best schools are:
King Edward VI School
St Anne's Catholic School
Bitterne Park School
St John's Primary and Nursery School
Woolston Infant School
Southampton Studio School
Southampton City College
The Polygon School
St Mary's College
The Cedar School
The King's School
Local Vet in Southampton
Beech House Veterinary Centre – www.beechhouse.co.uk
Brook House Veterinary Hospital -www.brookhousevets.com
Local Doctor in Southampton
Walnut Tree Surgery – www.walnuttreesurgery.nhs.uk
Forest Gate Surgery – www.forestgatesurgery.nhs.uk
Local Dentist Southampton
Bridgeways Dental Practice – www.bridgewaysdentalpractice.co.uk
Hampshire Dentists Ltd. – www.hampshiredentists.com
Property Prices & House Removals Southampton
There has been an increase in the value of property over the past 12 months in Southampton of around 3.77%. Currently the average price paid is £225,000. Detached homes can be purchased for approximately £314,000 semi-detached homes for £286,000 and terraced homes are selling for around £234,000. Stats provided by Zoopla 8th November 2017.
Local Council & House Removals Southampton
If you are planning to move to Southampton, and need information on schools, planning permission, parking permits or council tax, council planning permission meetings are held on a regular basis. Simply contact: www.southampton.gov.uk
Cable, Phone Connections & House Removals Southampton
If you're moving to Southampton, and need to know the broadband availability, simply visit: https://www.cable.co.uk/
If you are moving away from Southampton and looking at moving overseas.
Because it is so important that your possessions are cared for throughout your entire process, White and Company are members of the British Association of Removers and all services performed are in accordance with European standard BS EN 12522.
White & Company are proud winners of the British Association of Removers 'Overseas Mover of the Year' Competition 2016 and finalists in 2017.
 
Foreign Exchange
If you are thinking of moving overseas, making sure you get the best exchange rate possible is essential to starting your new life on a sound footing. White & Company has an exclusive arrangement with an FX Firm (foreign exchange company). Simply follow the link below to see what additional monies you will receive compared to using your high street bank and to set up a free no obligation account. White & Company/foreign-exchange
Whether you need to arrange monthly payments to service an overseas mortgage, or wish to protect yourself against exchange rate fluctuations and fix the rate for up to a year, we will be able to suggest the most suitable way to do so. Open your free, no obligation account in as long as it takes to stop for a coffee.
White & Company Have Branches In The Following Locations
Bedford
London
Bournemouth
Dunfermline
Farnborough
Forres
Guernsey
Harrogate-York
Jersey
Knaresborough
Lancaster
Leeds-Bradford
Plymouth
Portsmouth
Southampton
Telford
Winchester
Opening Times:
Mon 09:00 – 17:00
Tue 09:00 – 17:00
Wed 09:00 – 17:00
Thu 09:00 – 17:00
Fri 09:00 – 17:00
Sat 09:00 – 12:00
Sun Closed
House Removals Southampton | Removals Southampton | Removal Companies Southampton