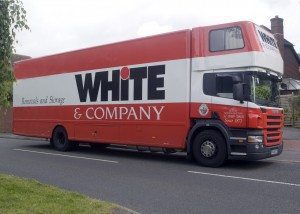 Are You Planning to Move & Looking For House Removals Telford
House removals Telford; when looking for house removals in the Telford area, you will be anxious to find a reputable house removals Telford company that you can rely upon. However tempting it can be to base your decision purely on price, it is important to remember that value for money and a cheap price are not the same thing. At White & Company we believe we provide excellent value for money and offer outstanding customer care.
We are happy to arrange for one of our home surveyors to visit your existing property and provide you with a free, no obligation quotation. This will cover all aspects of your move and will ensure a suitable vehicle size and crew are allocated for your move. We will also check on access to both properties and be able to advise on any special items that will need moving, such as antiques, fine art, wine etc.
White & Company has been moving people in the Telford area since 1871. As founder members of BAR, FIDI & OMNI, you can be sure we will always meet the highest standards within the removals industry.
White & Company can provide for a local move, anywhere in the UK, Europe or to any international destination. We are more than happy to answer any questions you may have about the removal and/or storage process. Our friendly office staff will help with any queries and can make arrangements to provide you with a free, no obligation quotation.
House Removals Telford
If you are moving locally or looking to move to Telford and searching for house removals Telford: White & Company have been based in the area for over 140 years and provide a full removals & storage solution. As founder members of BAR, FIDI & OMNI. White & Company can provide for a local move, anywhere in the UK, Europe or international destination.
White & Company Removals Storage & Shipping
Haybrook
Halesfield 9
Telford
Shropshire
TF7 4QW
T: 01952 897604 for a free home survey and quote
E: hq@whiteandcompany.co.uk
www.whiteandcompany.co.uk
Opening Times:
Mon 09:00 – 17:00
Tue 09:00 – 17:00
Wed 09:00 – 17:00
Thu 09:00 – 17:00
Fri 09:00 – 17:00
Sat 09:00 – 12:00
Sun Closed
There are a number of things, which you can do to ensure everything runs smoothly.
House removals tip 1: Hire a reputable removal company
Hiring the right removals company will make all the difference, if you're after a stress-free moving day. Consider if you would like them to take care of all the packing, some of it or whether you would like to pack yourself. White & Company have been based in the area for over 140 years and provide a full removals & storage solution. As founder members of BAR, FIDI & OMNI White & Company can provide for a local move to anywhere in the UK, Europe or to any international destination: www.whiteandcompany.co.uk
House removals tip 2: Book your removals company as soon as possible
Dependent on the time of year you are looking to move, planning ahead and booking your removals company is key to a stress free day. If you moving during the busy summer months, you will need to give at least four weeks notice in order to secure your booking.
House Removal tip 3: Get someone to look after young children
Because moving house can be very stressful and also a very emotional time, it is best to get someone to look after young children, so they do not become bored or fractious. The same goes for pets, it is best to arrange for them to go into kennels or a cattery as they often become disorientated.
House Removals tip 4: Make sure everyone is informed
As soon as the removals team arrives, make sure they have your mobile number and you have a number to contact them in case of an emergency. You should also have the numbers of your bank, estate agent and solicitor. Also make sure you have arranged a time to collect the keys to your new house.
You will also have to inform all your utility companies that you are moving and perhaps select different suppliers at your new home.
If you are moving to Telford you may want to visit www.uswitch.com, to find the most economic supplier in your area.
Having moved to Telford you may wish to change your TV or Internet provider, simply visit www.broadbandchoices.co.uk/tv
House Removals tip 5: Pack a survival box to go with you in the car
This should include tea, coffee, milk, kettle and mugs. Some snacks, a can opener and some eating utensils. Some basic tools and a first aid kit along with any necessary instruction manuals for the appliances you are moving. It is also wise to carry on your person any medication you may need.
House Removals tip 6: Start moving day early
This is the day to set the alarm and get started early, as there will be a number of things you will need to do. Start by stripping the beds and packing up last minute things. Dismantle furniture, take photos of energy meter readings when you leave and also when you arrive at your new home, to avoid being overcharged. Taking pictures of wire fittings on electronic equipment such as computers will also help you set them up properly when you arrive. Set aside the hoover and cleaning equipment for your last-minute clear up before you leave the house.
House Removals tip 7: Make sure your removalist has storage space available
Often when you move into a new property you may want to redecorate or carry out building works. If this is the case, ideally you will want to store some of your larger pieces of furniture until the work has been completed. If you choose a removal company who has storage facilities, then they can store these pieces for you until you are ready to receive them at your new home.
There are many reasons why you may also require storage facilities. This could be due to a delay between the sale and purchase of your new home. You may be working abroad or carrying out some renovations on your new home before you move in. Maybe you need storage prior to the sale of your home to maximise the potential of your property to prospective purchasers by clearing some of the clutter.
Perhaps you would like to store items during months they are not required, such as bulky garden furniture and other outdoor equipment. Whatever your reason, White & Company can offer competitive rates for both domestic and business customers at our 19 storage locations throughout the UK. Our storage facilities are clean, dry, secure and accredited to European standard BS EN 14873. You can rest assured that everything you leave with us will be safely stored until you need it.
House Removals tip 8 – Check your insurance cover
Do not assume that the removal company you have chosen will have adequate insurance to cover all your valuable items. Make sure you have checked the small print and arrange additional cover if necessary. When using a BAR registered removal company, you will have the piece of mind that they will be working to the terms and conditions of a BAR member, and will offer a degree of limited liability insurance. However, it is highly recommended that you ensure that you have arranged adequate cover.
Having moved to your new home in Telford you may find the following information useful:
About Telford
Named after Thomas Telford the famous civil engineer, Telford is a large new town in the borough of Telford and Wrekin and ceremonial county of Shropshire. It has also been one of the fastest-growing towns in the United Kingdom. The New Town was first developed in 1963.  By 1967 housing estates were being built. Over a period of 30 years, the town continued to grow. Following the completion of the M54 motorway Telford expanded even further. In 2007, a £250 million regeneration plan for the town centre was announced, which included the pedestrianisation of the road surrounding the shopping centre, and the creation of new cafés, bars and shops.
The town advertises itself as "The Birthplace of Industry" and is seen as being pivotal to the Industrial Revolution because of its coal production. Telford's prosperity is partly due to the linking to the M54 and is one of the fastest growing towns in the UK. Large companies such as EDS and Fujitsu have their headquarters here.
The Town centre caters for the whole family. Southwater is a new leisure quarter, offering restaurants cafes, a cinema, hotels, ice rink and library. Telford Shopping Centre is next door and has plenty of the major high street stores.
Away from the town, Telford enjoys an unspoilt, unrushed tranquillity. The surrounding Shropshire countryside is stunning. It offers a diverse wildlife, pretty canals and historical sites such as the Iron Bridge Gorge. The Shropshire Hills have been a popular destination for serious hikers for many years. Nearby, there are many interesting towns and villages to explore, such as Ludlow and Shrewsbury. Discover castles with beautiful gardens, the famous Ironbridge, museums and other family attractions in and around the town of Telford.
Where is Telford
The map below shows the location of Telford.
Transport and House Removals Telford
Roads:                   A442/A464/A5/M54/A458/A41
Train Stations:     Telford Central, Oakengates, Shifnal
Airports:               Birmingham, Coventry, Manchester
It is well worth taking some time to research the facilities and amenities of your new area.  Here is a list of schools and professional services in the Telford area.
Estate Agents
Andrew Dixon Estate Agents
Grosvenor House, Central Park, Telford TF2 9TW
01952 521000
www.andrew-dixon.co.uk
Nock Deighton
7 Pearson Road, Telford TF2 9TX
01952 292300
www.nockdeighton.co.uk
Solicitors
Thorntons Solicitors
Unit 138 Thetford Chase, Telford TF3 4DY
01952 293883
www.thorntons.co.uk
Clarkes Solicitors
30 Market St, Oakengates TF2 6ED
01952 618787
www.clarkeslaw.co.uk/
Surveyors
Wiggins & Lockett Chartered Surveyors
Ramada Business Centre, Forge Gate, Telford TF3 4NA
01952 603303
www.wltsurveyors.co.uk
Towler Shaw Roberts
Unit 8 Hollinswood Court Stafford Park 1, Telford TF3 3DE
01952 210222
www.tsrsurveyors.co.uk
Leisure activities in and around Telford
If you are planning a day out, there is plenty to do in and close to Telford, why not visit one of the following attractions:
Southwater – www.southwater-telford.co.uk
Telford Shopping Centre – www.telfordshopping.co.uk
Telford Town Park – www.telfordtownpark.co.uk
The Ironbridge Gorge Museum – www.ironbridge.org.uk
Benthall Hall – www.nationaltrust.org.uk/benthall
Royal Airforce Museum – www.rafmuseum.org.uk/cosford
Local Gyms and Leisure Centres
Simply Gym
Foster House, Stafford Park 1, Telford TF3 3BD
01952 200463
www.simplygym.co.uk
Nuffield Health Telford Fitness & Wellbeing Gym
Colliers Way Telford Forge Retail Park, Telford TF3 4AG
01952 293444
www.nuffieldhealth.com
Fitness First – www.fitnessfirst.com
Telford Cultural And Leisure Centre – www.telford.gov.uk
Anytime Fitness Telford – www.anytimefitness.co.uk
Schools
There is a good range of schools in the Telford area. According to www.schoolguide.co.uk, some of the best schools are:
Wrockwardine Wood Infant School
St. Georges C Of E Primary School
Adams' Grammar School
Thomas Telford School
Newdale Primary School
Meadows Primary School and Nursery
Lawley Primary School
Telford College of Arts and Technology
Hadley Learning Community – Secondary Phase
New College Telford
The Bridge at HLC
Overley Hall School
Young Options College
Vets
Oakville Veterinary Surgery – www.oakvillevets.co.uk
Pet's Choice Veterinary Centre – www.petschoicevets.com
Doctors
The New Surgery Woodside Medical Practice – www.woodside-medical-practice.org.uk
Trinity Healthcare Centre – www.trinityhealthcare.nhs.uk
Dentist
Station House Dental Practice – www.stationhousedentalpractice.co.uk
Whitecross Dental Centre – www.idhgroup.co.uk
Travel Connections
You can get to Telford by car via the: M54/A442/A41. Telford has its own train station, Telford Central, with two further stations close by: Wellington (Shropshire) (1.6 miles) and Oakengates (1.6 miles). The nearest airports are: Birmingham International Airport (35.0 miles), Manchester International Airport (47.0 miles) and Liverpool John Lennon Airport (47.2 miles).
Latest Property Prices
Average house prices are £124,000. Values have decreased by 1.95% over the past 12 months. You can buy a semi-detached property for around £130,000; smaller terraced homes for £90,000 and family detached homes starting from £234,000. Statistics as per Zoopla 21st June 2017.
Local Council and House Removals Telford
If you are planning to move to Telford, and need information on schools, planning permission, parking permits or council tax, council planning permission meetings are held on a regular basis. Simply contact: www.Telford.gov.uk
White & Company are proud winners of the British Association of Removers 'Overseas Mover of the Year' Competition 2016 and finalists in the 2017 competition.
 
If you are thinking of moving overseas, making sure you get the best exchange rate possible is essential to starting your new life on a sound footing. White & Company has an exclusive arrangement with an FX Firm (foreign exchange company) called Frontierpay. Simply follow the link below to see what additional monies you will receive compared to using your high street bank and to set up a free no obligation account. White & Company/foreign-exchange
Whether you need to arrange monthly payments to service an overseas mortgage, or wish to protect yourself against exchange rate fluctuations and fix the rate for up to a year, we will be able to suggest the most suitable way to do so. Open your free, no obligation account in as long as it takes to stop for a coffee.
White & Company Have Branches In The Following Locations
Bedford
London
Bournemouth
Dunfermline
Farnborough
Forres
Guernsey
Harrogate-York
Jersey
Knaresborough
Lancaster
Leeds-Bradford
Plymouth
Portsmouth
Southampton
Telford
Winchester
Opening Times:
Mon 09:00 – 17:00
Tue 09:00 – 17:00
Wed 09:00 – 17:00
Thu 09:00 – 17:00
Fri 09:00 – 17:00
Sat 09:00 – 12:00
Sun Closed
Cable & Phone Connections
If you're moving to Telford, and need to know the broadband availability, simply visit: https://www.cable.co.uk/
House Removals Telford | Removals Telford | Removal Companies Telford