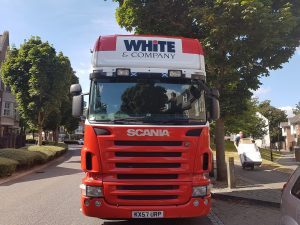 Moving House Checklist
As everyone knows, moving home can be one of the most stressful life events. Whether you are moving to another country or just down the road, there will be lots of things to organise. Having a "moving house checklist" is a great way to ensure that you don't miss anything.
Moving is the perfect time to go through your belongings and get rid of anything you don't use. There is no point moving items to your new home if they are not needed. Removal companies charge based on the volume of goods they will be required to move. They will also assess how much space will be taken up in a vehicle or a shipping container, should you be moving abroad.
The attic is a good place to start. It's amazing how much most people tend to accumulate over the years. We often put things into the attic rather than throw them away. A good rule of thumb is if you have not used it in the last year, the chances are you won't ever use it again. Moving house is a good time to clear the decks!
Once you have been through the house and completed your tidy up, you are then ready to contact a removal company for a quotation.
Moving House Checklist & Choosing the right Removal Company:
Many removal companies are booked up weeks in advance, especially during the summer months. It pays to start looking well before your completion date. Your first task will be to call in some quotations, so that you know exactly what the cost of your move will be.
It is always advisable to arrange for a surveyor to call personally. This gives you the opportunity to ask any questions and for the surveyor to view the access to your property and to see any awkward items that may need special attention.
Ensure that your chosen company is a member of BAR (The British Association of Removers), FIDI & OMNI. These organisations are heavily regulated and members have to adhere to strict standards and regulations. The logos for each of these organisations should be displayed on the company web site.
Moving House Checklist & Packing
Once you have chosen a removal company, you may find there are items you wish to pack yourself. If this is the case, make sure you allow enough time to complete this before your move. If you have valuable items such as antiques, it is often best to let the experts handle them. They will have specialist packing materials and the expertise to ensure they are properly protected. If you have chosen the option of a full packing service, everything will be wrapped, packed and listed on an inventory before being loaded onto the vehicle.
When the team arrives, it is a good idea to walk them around the property and point out anything, which you feel they need to know. Designating one small room or corner to store things you want to keep close to hand can be useful.
Once you have arrived at your new home, you will need to access certain items such as a kettle, cups, coffee, tea sugar etc. and these should travel with you in your car.
Moving House Checklist - Things to do before the moving day
· Arrange for small children to be looked after, moving can be dangerous and distressing for young children.
· Make necessary arrangements for pets. Some animals find moving very stressful and it is best to have someone look after your pets on the move day.
· Check your home insurance policy to make sure you have cover for your new home from the day you legally take ownership of the property.
· Leave time beforehand to defrost and empty the freezer.
· Forward post to your new address, this can be done on line or at the post office counter.
· Cancel home deliveries such as milk and newspapers.
· Notify everyone of your change of address, this should include family, friends, your bank and anyone else who will need your new address.
· Request final bills for telephone and broadband.
· Inform neighbours that there could be temporary parking problems whilst the removal vehicle is loaded.
· Register to pay council tax for your new home.
Moving House Checklist - Move day final preparations
· Take final readings of gas, electricity and water meters.
· Turn off all appliances.
· Strip beds and make sure clean linen is handy for when you arrive at your new home.
· Have personal possessions to hand such as passports, jewellery, handbag, medication and any important documents you may need.
· Keys such as window safely lock keys and patio door keys should be left for the new occupants.
· Have a bag with all the necessary cleaning materials to hand, so that you can give the house one final clean before you leave.
· Don't forget to check you have the keys to your new property.
· Finally, take a walk around each room to ensure absolutely nothing has been left behind.
Useful Web Links
In the stress of the moment, it is easy to forget something which is really important. The following web sites are very informative with lots of handy hints and detailed checklists, which you may fine helpful before, during and after your move.
• http://www.helpiammoving.com/index.php
• https://www.reallymoving.com/moving-advice/moving-house-checklist
Many estate agents also offer advice on their web sites. Your Move is a good example:
When you have moved to your new property:
· Ensure you are present when your furniture arrives at your new property.
· When the removal company unloads your furniture, check it for any damage.
You will find it easier to prove that the damage was done in transit if you act immediately, rather than waiting for a few days or weeks before contacting the removal company.
· The removal team will place boxes into rooms as directed by you. They will unpack as much or as little as you wish.
· Make a note of all meter readings and keep this somewhere safe.
· Register as soon as you can with a local doctor and dentist.
· Don't forget to collect the children and animals from their carers!
Storage
You may have items, which you wish to store until a later date. Perhaps you are moving into rented accommodation until you can find a permanent home, or having decorating or building works done at your new home.
White & company offer storage solutions at 16 storage locations throughout the UK. They are able to provide secure containerised storage in personal dedicated storage containers and self-storage units for items to which you need regular, easy access. Check https://www.whiteandcompany.co.uk/storage-solutions/ for more details.
White & Company have over 145 years experience in removals storage and shipping. We reach every part of the UK, Europe and rest of the World. For further assistance and to arrange a quote contact your local branch for help and advice using the branch locator. Alternatively complete the form below with your details and we will contact you.
Moving House Checklist When Moving Overseas
White & Company are proud winners of the British Association of Removers 'Overseas Mover of the Year' Competition 2016.
 
Currency Conversion
When moving overseas, making sure you get the best exchange rate possible is essential to starting your new life on a sound footing. White & Company has an exclusive arrangement with The FX Firm (foreign exchange company). Simply follow the link below to see what additional monies you will receive compared to using your high street bank and to set up a free no obligation account. White & Company/foreign-exchange
Whether you need to arrange monthly payments to service an overseas mortgage, or wish to protect yourself against exchange rate fluctuations and fix the rate for up to a year, we will be able to suggest the most suitable way to do so. Open your free, no obligation account in as long as it takes to stop for a coffee.
White & Company Have Branches In The Following Locations
Bedford
London
Bournemouth
Dunfermline
Farnborough
Forres,
Guernsey
Harrogate-York
Jersey
Knaresborough
Lancaster
Leeds-Bradford
Plymouth
Portsmouth
Southampton
Telford
Winchester
Opening Times:
Mon 09:00 – 17:00
Tue 09:00 – 17:00
Wed 09:00 – 17:00
Thu 09:00 – 17:00
Fri 09:00 – 17:00
Sat 09:00 – 12:00
Sun Closed
To read independent reviews from our customers visit Referenceline