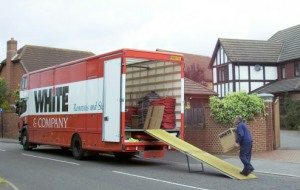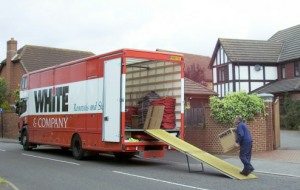 Moving to Dawley Shropshire
If you planning on moving to Dawley, Shropshire: You will find that Dawley is a small town situated in the borough of Telford and Wrekin. White & Company have been based in the area for over 140 years and provide a full removals & storage solution.
As founder members of BAR, FIDI & OMNI, White & Company can provide for a local move, anywhere in the UK, Europe or international destination.
Property prices if Moving to Dawley
Properties here have indicated a fall in value of 1.47% over the last 12 months and the average house price at the moment is £158,000. You can purchase a detached home from £226,000 a semi-detached house for around £133,000 and terraced homes for around £122,000.
Houses For Sale In Dawley
When looking for houses for sale in Dawley you may wish to contact Estate Agents in Dawley, to guide you through the renting or purchasing process. Most estate agents in Dawley are not only situated in the high street but can be found online via the internet. Below are listed some of the estate agents in or near Dawley.
Local Estate Agents if moving to Dawley
Harwood The Estate Agents Dawley
54 High St
Telford
TF4 2EX
Tel: 01952 641111.
www.telfordestateagent.co.uk
Removals Dawley
If you are Considering home removals to Dawley, White and Company have been providing a home removals storage and shipping service for over 140 years and are members of the British Association of Removers. White & Company also provide specialist removal services to Dawley, and all locations around the UK, Jersey and Guernsey. We work tirelessly to provide the best possible service and peace of mind for those looking to move home.
Contact your local branch:
White & Company
Haybrook
Halesfield 9,
Telford,
Shropshire.
TF7 4QW
MAP
Tel: 01952 898 175 For a free moving quote
E:  hq@whiteandcompany.co.uk

Opening Times:
Mon 09:00 – 17:00
Tue 09:00 – 17:00
Wed 09:00 – 17:00
Thu 09:00 – 17:00
Fri 09:00 – 17:00
Sat 09:00 – 12:00
Sun Closed
Local Council if Moving to Dawley
If you are planning to move to Dawley, and need information on schools, planning permission, parking permits or council tax, council planning permission meetings are held on a regular basis. Simply contact: www.shropshire.gov.uk
Local Schools if Moving to Dawley
Dawley Church of England Primary School with Nursery
Captain Webb Primary School
Ladygrove Primary School
The Phoenix School
Mount Gilbert School
Southall School
The Bridge at HLC (3 miles)
Overley Hall School (5 miles)
Young Options College (5 miles)
Leisure if Moving to Dawley
Situated in Dawley High Street, is the historical Elephant and Castle pub. A Grade II listed building. The front of the building is a late 17th century timber-framed construction, re-faced in the late 18th or early 19th century in brick. The pub has retained its original name for hundreds of years. It is not only a great historical pub for Dawley and surrounding area but reputedly it is one of the classiest venues in Telford. A great menu consisting of traditional pub grub and a good range of ales and wines at reasonable prices makes this old pub a popular venue for visitors and locals alike.
Cable and Phone Connections if Moving to Dawley
If you're moving to Dawley, and need to know the broadband availability, simply visit: www.cable.co.uk/
Travel Connections if Moving to Dawley
Getting to Dawley by road is via the: B4373/M54/A442/A4167/A5223.
The nearest train stations are: Telford Central (3 miles), Oakengates (3 miles) and Shifnal (4 miles).
The nearest airports are: Birmingham International Airport (32 miles), Coventry Airport (45 miles) and East Midlands Airport (49 miles).
Removals Around Dawley, Shropshire
This item is brought to you by www.whiteandcompany.co.uk the removals storage and shipping company serving Dawley and the surrounding area. White and Company have been providing a removals service for over 140 years and are members of the British Association of Removers. This service is aimed at people moving in Dawley and for those looking for a local removals, storage and shipping company.
To submit any news story or future events please submit copy and photos to newseditoruk@gmail.com
Moving to Dawley | Houses for Sale in Dawley | Removals Dawley
Moving to Dawley – Houses for Sale in Dawley – Removals Dawley. White and Company Removals & Storers. Call 01952 898 175 For a free moving quote