Thailand superseded Australia as the backpackers 'destination of choice', in the early 2000s.
A world unlike anything at home, stunning scenery and endless waterfalls. It's no wonder that Thailand is a hugely popular destination for expats.
The most substantial populace of expats in Thailand, almost 50% of the 150,000 expats, is those who have retired. Many expats are found moving to Thailand to retire; offering an excellent quality of life, with luxury properties available for a fraction of the price that they are in the UK.
Whether you're a retiree, traveller or worker, there will be plenty of things for you to do when living in Thailand. There are so many places to go that it may require you to do a fair amount of research to find some of the hidden gems!
If you wanted a hand finding some of those stunning spots, then read on to find out just how much you didn't know about your new home: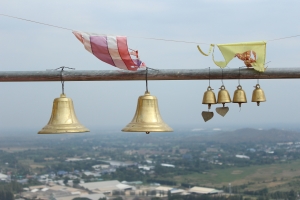 Dragon Temple (Wat Ban Tham)
If you've rented a bike or a car in Kanchanaburi, 2 hours west of Bangkok, you may find yourself driving along an empty road. Suddenly, you're passing, what looks like, a dragon cascading down the hill towards you.
You've just come across the Dragon Temple. Walking through the dragon's body to the top, you'll see many fascinating paintings that depict scenes from the classic Thai novel Khun Chang Khun Phaen.
Once you reach the top, you're rewarded with views overlooking the entire countryside and a river that parts the land in two, as you can see in the above picture. It may be off the beaten track, but it's definitely worth a visit, especially when you hike to the top of this enchanting temple.
Papaya Studio
A unique spot in Bangkok, not many will have heard of Papaya Studio. This vintage shop is based in a warehouse and is unlike any vintage stores that have come before.
While the surroundings and shopfront are not very desirable; the shop itself is a haven of unique, vintage and some downright weird items. Throwing you through time as you've never experienced before.
The splashes of colour throughout the warehouse create an ideal mix of inspiration and creativity. Resisting the urge to venture here has proven a challenge for many a photographer.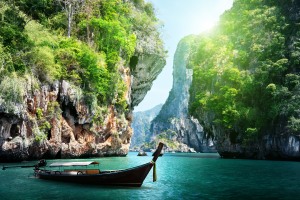 Krabi Lagoon
You're probably thinking, 'you can find lagoons anywhere in Thailand… that doesn't sound like a hidden gem at all!'.
Well, this one is slightly different. A small hike from Railay Beach, Krabi Town, you can find a stunning and hidden lagoon that is less frequented than others throughout Thailand. The locals will encourage you to go here and may even take you if you ask nicely!
Surrounded by three steep limestone cliffs, if you close your eyes, you could be in the heart of the jungle. The Vocalisations of primates echo in the canopy, alongside other harmonious sounds that come with the rainforest tagline.
You're bound to enjoy Krabi Lagoon.
Prasat Hin Phimai Khmer Shrine
Built at the height of the Khmer empire, the breath-taking architecture is similar to that of the Angkor Wat.
In fact, this building was created by the same empire, and in its plan, it had a very similar size and layout as Angkor Wat.
Northern Thailand hosts many of these buildings, an area that was under the control of the Khmer Empire back in the 13th Century.
Before you leave the area, why not visit the world's largest Banyan tree, known as Sai Ngam, located close-by.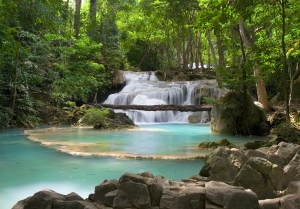 Erawan Falls
Due to the volcanic nature of South-east Asia, the land features many mountainous and hilly areas.
Thus, waterfalls. There are plenty of amazing waterfalls in Thailand, with one of the best and out-of-the-way being Erawan Falls.
The waterfall consists of 7 tiers, each with a swimmable lagoon-like area. It's an understatement to say the area is awe-inspiring.
A benefit of moving to Thailand? You can visit many waterfalls whenever you like. While this specific one may be a ways out from Bangkok, it's definitely worth making an effort to see this feat of nature.
Red Lotus Sea (Talay Bua Daeng)
Hire a boatman, travel for roughly 20 minutes, and the scene dramatically changes. From a bog-standard lake to an almost alien site, you can't experience this phenomenon anywhere else in the world.
A unique attraction that flourishes in Spring and located in the off-the-trodden-path district of Udon Thai. Tropical water lilies paint the lake in a pink overtone, with the flowers rising over 6 inches off the water's surface.
The legends and folklore surrounding the lake are endless. You can be sure that they involve magic, knights, princes, and princesses; making the trip to this lake even more magical.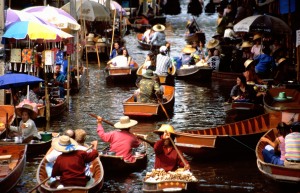 Floating Markets – Damnoen Saduak
Haggling and bargaining are staples in the Thai market culture. Moving to Thailand means you'll visit multiple markets throughout your time there.
But have you ever heard of a floating market? Once a ubiquitous sight in Thailand, now only a few exist across the country.
Floating markets originally existed in areas where water transport played an important role in everyone's daily life. Now, they are a reminder of what once was, but the sight alone allows the imagination to explode.
Treepod Restaurant
While this may be a restaurant, there is only one location in Thailand it is found. The idyllic island of Koh Kood.
You will have to work for your food, trekking through the serene jungle to eat upon your floating table, with unencumbered views of the Gulf of Thailand.
The food is sourced locally, mainly from the restaurant's organic garden, meaning you will be tasting authentic Thai food at its best.
Hoisted 36ft up in the air, with waiters and waitresses flying between trees and pods on zip wires, it's like something out of a movie. However, you and your guests are the main characters here.
Moving to Thailand, The Land of Smiles?
If you're not already living in Thailand, then hopefully the above 8 places are enough to convince you to move. Moving to Thailand will be quick and smooth with our help.
Over the years, White & Company has positioned itself as the international removals firm of choice for all Removals to Asia.
Our experience is second to none. As members of BAR, FIDI and OMNI, White & Company have been relocating people to destinations all over Asia and other countries worldwide for 145 years.
Our experienced teams located across the UK will pack and prepare your valuable, fragile and bulky furniture ready for export
To find out more about how we could get your dream move to the Land of Smiles underway, don't hesitate to give us a call today. Alternatively, fill out a quick quote form or chat with our Bot and we'll get in touch with you straight away.