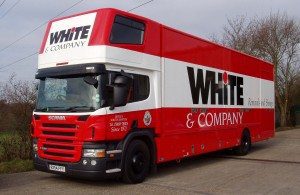 Removal Companies Southampton
If you are moving locally or looking to move to Southampton and searching for Removal companies Southampton: White & Company have been based in the area for over 140 years and provide a full removals & storage solution. As founder members of BAR, FIDI & OMNI, White & Company can provide for a local move anywhere in the UK, Europe or international destination
Connections & Removal Companies Southampton
Connections in Southampton are good. The M27 motorway and the A3 via the M275, provides a direct route into Southampton. Southampton train station is easily accessible and located in the centre of the city with a direct line into Waterloo; a commutable journey of around an hour and twenty minutes. Southampton has several ferry terminals and is the main harbour for the great cruise liners, with regular departures to destinations all over the world. There are many departures to France, Spain and the Isle of Wight also. Southampton Airport is situated about 4 miles from the city centre.
Schools & Removal Companies Southampton
There is a range of good schools in the Southampton area and in its latest Ofsted report, it was noted that "St Anne's Catholic School is providing a good quality of education for its students. The quality of some aspects of its work is outstanding"
Highfield Church of England Primary School (0.2 miles)
St Winifred's School (0.4 miles)
Portswood Primary School (0.4 miles)
Great Oaks School (0.9 miles)
St Anne's Catholic School (1.1 miles)
Upper Shirley High School (1.2 miles)
St Mary's College (1.4 miles)
The Cedar School (2.9 miles)
The King's School (4.4 miles)
Leisure & Removal Companies Southampton
Finding something to do to fill your leisure time is not difficult in Southampton. Apart from the huge West Quay shopping centre, which is full of great shops, there is a host of museums and galleries. If you prefer there are guided walks in the Old part of Town, boat trips on the River Solent, a visit to the theatre and a whole host of pubs, clubs, restaurants and bars. You can stay over at one of the many hotels or B&B's such as the Grand Harbour Hotel, with a stunning glass atrium and impressive spa, Grand Harbour is situated on Southampton Waterfront. The luxury hotel has a brasserie restaurant, lively bar, and sea views from many of the rooms, a great base for exploring all that the city has to offer.
Location & Removal Companies Southampton
According to the Daily Telegraph "the potential benefits of property investment are well demonstrated in the city of Southampton, where rental yields are among the highest in the country" with new research from Rightmove and Oxford Economics predicting that UK house prices are set to rocket by 30pc on average by 2019, with Southampton the top performer at 42.9pc. All great news of you are relocating to Southampton. Currently the average property price is £202,770 and values are continuing to rise with an increase of nearly 3%inthe past 6 months alone.