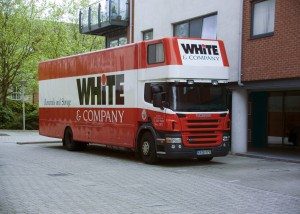 Removal Firms Telford
If you are moving locally or looking to move to Telford and searching for Removal Firms Telford: White & Company have been based in the area for over 140 years and provide a full removals & storage solution. As founder members of BAR, FIDI & OMNI, White & Company can provide for a local move, anywhere in the UK, Europe or international destination
Connections & Removal Firms Telford
Telford's connections are good. Telford is situated at the terminus of the M54 motorway, a spur of the M6 linking the town with Wolverhampton and the West Midlands, and on the A5 road between Shrewsbury and Cannock.
Telford Central train station has regular departures to many locations and Birmingham is just under an hour's journey away. The nearest airport is Birmingham International Airport, a distance of 35 miles.
Schools & Removal Firms Telford
There is a good range of schools available in the local area:
Teagues Bridge Primary School (0.4 miles)
Hadley Learning Community – Primary Phase (0.8 miles)
St Luke's Catholic Primary School (0.9 miles)
Hadley Learning Community – Secondary Phase (0.8 miles)
Jigsaw School (1.0 mile)
Sutherland Business and Enterprise College (1.1 miles)
The Bridge at HLC (0.8 miles)
Overley Hall School (4.4 miles)
Young Options College (5.7 miles)
Leisure & Removal Firms Telford
You will find lots to do in Telford. There is a lively assortment of attractions for young and old, families and single people. You will find easy access to the great outdoors, including a great county landmark, The Wrekin and the River Severn which meanders through Telford at Coalbrookdale, Ironbridge and Coalport. The Iron Bridge is a popular landmark, it was the first bridge of its kind and size in the world made out of cast iron. You don't have to walk too far to find some quiet greenspace to enjoy. Pools and play equipment, bicycle shops (with hire), cafes and Wonderland for the small children. Some great restaurants and country pubs. Plenty of choice for all.
Location & Removal Firms Telford
Telford also has a very active house building program underway, so rent or buy, private or social housing, you will be sure to find something to suit your needs. Currently the average price for a home is £167.732 with family detached homes at starting price of around £240,000. Peregrine Way and Goldcrest Grove are among some of the higher valued streets in Telford on which to live.
Removals Telford
This item is brought to you by www.whiteandcompany.co.uk, the removals storage and shipping company serving Telford and the surrounding area. This service is aimed at people moving in Nottingham and for those looking for a local removals, storage and shipping company.
To submit any news story or future events please submit copy and photos to newseditoruk@gmail.com
Removal Companies Telford | Removal Firms Telford | Removals Telford