What are the best Scottish coastal towns?
If you are looking to move to one of the prettiest Scottish coastal towns, this is the article for you!
Living in Scotland offers residents a range of excellent benefits.
Scottish coastal towns are some of the prettiest locations across the whole of the UK!
With a wide range of breath-taking locations, it is no surprise that Scottish coastal towns have become a major factor in drawing people to the area.
Property prices across the UK have been gradually increasing throughout the course of the last 12 months.
This means the allure of moving to one of the many Scottish coastal towns has increased.
Many of these locations offer buyers a cost-effective coastal home.
Coastline locations across Scotland offer increased space whilst also ensuring residents have a range of excellent amenities.
If you are thinking of living in one of the prettiest Scottish coastal towns, there are numerous to choose from.
Scottish coastal towns provide stunning coastlines, outstanding scenery and great properties.
It is clear to see why Scottish coastal towns make the perfect home for so many buyers.
With a range of excellent towns to select between, it may seem disheartening to commence your search!
Moving to one of these Scottish coastal towns is sure to appeal, regardless of your specific needs.
Here are our 8 top picks for the prettiest Scottish coastal towns.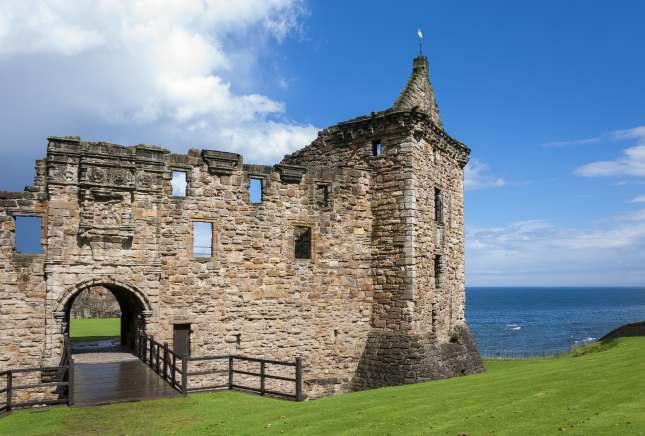 St Andrews
The fourth largest settlement in Scotland, St Andrews sits in the county of Fife and is home to around 70,000 people.
It also where you will find the University of St Andrews, the oldest in Scotland.
Synonymous with golf.
The Royal and Ancient Golf Club of St Andrews, founded in 1754, which until 2004 exercised legislative authority over the game worldwide.
The Old Course of St Andrews Links (acquired by the town in 1894) is the most frequent venue for The Open Championship, the oldest of golf's four major championships.
But there is even more to the town with plenty to keep visitors and locals busy all year round.
St Andrews, whose economy stands at £660 million, relies heavily on tourism and education.
In 2016, one out of every five jobs in St Andrews are related to tourism.
The areas stunning beaches lapped by pristine waters, is also very much a major asset.
Plus, St Andrews also contains numerous museums, a botanic garden, and an aquarium.
St Andrews castle and the ruins of St Andrews cathedral overlook the dramatic shoreline which attract visitors from all over the world.
Walking in Scotland is hard to beat, especially the Fife Coastal Path with unobstructed views over the Firth of Forth, it makes for a wonderful experience.
For those who enjoy an active outdoor lifestyle in a safe place with the additional benefit of good travel connections, St Andrews is one to consider.
Eyemouth
Though small, Eyemouth in Berwickshire is a town that offers something for everyone.
The slight detour needed to reach it amply repays the minimal effort required!
The unusual name of the town comes from its location at the mouth of the Eye Water.
It sits 2 miles east of the main north–south A1 road and just 8 miles north of Berwick-upon-Tweed.
Advantageously, the A1 road, the main Edinburgh – Newcastle route, puts the town within commuting distance of Edinburgh.
A very pretty region of Scotland.
Eyemouth boasts a coastline of high cliffs over deep clear water with sandy coves and picturesque harbours.
Fishing at Eyemouth dates back to the 13th century and the natural harbour is still active with its colourful fleet.
The area is ideal for birdwatching, walking, and diving.
The town's past is interesting involving smuggling and tragedy. Sadly, in October 1881, a fierce storm combined with a tricky entrance to the harbour caused the death of 189 local fishermen. Eyemouth Museum record these tragic events.
Today Eyemouth has become a beautiful tourist location with lots to do and see and a good number of restaurants and cafes.
With just 3 homes for sale, buyers looking in the area don't have much of a choice with regard to property but, the cost of a home is affordable with an average price paid over the last 12 months of £254,000.
For those living and those just passing through, Eyemouth is a lovely location indeed.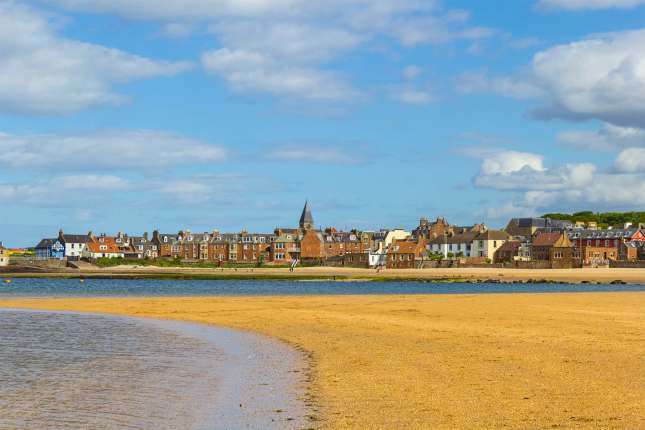 North Berwick
North Berwick is another of Scotland's notable seaside towns.
A former royal burgh in East Lothian.
Having been named in 2017 as the "best place to live in Scotland", North Berwick's remarkable coastal scenery, highly regarded schools and thriving water sports industry have made it a haven for house hunters and tourists alike.
Situated on the south shore of the Firth of Forth, approximately 20 miles east-northeast of Edinburgh.
North Berwick offers ans easy commute into Scotland's Capital City.
Ideal for those seeking a home life away from the hustle and bustle.
North Berwick also makes the ideal base from which to explore the many delights East Lothian region has to offer.
A highly fashionable holiday resort in the nineteenth century, North Berwick has two sandy bays.
The East (or Milsey) Bay and the West Bay and continues to attract holidaymakers today.
Food enthusiasts come to enjoy the locally caught lobster.
The Lobster Shack is arguably the best place to sample some of the freshest seafood in Scotland amid the quaint setting of the town's harbour.
Theres lots of touristy things to discover, in particular the popular Scottish Seabird Centre and the National Museum of Flight.
Home to several well-regarded golf courses.
This includes The North Berwick Golf Club, founded in 1832.
The 13th oldest golf club in the world and only St Andrews hosts a club that has played continuously over the same course for longer.
From stunning coastal scenery to beautiful wildlife and fantastic food and drink, it is easy to see why North Berwick is regarded as one of the best places to live in Scotland.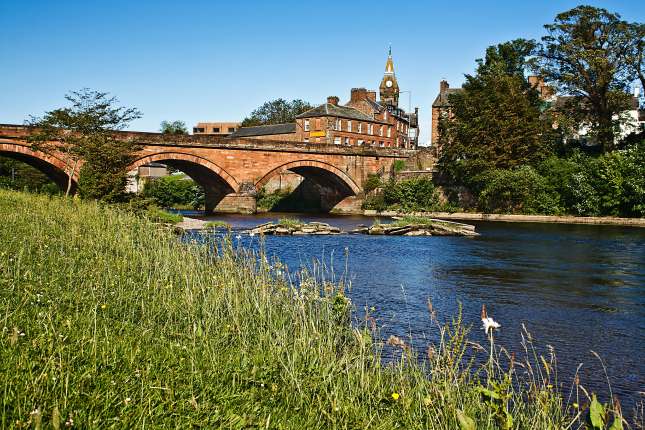 Annan
The South West of Scotland has something for everyone. With 200 miles of stunning coastline, rolling hills and beautiful forests, there is no better place.
Annan stands on the River Annan, from which it gained is name.
Relatively small, with a population of some 10,000 Annan is the principal town in the Annandale and Eskdale area of the alluring Dumfries & Galloway region.
The town is well within reach of four incredible areas of natural beauty.
Falloway Forest Park, Kielder National Park, Lake District National Park and the wild North Pennines.
It is also just a stone throw from the Solway Coast AONB which is home to several very rare butterflies, toads and newts.
The Solway Coast Discovery Centre is a popular visitor attraction.
Originally a market town as Annan developed local industries used waterpower for grain milling and cotton spinning.
During the 19th Century it became known for its shipbuilding.
Nowadays, many people are employed in the engineering industry and two local food processing plants employ a large number of people.
But a significant number of residents commute outside the town for work.
Two busy roads make access to the town easy, and it lays 15 miles from Dumfries and 18 miles from Carlisle. Whilst the Scotrail Country Sprinter trains link Carlisle and Glasgow stopping off at Annan along the way.
The National Cycle Route crosses the whole region providing miles of quiet country lanes ideal for all abilities, plus, there is no better way of exploring all the wonders Scotland has to offer.
Annan is up there among some of the more popular places in South West Scotland for one other reason.
The cost of housing!
With the average cost of a home standing at just £143,774 it is little wonder.
South Queensferry
Locally known as just "The Ferry", Queensferry can be found 10 miles west from Edinburgh city centre.
The town is located on the shore of the Firth of Forth wedged between the Forth Bridge, Forth Road Bridge and the Queensferry Crossing.
A great way to spend some time getting to know the town better is by walking through it.
One of the many cafés and restaurants which line the main street is the ideal place to admire the Forth Bridges that cross over to Fife.
Attractions include more than its wonderful bridges.
Stately homes, incredible wildlife, impressive architecture, and the far-reaching views of the areas Fife Coastal Paths.
One of Scotland's Great Trails and a signed long-distance route between Kincardine and St Andrews.
Lots of small islands dot the Forth and a ferry ride is only and the best way to see them.
Inchcolm is one of the larger islands.
Separated from the Fife mainland by a stretch of water known as Mortimer's Deep.
Its desolate beauty was recognised historically by monks who lived here as hermits.
Also mentioned in Shakespeare's Macbeth, there is now a very informative visitor centre on the island.
For those who live here, there is very active community.
Several annual festivals bring everyone together as well as attracting a great many visitors.
The Ferry Fair each August involves a procession of floats, pipe bans and all sorts of other competitive games.
A really fun day.
No one can argue that it is undeserving of its place on our list of the prettiest Scottish coastal towns.
Kirkcaldy
Kirkcaldy (originally known as the "Lang Toun") is the largest town in Fife. A desirable area, 18 miles from Edinburgh.
Overlooking the town are the ruins of Ravenscraig Castle the subject of many a visitor photograph and plenty of local artists, works of which can be viewed at the local Museum & Art Gallery.
The town has been home to a number of famous names; Gordon Brown and David Steele, politicians and notable sportsmen include the two-time world darts champion Jocky Wilson.
The Industrial Revolution of the 19th and 20th centuries proved to be the most famous period for the town which saw the introduction of linoleum, originally developed in the town as floorcloth and later exported globally.
Much of the area has expanded and been developed in more recent years including the construction of hundreds of homes.
To cater to its residents every need there is a wide range of large retailers to choose from such as Salisbury's Asda and Lidl which sit alongside a number of independents.
No one has time to be bored when there is so much in the way of entertainment to be found in Kirkcaldy.
Ravenscraig Park and Dunnikier Park provide green open spaces for all to enjoy and for those who want to spend a day by the sea, there are no less than 6 sandy beaches to choose from.
Nearby Burntisland which is overlooking the Firth of Forth also provides a good range of facilities.
These include a leisure centre, seaside park, crazy golf, bouncy castles and an annual summer fairground.
Not only does Kirkcaldy cover most of what we all look for as a place to live but also as somewhere to bring the whole family for a good fun day out.
Bo'ness
Borrowstounness (commonly known as Bo'ness) sits amid the Central Lowlands of Scotland.
Bo'ness has important historical links to the Roman period and marks the eastern extent of the 37-mile long Antonine Wall.
A predecessor of Hadrians Wall.
It stretched from Bo'ness to Old Kilpatrick on the west coast of Scotland.
The town was known for its ship-breaking industry and many HMS vessels were dismantled here.
In earlier times it was known for producing salt and as a harbour for exporting coal.
Following the closure of coal mines and the demise of other industries, Bo'ness went into a period of decline.
In the early 1980s things started to change, and since then a swathe of new residential developments have already taken place, and more are planned.
The town centre has been upgraded and transformed creating a much more appealing and positive change for Bo'ness and its residents.
Now primarily a commuter town Bo'ness has convenient links to Edinburgh, Glasgow or Falkirk.
Along with a number of smaller businesses, one of the main local sources of employment in the town itself is the BP petrochemical facility.
This is located in nearby Grangemouth.
While there are all sorts of relaxing ways to spend your downtime, Bo'ness is essentially a coastal town.
Whether it's a bucket and spade moment or just taking in the peace and tranquillity that comes with being next to the water, everyone can enjoy a day at the seaside.
Other attractions in the town include the Bo'ness Motor Museum, Kinneil House, Douglas Park and the Museum of Scottish Railways.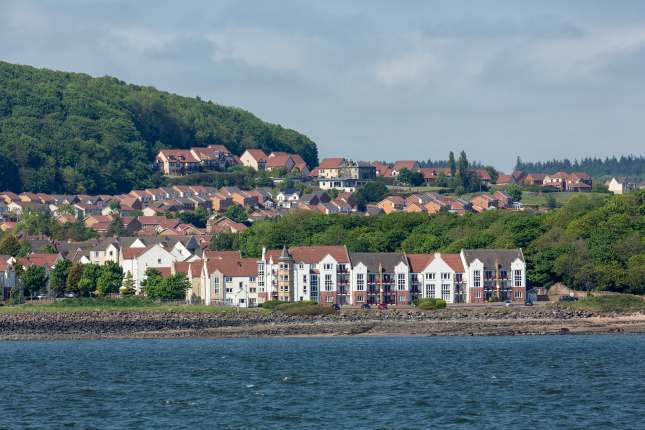 Dalgety Bay
Dalgety Bay is a busy well-established town situated along on the northern shore of the Firth of Forth in the county of Fife.
Classed as a commuter town for Edinburgh it has been a winner of the "Best Kept Small Town" title in a survey conducted by the Dunfermline Press.
The bay was named after the original village of Dalgety, but the ruins of the 12th century St Bridget's Kirk are all that now mark the site.
Although the town's name comes from one particular bay, it actually stretches over many bays and coves including Donibristle Bay and St David's Bay.
The sweeping arc of the pretty bay houses some very attractive properties, which command stunning views out to sea.
Many of these properties are holiday homes that cater for the influx of visitors the bay receives throughout the year.
In contrast, just a short car journey out of the town there is more than enough open countryside to explore.
Dotted with wooded areas wide open spaces and pretty lochs the region is incredibly attractive.
Property styles are a mix of old and new some of which are listed; however, the development of Dalgety Bay is a relatively recent event when in 1962 the Forth Road Bridge was opened making the area far more accessible.
Connections are good and the local railway station provides services for residents into Edinburgh, Kirkcaldy, Inverkeithing and Perth.
Dalgety Bay has a wide selection of property available starting from as little as £125,00 for a two-bedroom apartment.
Prices rise to £374,950 for a sizeable four bedroom detached.
Ready to Move to One of These Scottish Coastal Towns?
Have you picked one of these Scottish Coastal Towns to start living in?
Scottish Coastal Towns offer buyers some great homes for families, young professionals, retirees and everything in between!
If you want to move to one of these Scottish Coastal Towns and have found the ideal home, we are here to help you start moving.
You can start planning your dream move with the assistance of our Scotland Removals service from White & Company today.
White & Company are also pleased to announce our new video survey service.
During these unprecedented times, we can safely conduct remote removals surveys.
We can gather all the relevant information for your move from the comfort of your own home.
So, give us a call today or fill out a quick quote form to see how we can get your dream move to one of these Scottish Coastal Towns in the works.