What are the best Somerset seaside towns?
If you are looking to move to one of the best Somerset seaside towns, this is the ideal article for you!
Living in Somerset offers locals with a range of excellent benefits.
Somerset seaside towns are some of the most sought after coastal locations in the UK!
Providing some stunning locations, it is no surprise that Somerset seaside towns are key influencing factors that sees buyers flock to the area.
Property prices across the UK have been gradually increasing throughout the course of the last 12 months.
Subsequently, the allure of moving to one of the many excellent Somerset seaside towns has increased.
Many of these locations offer great value coastal homes.
Somerset seaside towns tend to offer lots of space whilst also ensuring residents have access to a some excellent amenities.
If you are thinking of living in one of the best Somerset seaside towns, there are numerous locations to choose from.
Somerset seaside towns offer magnificent coastlines, excellent landscapes, and some fantastic properties.
It is clear to see why Somerset seaside towns make the perfect home for so many different buyers.
With a range of excellent towns to select between, it can seem hard to start your search!
Relocating to one of these Somerset seaside towns is sure to appeal, regardless of your personal needs.
Here are our 7 top picks for the best Somerset seaside towns.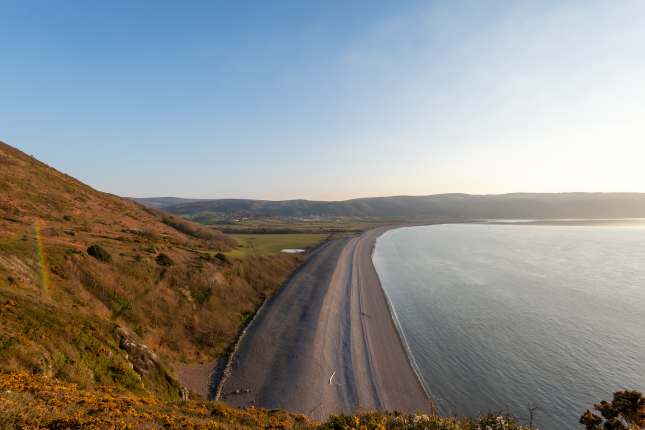 Bossington Beach
This small hamlet could not be in a more picturesque location.
An archetypal English rural village with thatched cottages, tall chimneys and gardens bursting with flowers, it is an enviable place to live indeed.
The village of Bossington sits half a mile from the beach, on the South West Coast Path.
This is England's longest waymarked long-distance footpath and is a National Trail.
Stretching 630 miles from Minehead, along the coasts of Devon and Cornwall, to Poole Harbour in Dorset.
Bossington Beach itself is an interesting place to explore, whist behind it there is a unique marshland ecosystem which attracts numerous rare species of bird and insects.
This huge expanse of pebble beach is backed by farmland and flanked by the hills of the Exmoor Coast.
Interestingly, nearby is Porlock Hill. Well known in Somerset, it is the steepest A-road in the UK, approaching 1 in 4 (25%) in places.
Bossington Beach offers its very blessed residents a typically quaint seaside location and its many summer visitors a beautiful beach ideal for lazy days by the sea.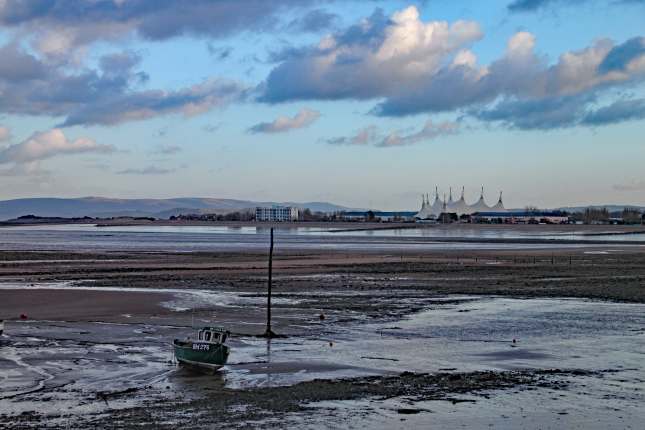 Minehead
The town is situated on the south bank of the Bristol Channel, 21 miles from the County Town of Taunton.
West Somersets most well-known and most populous town, Minehead has been a holiday resort for many years and home to one of the UK's three remaining Butlins Holiday Camps.
Although Minehead is synonymous with seaside holidays, it is also the gateway to Exmoor National Park, offering stunning landscapes, peace, and quiet and crystal-clear skies for stargazers.
There are plenty of sports and leisure facilities on offer in Minehead, aimed at both the large number of tourists who visit annually, as well as local residents.
Shopping is via The Avenue, the main street in Minehead, which is lined with some great independents and more than a smattering of holiday souvenir shops.
The long sandy beach and promenade make for the perfect place to recharge your batteries and relax. The shallow clean waters are perfect for children to paddle in or for building sandcastles.
The town has its own rail station offering services throughout Somerset and quick road access to the cities of Bristol and Exeter.
Living in Minehead offers the best of both worlds. A characterful seaside destination, but with city life right on its doorstep.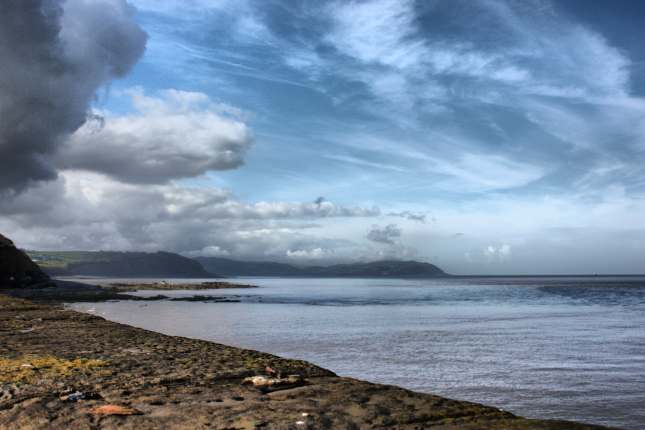 Blue Anchor
Travel five miles south of Minehead and you will find the sleepy village of Blue Anchor.
Several explanations exist as to how the Village got its name.
Some say it was because when boats moored in the bay, and they pulled up their anchors they were always covered in a blue-grey slimy mud from off the local cliffs.
However, it got its current name it has been a hidden gem for some time.
But it did not escape the notice of the well-known artist JMW Turner. He famously created a painting of the bay and its local inn during 1818 which now hangs in the Lady Lever Gallery.
Situated in a very scenic area, the village marks one end of the Blue Anchor to Lilstock Coast Site of Special Scientific Interest along which the Triassic cliffs have geological interest for the variety of fossils uncovered.
It is a fantastic place to visit if you enjoy fossil hunting.
The long sandy beach houses ample alabaster rocks, which are perfect for finding them.
Once mainly given over to agriculture, the area gradually grew in stature as a developing resort.
Visitors have been coming to Blue Anchor for over 600 years.
The popular Blue Anchor Holiday Park still draws holidaymakers from all over the UK today.
Serious hikers are drawn to the area too, as the village lies on the route of the West Somerset Coast Path and Celtic Way Exmoor Option where imposing views are the order of the day.
If it is an area you are seriously considering relocating to, be warned, it may take some time for the perfect property to become available.
There are very few homes for sale and no wonder. If you are lucky enough to buy a home here like those who already reside in Blue Anchor, you will not want to leave.
Kilve
Kilve is another of Somersets scenic waterside villages.
Located in the Somerset West & Taunton district of Somerset, it lies within the Quantock Hills Area of Outstanding Natural Beauty, the first AONB to be established, in 1957.
The village actually, consists of three small settlements which, joined together make up Kilve.
Legend says that Kilve was once home to a dragon called Blue Ben.
The skull of a fossilised Ichthyosaur on display in the local museum is sometimes pointed out as belonging to Blue Ben.
A very close-knit community exists in Kilve. It offers those who live here a rich tapestry of interesting buildings, heritage, and wildlife.
Amenities are basic with just a small convenience store however, this does not bother locals in the least rather it adds to Kilve's attraction. The large town of Bridgwater provides a more comprehensive retail selection.
Kilve's shoreline is not sandy, but extremely rocky, ideal for rock pooling.
The large grassy area behind the beach is the perfect place to enjoy a picnic afterwards.
Like many of its neighbours, the rocks are of geological interest having fallen from the cliffs.
Oil-rich shale and layers of yellow, brown, blue lias (geological formation) in which fossils can be found.
This is definitely one of Somerset more remote villages but definitely no less attractive.
Watchet
Another important inclusion in the best Somerset seaside towns has to be Watchet.
This quaint harbour town has a rich history of maritime customs and boasts a captivating history.
Watchet lies close to St. Audrey's Bay amidst gentle Somerset scenery.
The town is home to a bustling marina.
This is an excellent spot to soak up some lovely Somerset sunshine whilst you watch the boats arrive and depart from the harbour.
Watchet is also home to a range of fantastic beaches.
These ancient beaches are ideal for lovers of geology, with a variety of fossils to find.
Watchet's small local museum displays an array of these fossils, mapping out the regions rich history.
Living in also Watchet provides locals with an excellent choice of leisure activities.
Be sure to enjoy some of the excellent walks in the serene countryside or along the coast or a spot of shopping in the local shops.
There are also numerous beautiful villages to explore in the surrounding areas.
Amongst the best places to visit in the town and surrounding area are Exmoor National Park, Dunster Castle, 17th-century Watermill and Tropiquaria.
Living in Watchet also ensures locals have a choice of great pubs, restaurants, cafe's and of course, fish and chips.
Clearly, Watchet is well-deserving of its spot on our list of the best Somerset seaside towns!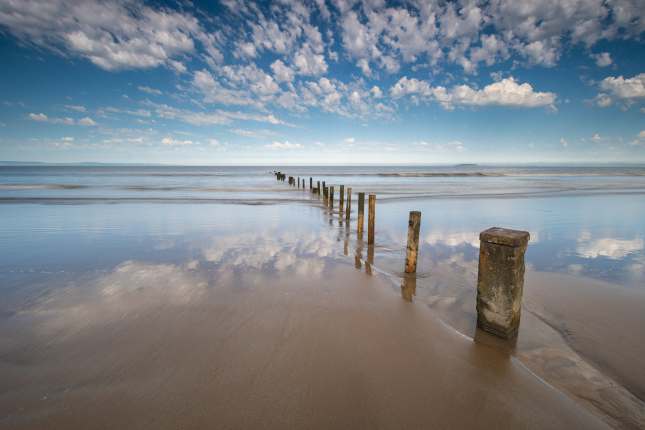 Burnham-on-Sea
The quaint Burnham-on-Sea is a mainstay when listing the best Somerset seaside towns.
Burnham-on-Sea is a quintessential seaside town that offers everything you would expect from a coastal destination.
Ranging from family-orientated beaches, water sports, seaside shops, restaurants and a range of excellent amusements!
The towns also boast an extensive calendar packed with excellent events as well as a range of scenic seaside walks.
Living in Burnham offers locals everything you would ever want from all of the best traditional Somerset seaside towns.
Be sure to visit the Burnham visitor information centre located on the esplanade to find out about the towns excellent local walks!
The town is perfectly located for locals who are looking for some stunning regional walks.
Burnham boasts some stunning countryside and coastal walks right on the town's doorstep.
There are also some brilliant trails to discover, as well as a mile-long esplanade that overlooks the towns beautiful bay.
As previously mentioned, the town has an excellent range of annual events.
One of the most popular is the Burnham carnival.
During this event, the town plays host to thousands of visitors who arrive every November for the carnival.
During the event, over one hundred carnival floats parade through the town.
The event is bursting with vibrant music and lights and continues on to a host of other Somerset locations.
Our list of the top Somerset seaside towns would not be complete without Burnham-on-Sea!
Clevedon
The final inclusion to our list of the best Somerset seaside towns is Clevedon.
Clevedon is a stunning Victorian seaside town sitting snuggly on the Severn Estuary.
The town boasts some truly excellent scenery.
One of the best spots to soak up this beauty is the Clevedon pier!
The only Grade 1 listed pier in England, this historic structure is over 150 years old!
Visitors to the pier can visit the shop, award-winning restaurant and the informative visitor centre.
Clevedon piers plays host to various events throughout the year, making it one of the focal points of the town!
There are also several fabulous cafés and restaurants to enjoy in the vicinity of the Clevedon Pier.
Nearby Hill Road offers locals a choice of independent stores, The Triangle provides all of the big-name high street shops, and the Clevedon Sunday Market is perfect for the more unique items!
Clevedon is also very well connected to the surrounding region.
The town is located just off the M5.
If you are travelling to Clevedon by car, take the exit at Junction 20.
From there, follow the road signs leading to the town centre.
If you are using public transport, living in Clevedon is a great choice.
Bus connections from Bristol Temple Meads train station will see you arrive at Bristol Bus Station.
Further transport links from Bristol Bus Station run directly to Clevedon throughout the whole day.
If you need to travel further afield, Bristol airport is around 10 miles away!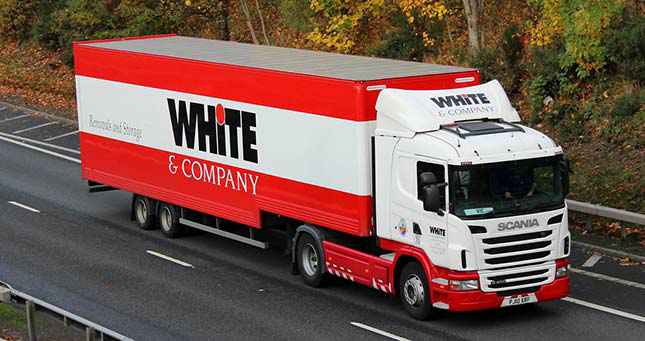 Ready to Move to One of These Somerset Seaside Towns?
Have you picked one of these Somerset seaside towns to start living in?
Hopefully, you have found our article helpful!
Somerset seaside towns offer buyers some great homes for families, young professionals, retirees and everything in between!
If you want to move to one of these Somerset seaside towns and have found the ideal home, we are here to help you start moving.
You can start planning your dream move with the assistance of our Somerset Removals service from White & Company today.
White & Company are also pleased to announce our new video survey service.
During these unprecedented times, we can safely conduct remote removals surveys.
We can gather all the relevant information for your move from the comfort of your own home.
So, give us a call today or fill out a quick quote form to see how we can get your dream move to one of these Somerset seaside towns in the works.