If the prospect of moving house is keeping you up at night you're not alone.
Last week (Monday 15 July) the Express reported that one in eight house movers suffered sleepless nights in the run up to moving day.
The report was based on a survey of 2,000 recent house movers conducted by OnePoll which revealed the biggest stresses both before and after moving house.
Of these the biggest findings were that:
Over half of all homeowners have experienced a 'fail' of some kind on moving day.
One in three have had furniture delivered which wouldn't fit through the door.
Packing up the old house was voted the worst part of moving house.
Wardrobes were designated the worst items to move from one house to another, followed closely by sofas, and delicate items such as mirrors.
As there are so many aspects to moving house and no single way to do it there is capacity for things to go wrong.
But it doesn't have to be this way. As we'll hopefully explain below.
We'll not only discuss the top 10 most common pitfalls when moving house therefore but we'll also show you how to avoid them.
Damaged Furniture
The study found that a third of respondents reported pieces of furniture arriving broken once taken out of transit.
To ensure everything arrives in one piece it is vital you use the right materials to wrap and pack your belongings.
Delicate items such as china and glassware should be wrapped in special paper and packed in double-thickness cartons for added protection.
You might also wish to consider made-to-measure wooden crates for antiques, glass vases and other delicate items.
Furniture legs and edges can be protected against damage and scratches by using bubble blanket or other similar materials.
Scratched Walls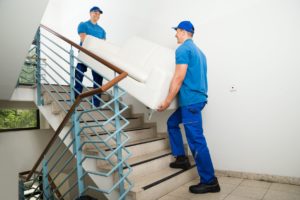 Another common pitfall movers report is damaged or scratched walls. This is a recurring problem for items being moved up and down staircases where pivoting is needed.
Scratching can be avoid altogether through the use of protective material like bubble wrap and padding on hard edges to stop furniture rubbing off on the walls.
Consult your removals company too and check they have the right equipment to safely move items in tight spaces.
Not being able to fit an item through the door
The report's finding showed that one in three movers surveyed have had furniture delivered which wouldn't fit through the door.
It's important therefore to check your existing furniture and any other items can fit your new home.
Remember your removals company is here to help you move successfully. But it's your responsibility to ensure everything fits inside your new home, which includes providing valid access points.
Measure each item carefully and draw up a blueprint of where everything will be arranged in your new home.
Ask the current owners of your new home (if not a new build) if you can take down some rough measurements when viewing to ensure everything will fit as it should.
Not being able to manoeuvre furniture up/down the stairs
Moving items up and down the stairs is a specialist skill.
You need only recall the famous scene from the popular American sitcom, Friends, when the character, Ross struggles to move his coach up the stairwell to shouts of 'Pivot'!
Wrap your furniture in protective materials and ask for help from experienced professionals.
If you are undertaking the move yourself, we advise that you carry items 'high and low', that is, tip the item at an angle and have one person carry the top while the other carries the bottom.
Not being able to manoeuvre furniture around a corner
Much like the above advice you need to take care when moving furniture which is bulky or difficult to manoeuvre.
If an item doesn't fit, don't force it.
If moving an item with legs or attachments, ask yourself can you remove them?
If so, this might give you more leverage or room to move it round a difficult corner or tight space.
Boxes breaking and the contents spilling out everywhere
There are few things more infuriating then picking up a box only for its contents to spill out everywhere.
Make sure you pack boxes the right way up and secure them with adhesive tape or other strong materials.
Don't overpack each box and label the contents clearly and their intended destination. That way any removals team will know how to handle it properly and avoid damages/breakages.
The previous residents not clearing up – or leaving things behind
Not everyone is considerate nor do people always have time to do a spring clean of their house before leaving.
Come prepared with cleaning products so you can get the place looking spic and span before you settle in.
Leave aside some spare boxes you can collect any left behind items in and either donate or throw away.
The house not being ready
Again it can be easy to get off on the wrong foot and become frustrated at everything not being ready.
Call up suppliers of gas, electric and broadband in advance and let them know of the changeover date.
That way you can avoid paying bills from the previous owners and ensure the basics are there for your arrival.
Not having everything packed up in time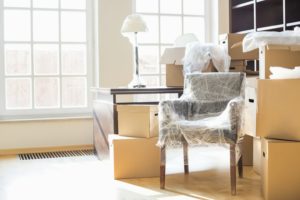 It can be very easy to underestimate the task at hand and not have everything packed away on time.
Plan in advance and tackle each room at a time, starting with the least used first. Garages and attics can be packed away well ahead of the actual moving day.
Ask for help. Lots of removal companies offer a packing service which can take the stress out of packing.
Delicate possessions breaking
Delicate items such as glass and china can get damaged when moving around in boxes if not properly cared for.
Glass and china should be wrapped in special protective materials and packed into double thickness cartons.
If you don't have access to these materials you can used rolled up newspaper to stuff inside the boxes in between the gaps to act as a buffer.
For more information on the packing supplies used by White and Company click here.