Are you moving to Australia? In this article, we're going to tell you five things you must do when preparing your household items for shipping to Australia.
Each year thousands of Brits leave the UK in search of a new life Down Under, with over 1.2 million Brits now calling Australia home.
Packing up and moving your life half way across the world is no easy feat. Planning ahead will not only help take some of the weight off your shoulders but can also save you time and money.
That's why we've put together a list of five things you absolutely must do before you go.
Find a reputable international removals company
This one is top of the list for a good reason.
When it comes to shipping to Australia, having a reputable removals company that knows the process inside out is indispensable.
A removals company will be able to pack, wrap and ship your precious belongings safely to their intended destination and ensure their timely arrival.
They will also advise and reassure you on all other aspects of your move, including customs declarations and insurance policies.
It's also essential that you choose an international removals company for removals to Australia.
Make sure you select a removals company that is accredited. Look for FIDI, the regulator for international removals companies. These companies submit to regular audits to ensure the best standard of service.
Removals companies which are part of a global network, such as OMNI also have their advantages. Being part of a network means a removals company in London can liaise with another in Sydney to ensure seamless delivery.
Consider costs and your options for shipping to Australia
There are two main ways to move your belongings overseas: air freight or sea freight.
Air freight is the fastest but sea freight is the cheaper option for shipping small consignments to Australia.
This can be achieved in a variety of ways and much will depend on your budget and the volume of belongings.
Sole use containers generally come in sizes of 20ft, 40ft or 40ft high cube.
To give you a rough idea, a 20ft container will fit in all the contents of an average sized 3-bedroom house. For larger, difficult items, such as pianos you might require a larger 40ft container.
If you intend to bring your car you might want to look into vehicle shipping.
A 'door-to-door service' means the removals company will either pack the container at your house (if access allows) or at the port of departure.
This is the most convenience service delivering the contents straight to your new home.
Check what goods/items you can take with you
Most people shipping items to Australia will ship as many items as possible to avoid the cost of replacing them.
This might not always be practical however and can actually end up costing you more in the long-run.
Before you move consider whether your new home has room for these items. Or whether it has certain features (such as fitted wardrobes) which mean you don't need to ship certain items to Australia. If so, arrange to sell, recycle or donate these items to charity or a friendly/relative.
There will also be certain items you can't take with you.
To manage Australia's diverse ecosystem the country operates strict customs and quarantine rules. All household goods are subject to a physical examination by the Australia Quarantine Inspection Services (AQIS). This can delay things for up to 14 working days.
Check each item to ensure you can take it with you or whether you need to declare it first. It is advisable to avoid bringing any food stuff with you. It's important to clean and remove traces of soil from garden tools and outdoor equipment. Dirt often accumulates on golf clubs, shoes and children's play equipment, such as trampolines.
It is also a good idea to clean your vacuum cleaner. Authorities can seize and destroy any contaminated items at your own expense.
Refrain from shipping prohibited wooden materials such as wicker/cane chairs, baskets and Christmas decorations. Again, these items can be subject to fumigation in Australia which can prove costly.
Items you will need to declare when shipping to Australia include:
Animal products include meat, fish and pet food
Craft and hobby items made from animal or plant material
Dairy and egg products
Seeds and grazing materials
Fishing equipment
For more information on what you can and can't import see Australia's ICON database.
Looking to take your pet's with you? Read our essential guide to moving with pets here.

Take out suitable insurance (or check your current policy)
Although your removals company will endeavour to keep your items safe and secure, accidents do happen. Particularly when shipping goods to Australia, as its such a long distance from the UK and the ships often encounter rough seas.
A reputable international removals company will safeguard your items with expert packing techniques and delivery inspections, but it is worth taking out additional cover.
Marine insurance is therefore a key consideration when shipping overseas. We recommend that you consider protecting your valuable personal possessions while in transit or storage with Marine Standard Liability cover.
Work out the time frame for your move
Timing is everything, or so they say.
It can take anywhere between 8-16 weeks for your shipped goods to arrive in Australia using a door-to-door sea freight service. (sole use container). Its important therefore to have a plan in place either side of your move to Australia.
There are various different ports in Australia that can accept your shipment so ensure you select the right one. For example, shipped items to Sydney usually come to Port Botany (New South Wales), or Fremantle if the intended destination if Western Australia.
If your goods are going to be arriving before you, or in separate consignments, it might be a good idea to take advantage of storage facilities. Contact your removals company and see if they can offer you this, either in the UK or in Australia.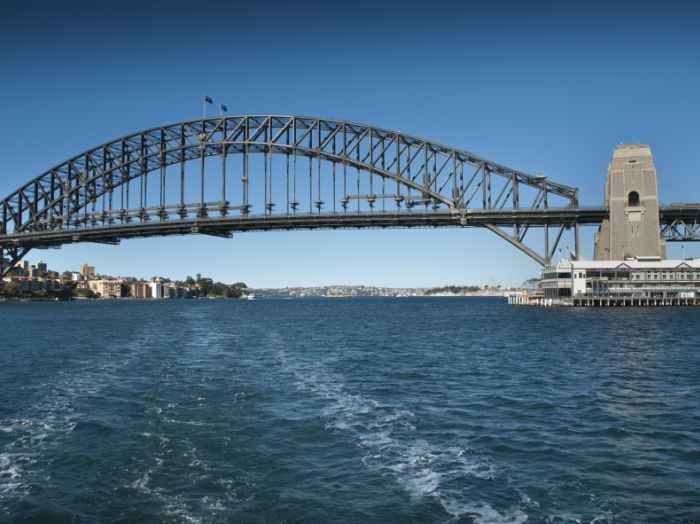 Shipping to Australia with White & Company
With over 85 years' experience moving families all over the world, Removals to Australia is a breeze with White & Company.
Whether you're moving from London to Sydney, or Manchester to Melbourne, White & Company's friendly removals team can wrap, pack and prepare your valuable, fragile and bulky furniture ready for export shipping.
We use a modern range of environmentally friendly, purpose-made packing materials and can pack everything for you prior to your move.
As members of both FIDI and OMNI, we're part of an illustrious network of international movers. It also means we can offer you additional services, including purpose- built storage facilities.
We also offer comprehensive marine insurance cover as part of our overseas removals package. Marine Insurance Cover is 'All Risk' and based on the values as declared to you in the Overseas Valuation Form.
To find out more about any of our services for shipping to Australia don't hesitate to call us on the number listed above. Alternatively, fill out a quick quote form and we'll be in touch shortly.
Like this article? Think we've left something off? Feel free to leave us comment below letting us know your thoughts.