On moving day you'll be busy overseeing your removals team and carrying out last minute checks which means you can easily forget certain essentials. That's why we've put together a list of items to pack as part of a moving day survival kit.
What is a Moving Day Survival Kit?
A moving day survival kit is an essential box consisting of all the essentials you'll likely need right away once you've moved into your new home.
What should I include?
Think toiletries, bed linen, clothes, food, cooking utensils and of course… the kettle and tea bags.
Phone chargers are a must also. You'll likely be making lots of calls to people such as estate agents, solicitors and so it's important your phone is on hand and has plenty of juice.
Create a document file where you can keep copies of all essential documents, including house deeds, passport copies, etc.
Of course, the exact contents of your Moving Day Survival Kit will largely be dependent on you and your families' circumstances.
Keep everything you think you will need in your first few days in a box which you will keep with you during your move.
It's also handy to have a few recycling bags lying around as well so you can quickly dispose of anything you decide you don't need.
To help you with creating your bespoke Moving Day Survival Kit we've grouped items into the following general headings:
Kitchenware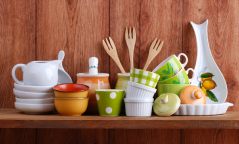 Once you've got to your new home one of the first rooms you will likely want to access is the kitchen.
Whether you are making tea for your removals men as they safely deliver the contents to each room, or putting together lunch or dinner for the kids, you'll need certain kitchenware.
As part of your Moving Day Survival Kit you should pack:
Paper plates
Plastic cutlery
Kettle
Mugs and cups
Paper towels
Cooking utensils
It might be a good idea also to bring some bottle water if the water is not yet switched on at your new house or you don't know whether it will be.
Food And Non-Perishables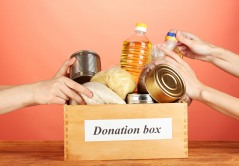 Moving is hungry work. Regardless of the distance you've travelled you're going to want to put food together pretty quickly, particularly if you've got little ones pulling at your trouser legs.
You don't need to pack for Armageddon but bringing along a few snacks and food items for your first few days can help you settle in more easily into your new home.
Pack lunches for kids and plenty of non-perishable items which can be opened for instant use and minimum preparation time.
Some great food items to include in your Moving Day Survival Kit include:
cereals
tinned beans and spaghetti
loaf of bread and butter for sandwiches
pastas and sauces
milk
coffee and tea bags
canned or fresh fruit
Bathroom And Cleaning Products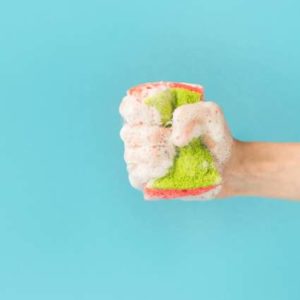 Don't get caught out when you move into your new home.
Pack plenty of supplies for the bathroom, such as:
toilet paper
sanitary products
soap
towels
toothpaste
shampoo
deodorant
first-aid kit and plasters
painkillers (hopefully you shouldn't need these!)
Unfortunately, not everyone leaves their house in as great a shape in which they found it. It's a good idea therefore to include some cleaning products as part of your Moving Day Survival Kit.
Having some cleaning supplies on hand means you can give it that quick sparkle. Be sure to include:
rubber gloves
sponge
cloths
scourers
plunger
brushes
Bedroom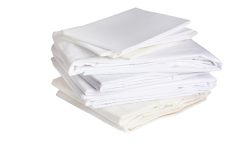 One area that is often neglected by those moving into new homes is the bedroom.
After a long day moving furniture and organising family members you're going to want to crash into your own bed as quickly as possible.
Rather than have to grapple through boxes and boxes pack bedroom items into your moving say survival kit so you can access it straight away.
Make sure to include the following:
bed linen
pillows
duvets
pyjamas and change of clothes
clothing hangers
Toolkit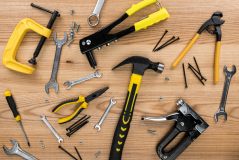 DIY might not be your immediate first point of call but its handy to keep some tools with you in case you need them.
It might sound obvious but a utility knife for cutting open boxes is an absolute must!
Some handy tools you may need include:
hammer
screwdrivers
measuring tape
pliers
Children
If you are moving house with kids it's usually a good idea to have someone look after them while you move.
If you're moving a long distance or would rather they settle into their new home right away you ought to prepare for this.
Bring essential items they need, food and plenty of entertainment to ensure they don't get bored.
You might want to let them choose their own items to help ease them into the moving process and feel in control.
Some items you might want to include are:
handheld gaming devices and tablets
books and puzzles
baby changing supplied for young children
favourite toys
comfort items and night lights
Pets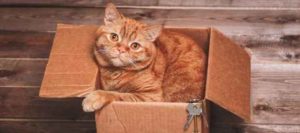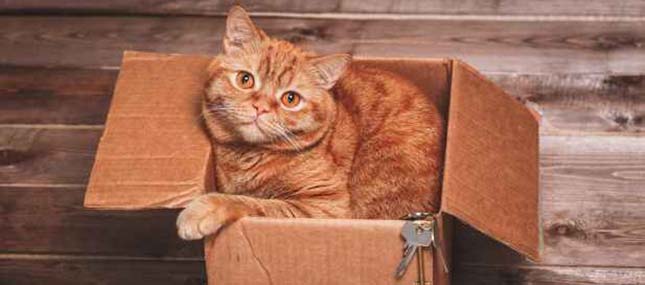 Like children, pets also need care and attention during the moving process.
Ensure they are well catered for in terms of food and entertainment and pack the following:
food
water bowls
bedding
leads/collars
toys
specific items they need
Enjoying this post? Try reading: Taking Your Pets Abroad: The Essential Guide to Moving With Pets
What Difference Can A Professional Removals Company Make?
Not sure what to pack as part of your Moving Day Survival Kit? When you hire a professional removals company you are not just getting a team of removals men and an itemised quote.
You are getting access to the knowledge base of professionals who have moved just about everything there is and no what to look out for.
How Can White & Company Help?
White & Company have been providing a stress-free removals service in the UK and internationally for over 145 years'. During that time we have built up an enviable reputation as one of the UK's most reliable and trustworthy companies.
We take care of all the details of your move, from planning through to execution. Allowing you to focus on your family and all the other finer aspects of moving.
We use a modern range of environmentally friendly, purpose-made packing materials to prepare and ship your belongings safely to their intended destination.
Our team are all fully trained and certified to the required standards of the British Association of Removers, of which we are founder members.
You may also wish to use our unpacking service to unpack your belongings onto flat surfaces and dispose of all packing materials.
White & Company can also offer you storage at flexible rates compared to most commercial units.
Whether you want to empty a room for refurbishing or de-clutter your home for a 'show-house', White & Company offers a self-storage service at each of it 19 warehouses across the UK.
Access to your storage is freely available during working hours at no additional charge. Our warehouses are equipped with fire and intrusion alarms, and 24-hour recorded CCTV.
What are you waiting for? To find out how White & Company can get your dream move underway don't hesitate to contact us today using the quick quote form above.