On September 7th 2019, White & Company participated in a country show within the small Hampshire town of Alresford, where White & Company remain unbeaten three years running in the 'Heavy Horses' category.
Alresford is a spectacular Georgian town, just 20 miles north of Southampton. Voted as one of the Best Places to Live in the Countryside , Alresford has become increasingly popular with new movers over the past decade.
One of the reasons for this is the annual Alresford Country Show, that sees flowers and vegetables judged on their size and arrangement; whilst the main attractions involve animals (both big and small) taking part in various competitions.
The show has been running for over 100 years. With the exception of the years consumed by both of the World Wars, the country show has run annually, and it has quickly become one of the best day shows in the UK.
The show takes place on the first Saturday of September every year. Since 1960, the Alresford Country Show has a permanent home at the picturesque Tichborne Park, a mile or so south of the town.
White & Company competed to retain their trophy within the Heavy Horses category, against many big competitors, such as Fullers. Featuring an original horse-drawn removals van, known as a Pantechnicon, towed along by two draft horses. The term 'draft horses' encompasses a variety of large breeds of horse which are used for carriage and stagecoach towing.
With the pantechnicon winning by a landslide, White & Company have now won 3 years running, since they started competing in the competition in 2016.
Time will tell, however with the outstanding performance by White & Company's pantechnicon drawn by two elegant and majestic horses; 2020 will likely bring about yet another great country show in the small town of Alresford.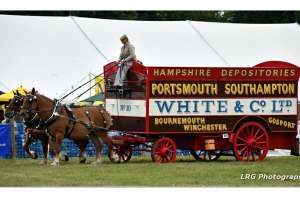 About White & Company
Over the years, White & Company has positioned itself as the removals firm of choice.
Our experience is second to none. As members of BAR, FIDI and OMNI, White & Company have been relocating people to destinations all over the world for 145 years.
Our experienced teams located across the UK will pack and prepare your valuable, fragile and bulky furniture ready for export.
To find out more about how we could get your dream move underway, don't hesitate to give us a call today. Alternatively, fill out a quick quote form or chat with our Bot and we'll get in touch with you straight away.