The Costa Del Sol has long been the favoured destination for British expats looking to escape to Spain from the dreary confines of the UK's unpredictable weather.
From retirees to young people the 'sunshine coast' is the ideal place for those looking for a slower pace of life where they can enjoy a high standard of living in the sun.
Situated on the southern edge of Spain, the coastal communities stretch across the Andalusian coastline, set against the backdrop of the northern mountains of North Africa.
One of the most popular areas in recent years has been the affluent city of Marbella.
Dubbed the 'millionaires' playground,' Marbella plays host to aspirational lifestyles where designer shops and luxury yachts go hand in hand.
Just twenty minutes' drive away from the hustle and bustle is the up and coming town of Estepona, nicknamed the 'Garden of the Costa Del Sol' in reference to its leafy natural surroundings.
Having long been in the shadow of its more gltzy neighbour, Estepona has largely been confined to the status of one of the Costa Del Sol's best kept secrets. Until now that is…
Affordable property prices
With a modest population of around 70,000 Estepona looks to set to undergo a period of expansion as the town's mayor has secured heavy investment from international developers.
Prices are on the rise and demand often outstrips supply in a town with more hillside plots and beachfront villas than most.
International buyers equipped with a budget of around €300,000 will be able to purchase apartments and villas with more room and amenities than those found in Marbella and the more 'touristy' resort areas.
Authentic Spanish experience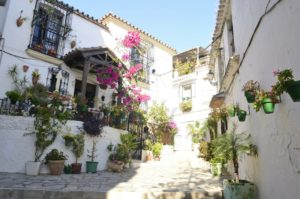 Estepona's immaculate white stone buildings and fields of orange trees are a throwback to the rustic Spain many expats envisage when they dream of their ideal home in Spain.
As one of the Pueblo Blancos 'White towns' of Andalusia, Estepona offers an expanded Spanish village lifestyle rather than the over-congested and touristy environments across many other coastal towns in the region.
What's more, the local seafood restaurants serve up some of the freshest paella your pallet is every likely to taste.
Quiet, beautiful beaches
The Costa Del Sol is world famous for its beautiful coastline and sandy beaches, and Estepona is no different in this regards.
It's lesser fame however means it's two Blue Flag Beaches, are significantly less crowded and thus more enjoyable.
The main beach, La Rada runs from the Marina past the old town and is just a short ten minute walk from the main strip.
Nature on your doorstop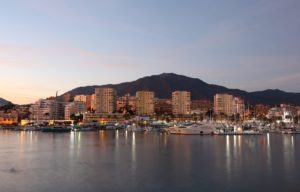 If Estepona's palm-tree lined parks and green areas just aren't cutting it you need only drive inland for 30 minutes to meet the towering Sierra Bermeja mountains.
The landscape provides ample ground for cycling and hiking with its many winding paths, set against the backdrop of the isle of Gibraltar in the distance.
Almost year-round sunshine
Did we mention Estepona has its own micro-climate? With 325 days of sunshine per year Estepona enjoys a moderate climate all year round with temperatures soaring in the summer months of June to August.
In the summer months you can dine outside till dawn and enjoy water sports on the seafront. Or in the winter retire to the Pyrenees in the north or Sierra Nevada in the south for some seasonal skiing.
Short distance from the UK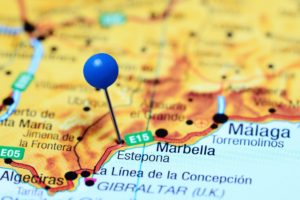 Technically speaking the nearest airport to Estepona is Gibraltar International.
However, regular flights to and from the UK are available at the next-nearest airport in Malaga, just an hours drive away.
Flights from London Gatwick and Luton take just under 3 hours, which means you can return home to see relatives or have them fly out to you.
The life of leisure
Not only are most villas and pools kitted out with swimming pools, there's no shortage of leisure activities with copious amounts of facilities close by, including clay tennis courts.
Dubbed the 'Costa del Golf' the region has the largest concentration of golf courses across the whole of Europe and Estepona contains no less than six of them.
The main 18 hole course, simply called Estepona Golf, aims to give golfers a 'home from home experience' with an all year round Green Fee of just €58 followed by a glass of Cava on the terrace, or for a special '19th hole' treat, Veuve Clicquot by the bottle.
https://www.instagram.com/p/BUAO66Nl0xz/?utm_source=ig_web_button_share_sheet
Moving to the Costa Del Sol with White and Company
Are you looking to move to Spain?

White and Company runs regular low-cost removal services to various cities in Spain, including Barcelona, Bilbao, Madrid, Malaga, Seville, Valencia and many more.

Find out how you could move to Spain with us here: https://t.co/HWzbZPCf3Y

— White & Co. Removals (@WhiteandCo1871) May 6, 2019

Are you ready to start your Spanish adventure? If a new life sipping sangria under the shade of a beach parasol in Estepona sounds alluring we've got a tailored removals package just for you.
White and Company offers either full or part load removals to Estepona.
This includes either full load consignments that take your belongings direct from point A to B, or part loads that are delivered shortly after your arrival.
With a facility in Palma, Mallorca we operate a fleet of vehicles including Scania Road Trains to Estepona and various other destinations across the Costa Del Sol.
We can arrange packing and shipping for you as well as the clearance of customs. For those requiring storage facilities our 19 secure sites in the UK are available for hire and we can also arrange storage in Spain through our industry partners.
To find out more about our Removals to the Costa Del Sol service or any of our other removal packages don't hesitate to call us on the above listed number.
Alternatively, fill out a quick quote form and a member of our friendly customer services team will be in touch shortly to discuss your move with you.