Conventional wisdom has always placed Friday as the best day of the week to move house.
But is Friday the best day or could the midweek move be the way forward?
That's why we've put together this handy guide of the pros and cons of moving house on a Friday. We've included some of the key considerations you will need to take into account.
We'll also take a look at why moving mid-week could help you to avoid costly delays. And of course name the best day of the week to move house.
Should You Move House On A Friday?
Friday is certainly the most popular day to move house.
According to a recent home mover's survey, a massive 41% of people opted to move on Friday.
Monday was the second most popular day (17%) with the following three days all on 13%.
Weekends were unpopular, with Saturday and Sunday sharing just 3% of the poll between them.

So Just Why Is Friday Is So Popular?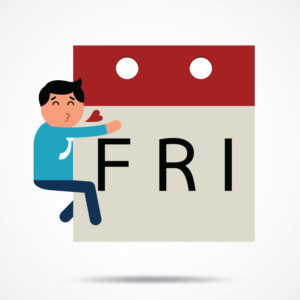 We've narrowed it down to just three important reasons below:
You only have to take one day off work – We all live busy lives and moving on a Friday means we can juggle work commitments with life.
You've got the weekend to unpack and unsettle – Moving on a Friday means you have the whole weekend to sort yourself out.
Aligning the house chain – As most people move on Friday it causes less disruption to the chain.
Why To Avoid Moving House On A Friday?
Despite the unquestionable popularity of moving house on a Friday there are number of downsides to take into account:
Estate agents and solicitors may close early – If they do not reopen until Monday this can cause problems to the chain.
Transactions take longer to clear – Banks traditionally close early on Fridays and waiting for funds to go through can lead to delays.
Friday is often the busiest day – Removals companies are booked up weeks in advance.
Friday is the most expensive day – Due to the demand removals companies often hike there prices up.
Removal companies have less time – Removals companies often carry out two or more jobs in one day.  If a delay occurs they may not have the time to be able to help you.
Traffic can be a nightmare – The roads are packed on Fridays  with people commuting and moving up and down the country to get away for the weekend.
Fraud most likely – The Financial Times revealed there had been £85m stolen by hackers in the past 18 months as part of  'Friday afternoon frauds' as this was when solicitors most often moved client money.
The True Cost of Moving Day Delays
One in five homeowners (19%) experienced moving day delays because of funds not arriving on time and sellers vacating their homes late, according to a 2018 research poll commissioned by YouGov.
That amounted to nearly 115,000 delayed moves in total.
More than one in four (26%) incurred several costs:
Hourly waiting charges from removal companies (39%)
Storage fees (27%)
Removal company cancellation charges (16%)
Hotel/accommodation costs (15%)
Late completion charges (9%)
Of these one in seven (14%) incurred costs of over £1000.
Is The Midweek Move The Way Forward?
Moving midweek could therefore help you in a number of ways:
Avoid delays – Delays incur further costs. Moving midweek means you have a greater chance of avoiding disruptions to business and banking transactions.
Putting things right – Moving midweek means you have more chance to correct things if problems occur with the housing chain/estate agent or solicitor.
Lower prices – There is less demand for booking slots which means removal companies can price there services more competitively.
More attention – There is less demand on a removal companie's time. They are more likely to be able to help you or make alternative arrangements (we're a friendly brunch really and we'll do whatever we can to help you on the day).
The Best Day Of The Week To Move House
Without further ado the best day of the week to move house is… Thursday.
Not only do you get the benefits of a mid-week move mentioned above.
But by choosing a Thursday it means you only have to take one additional day off work.
Removal costs are often more competitive than a Friday.
So you'll have three whole days to get sorted in your new home as opposed to two.
If something goes amiss you can also give plenty of notice.
That way whoever it may be (estate agent/removals company/solicitor) can try and put it right.
What Other Days Are Worth Considering?
It might not always be possible to get your chosen day to move. That's why it's worth mentioning that there are plenty of other alternatives.
Monday is the second most popular day to move house.
Positioned on the tail end of the weekend but at the start of the working week it holds two distinct advantages:
You have the entire weekend to pack and prepare for your move, and
the rest of the working week to sort things out should something go amiss.
You won't get the additional day to settle in your new home unless you book it off. But this way you can rest assured that you're in a good position should something go wrong.
You could also buck the trend and go for an unpopular day like Sunday.
Some removal companies offer weekend removal services and they can be far cheaper than the other days, so it's always worth asking.
Choosing Your Removals Company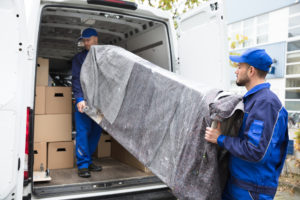 Ultimately what day of the week you choose to move house will be a matter of preference, depending on your circumstances, work commitments and budget.
If you're part of a house chain you may not have much of say but being informed and putting forward alternate suggestions could work in your favour.
One thing is for sure: You will need a reliable removals company that knows what it's doing.
White & Company are one the largest family owned removals companies in the UK and have been carrying out house moves for 145 years.
We offer packing and storage solutions at 19 secure warehouse locations across the country.
Whether you need to move on a specific date or you are more flexible as to what day you move contact us today for a free quote or arrange a home visit and survey.