What are the best Devon seaside towns?
If you are searching for one of the best Devon seaside towns, this is the ideal article for you.
Devon's popularity has skyrocketed in recent years.
There are various reasons for this boost in appeal.
Devon seaside towns are some of the most beautiful locations across the whole of the UK!
With a great choice of stunning locations, it is no surprise that Devon seaside towns are one of the defining factors in drawing people to the area.
With property prices across the UK steadily increasing, the appeal of moving to one of the many Devon seaside towns offers buyers a cost-effective alternative.
As buyers increasingly seek rural locales, villages in Devon are gaining huge boosts in appeal!
Coastal locations throughout Devon provide more space whilst also offering locals with great transport links!
If you are thinking of living in one of these great Devon seaside towns, you are spoilt for choice!
Devon seaside towns boast beautiful coastlines, excellent countryside scenery and some great provisions.
It is understandable why Devon seaside towns are the perfect locations for so many buyers.
With a variety of excellent towns, it may seem a formidable task to begin your search!
Moving to one of these Devon seaside towns is sure to appeal, regardless of your requirements.
These are our 8 top picks for the best Devon seaside towns.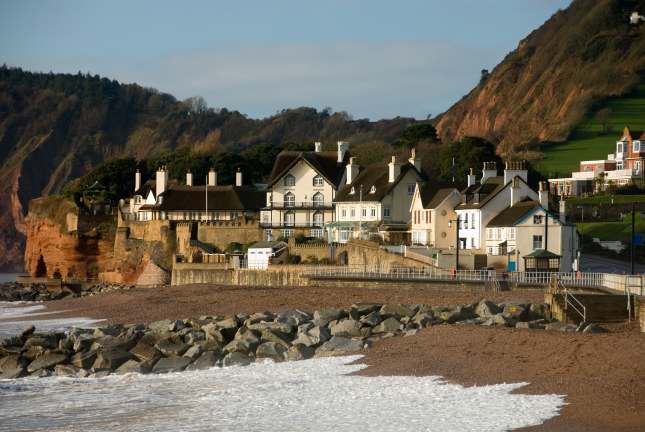 Sidmouth
It is said that Sidmouth is "easy to find but hard to leave".
Sitting along Devon's renowned Jurassic Coastline, it does sit in a particularly attractive location.
A UNESCO World Heritage Site, Sidmouth is a seaside town like no other.
Backed by majestic red cliffs and the green hills of the glorious Sid Valley, Sidmouth even has its own unique microclimate.
Sidmouth's popularity as a holiday resort began in the Georgian era before becoming the place to be during Queen Victoria's reign.
The town's connection to the Regency period is evident thanks to the many buildings and hotels that still proudly dominate the town, particularly along the seafront, many of which are now officially protected.
Offering both award-winning beaches and some of the most picturesque rural areas Devon has, it is no wonder it is such a visited town.
As a regular winner of Britain in Bloom, Sidmouth is a floral spectacle most of the year with bursts of colour throughout the town.
The poet John Betjeman said of Sidmouth, it is "a town caught still in a timeless charm" and the same can be said today.
Quiet but not boring, rural but not cut off, it has a very really friendly community vibe many search for when moving to a new location.
Loved by old and young equally. From amazing royal heritage to water sports and fine dining, whatever it is you are in the mood for, you will be able to do it in Sidmouth.
Hartland
The small village of Hartland, whose parish incorporates the hamlet of Stoke to the west and the village of Meddon in the south, is the most north-westerly settlement in the county of Devon.
If it is a taste of true Devonshire life and to escape the crowds, Hartland village could be the place for you.
Home to a handsome Georgian square and a thriving community that offers a warm welcome to all.
Hartland is the perfect destination for those who have a love of being outdoors.
Although not among one of the most well-known locations on the Devon coast, Hartland is a convenient centre for walking parts of the South West Coast Path.
The wild coastal scenery around the point is some of the most dramatic on the path, with views across to Lundy Island.
Wherever you look, you will find miles of inspiring clifftop walks, secluded beaches, and marine wildlife, offering ample opportunities to be at one with nature and enjoy this beautiful and diverse landscape.
Aside from the stunning settings, there are a number of popular events, including festivals, live music, theatre shows and the local cinema and of course, the fabulous food and drink which is available in this area.
For a small village, amenities are adequate. Several shops support the village including a small convenience store and a post office.
The local primary school Hartland Primary, has around 120 pupils which Ofsted has rated as "good".
All in all, Hartland has absolutely everything you need to enjoy a quiet but full life.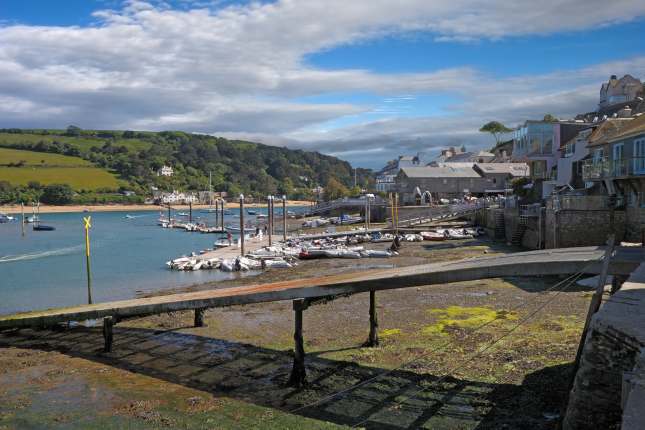 Salcombe
Tucked away on the southern coast of Devon, Salcombe is an iconic seaside town and another of the county's best-loved holiday destinations.
The town receives thousands of visitors annually, but it is also home to around 2000 residents.
Salcombe's picture-postcard harbour hosts a small but active shell fishing fleet of approximately 20 boats.
The naturally sheltered harbour has given rise to its success as boat, shipbuilding and sailing port and, in more modern times, tourism especially in the form of pleasure sailing and yachting.
If you love water sports, then Salcombe in the place for you. From the sweeping golden sands of Thurlestone to the sheltered coves of South Sands and Hope Cove, the area boasts a host of locations just right for spending time on the water.
Not only does the area make the best of its beautiful beaches, but it also lies within the South Devon Area of Outstanding Natural Beauty so in no time you can retreat to the countryside for a change if you want to.
The town has a definite feel of the Mediterranean about it and enjoys mild winters and more sunshine than most areas of the UK during the summer.
Award-winning restaurants, pastel-coloured houses and independent boutiques line the seafront, the perfect spot to sample the delicious Salcombe Dairy ice cream.
An abundance of recreational activities and great attractions keeps everyone happy from castles to ferry cruises and from festivals to regattas there is always something exciting to attend.
On the flip side, due to its unspoilt beauty, sandy beaches and harbour facilitating sailing and yachting, Salcombe has one of the highest average property prices in the UK standing currently at an eye-watering £725,000.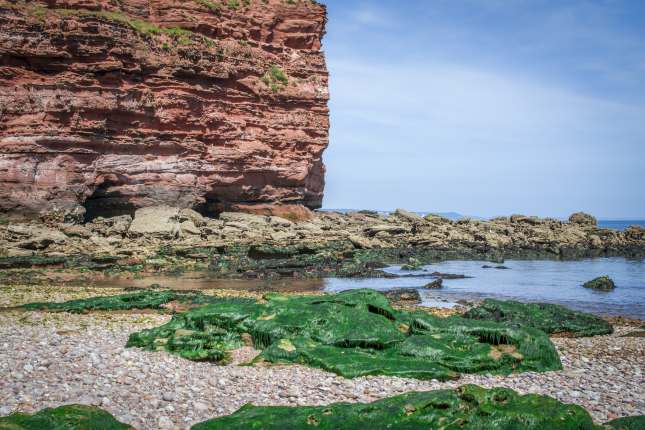 Budleigh Salterton
Occupying a very nice position Budleigh Salterton lies at the mouth of the River Otter, a haven for migratory birds.
The seaside settlement that is now Budleigh Salterton for generations derived its livelihood from agriculture, fishing, and a bit of smuggling on the side!
Surrounded by open countryside and woodlands, with rich red cliffs rearing up either side of the town, Budleigh Salterton is now a blissful escape from the 21st century and a sought-after location in which to live.
Budleigh Salterton lies on the popular South West Coast Path, with clifftop routes eastwards to Sidmouth and westwards to Exmouth.
The clean and safe pebble beach and its cliffs form a part of the Jurassic Coast World Heritage site, everyone loves to come here and find the many fossils which are scattered along the shoreline.
The town's pretty location has also resulted in a number of TV series being filmed here.
Top Gear, Sherlock Holmes and the comedy Blackadder have referred to the town or had parts filmed here.
Public transport links to the East Devon area make it accessible to all parts of the country.
Budleigh does not have its own railway station, the closest main station is in Exmouth [5 miles], giving access to the Waterloo to Exeter and Paddington to Penzance lines respectively.
The closest airport is Exeter airport which makes flights to a wide range of national and international destinations, only about 10 miles away.
Free from the stresses of everyday life, the friendly and relaxed atmosphere which so typifies this tranquil and historic retreat makes it another of Devon's most desirable places to live.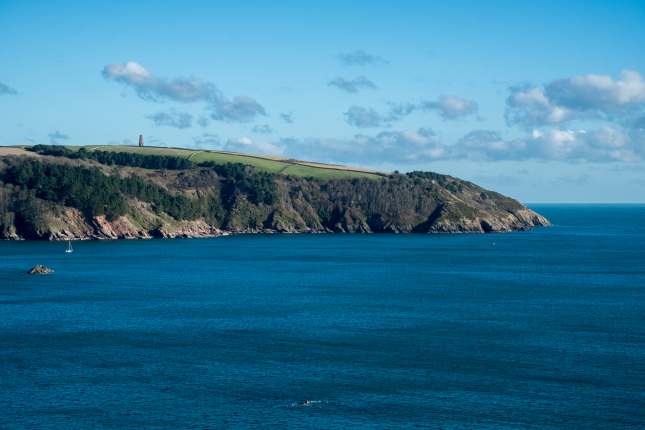 Dartmouth
Known as the jewel of the South Hams.
Dartmouth is very picturesque, the steep hills sheltering this historic harbour are decked with pastel-coloured homes, running down to the town centre, characterised by ancient narrow streets and medieval buildings.
Due to its position at the River Dart, Dartmouth is rich in maritime history and overlooked by the famous Royal Naval College.
If you are interested, you can discover more about the town's connection with the sea by visiting the local Dartmouth Museum.
Packed with an extensive collection of artefacts, models, paintings and photographs relating to Dartmouth and the surrounding district. (www.dartmouthmuseum.org)
No one can complain of boredom. Choosing what to do next is the only problem with discovering things to do in Dartmouth.
Sail, fish, explore on the water, or visit at Regatta or music festival time.
Come along in May and join in the fun of the Dart Music Festival.
Laying within the South Devon Area of Outstanding Natural Beauty and South Hams district.
There is plenty of opportunities to explore the region's stunning countryside.
Dartmouth has a busy town centre with many attractions not just for its residents but for the thousands of tourists who visit each year, including independent shops, restaurants, and galleries – with many situated along the waterfront.
Seafood is the order of the day, naturally, and many of the town's restaurants serve freshly caught fish and shellfish from local waters.
With its charming streets, scenic river location great amenities and surrounded by South Devon countryside you have to go a long way to find a town as appealing as Dartmouth.
Exmouth
The 5th most populated town in the County, Exmouth, is a wonderful place to visit or to call home.
The town first became popular during the 18th Century as a holiday location, its popularity has only increased over the years.
The golden 2 mile stretch of sandy beach is the longest seafront in both Devon and Cornwall.
The area has undergone a huge program of renovations which has taken several years.
Developers have built some beautiful modern apartments and penthouses overlooking the quayside.
These are extremely sought-after properties favoured by young professionals.
In contrast, there are some very characterful Victorian townhouses dotted about the town and make perfect family homes.
Exmouth has its own train station located close to its centre.
Hourly services to Paignton (90 minutes) and to Barnstaple (roughly one hour 45 minutes) are provided by Great Western Railway.
Even though Exmouth has lots of exciting attractions, sometimes it is nice to travel and explore a little further out.
Dartmoor National Park and the Blackdown Hills and East Devon Areas of Outstanding Natural Beauty are not far away.
They offer diverse landscapes of moorland, heathland, forests, and farmland.
All great areas to spend time getting close to nature.
The facilities are very good.
Dartmouth has a pedestrianised shopping area, home to many well-known retailers and some independents.
Traditional fishmongers and art shops populate The Strand.
This area has undergone some big changes, now forming Exmouth's trendy Café Quarter.
Unsurprisingly, Exmouth's sea air, sandy beaches and picturesque surroundings carry a high price tag.
The average house value stands at £487,117, which may not be the most expensive in the county but is still hugely over the national average.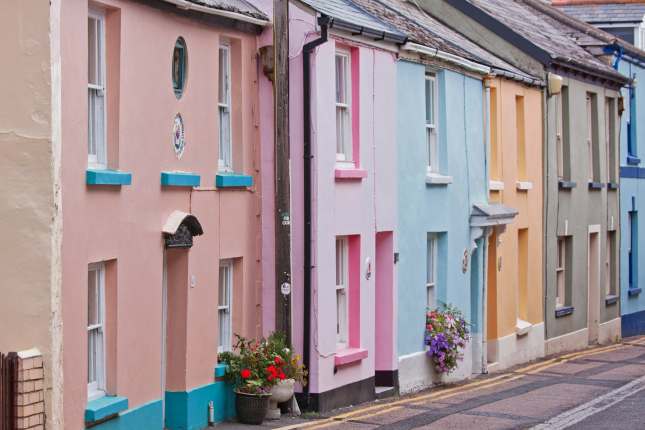 Appledore
Another of the top Devon seaside towns has to be Appledore!
With a population of around 3000, Appledore is a popular location.
Appledore is home to Hocking's Ice Cream, a brand of ice cream only sold in North Devon.
A kaleidoscope of colourful terraced homes sit on Appledore's hillside.
These spectacular properties are in many postcards and paintings.
The appearance of the homes dates back to Elizabethan times!
Like many Devon seaside towns, Appledore has a history of fishing and shipbuilding.
Today, the area embraces a range of tourist.
Visitors arrive every year to enjoy the scenic beach.
Appledore is a great location for lovers of eating out!
A range of local restaurants offer some of the best fresh seafood and have made a name for themselves.
Appledore is also near several prime surf beaches as well as the popular towns of Bideford and Barnstaple.
Appledore has certainly cemented itself as one of the best Devon seaside towns!
Croyde
A must-visit amongst Devon seaside towns, Croyde is an area infused with charm.
Sitting on the Atlantic coast, near the Bristol Channel, Croyde is located in North Devon.
Whilst the area may be too isolated for some, this remoteness makes Croyde an ideal location to get away from the hustle and bustle of modern living.
Croyde is also a very popular holiday destination.
Tourists flock to the stunning sandy beach, ideal for a day out.
Croyde is also a popular spot for surfers.
The area is one of the top surfing locations across the world!
Surfers are here all year-round taking advantage of the great waves the sea produces.
Unsurprisingly, tourism plays a major role in the economy of Croyde.
Several popular campsites have popped up in the area.
These are a great way to enjoy the area!
Croyde also boasts some fantastic scenery and is particularly well located.
The area is undoubtedly one of the best Devon seaside towns!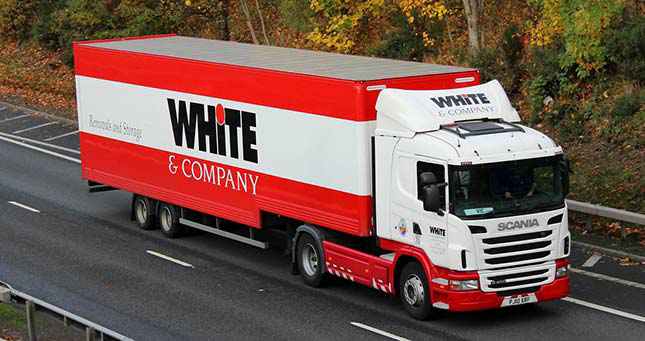 Ready to Live in One of These Devon Seaside Towns?
Have you picked one of these Devon seaside towns to start living in?
Devon seaside towns are home to some outstanding properties for families, young professionals, and retirees alike!
If you want to move to one of these Devon seaside towns and have found the perfect property, we are here to help you get moving.
You can start planning your dream move with the assistance of our Devon Removals service from White & Company today.
White & Company are also pleased to announce our new video survey service.
During these unprecedented times, we can safely conduct remote removals surveys.
We can gather all the relevant information for your move from the comfort of your own home.
So, give us a call today or fill out a quick quote form to see how we can get your dream move to Devon in the works.